Everyone loves LED flashlights. The Coast HP7 and HP7R each present a solid flashlight with great features. Our questions included whether they presented an equally-impressive value for consumers.
The Coast HP7 Flashlight boasts 530 lumens while the rechargeable Coast HP7R puts out 300 lumens. Both models use a Cree-style LED and feature a nice, consistently ergonomic design. We were more than happy to lend our critique to the new flashlight and see if its array of features and functions proved as impressive as we heard about.
Coast HP7 and HP7R LED Flashlight Features
Before we get into the actual use of the light, we thought we'd speak a bit about the physical device itself. The retail boxes include a box for the light and a nylon case with an adjustable hook & loop/snap belt loop. The Coast HP7 and HP7R LED Flashlights each measure just over 5-1/2″ in length and 1-7/16″ in diameter across the lens hood. The size works great for a flashlight you want to carry around with you. It also fits perfectly in the hand.
The case is made from aluminum and is a really great gunmetal color that wavers between blue and gray depending upon what angle you look at it. It's a nice, rugged case with just the right amount of texture on the central grip.
Coast HP7 and HP7R Batteries
Opening up the back end of each flashlight and you find a gasket that protects the battery compartment from water intrusion. A four-chamber battery sled in the Coast HP7 holds four AAA batteries (included). Coast made the sled very durable. There's no chance of a bad connection since the AAA batteries snap in tightly to gold-plated spring-loaded chambers. The entire sled makes positive contact via 3 dedicated pins on the front and back. They even housed the on/off button within a rubber enclosure. It won't get ruined by rain or inclement weather.
The Coast HP7R uses a rechargeable lithium-ion battery. That gives it an amazing 7 hours of runtime in High. It recharges via a micro USB port in the base of the flashlight—or you can remove the battery and recharge it directly.
Coast HP7 and HP7R Lens
The lens uses advanced optics. Turning the flashlight off and looking into the lens of the HP7 or HP7R, you can see them. Look in while pulling the focus mechanism out and in and you can see the effects of the lens on the Cree-style LED.
Using the Flashlight – Field Tests
Coast uses what it called a "Quick Cycle" switch. This is actually pretty cool. In practical use, you can depress it slightly to bring up the current mode (high or low beam). Then, depress it slightly again to change to the next mode. When you are in the mode you want, give the switch a full click (typically with your thumb. This locks the mode on. In this way, you can select full output or partial output and also engage the function as a "momentary" mode for when you don't need the light on for extended periods of time.
It's a cool system, and you can get the same mode-switching effect by quickly "double-tapping" the switch. In high mode, Coast claims the HP7 will run for up to 3-1/2 hours. In low mode, you've got light for nearly a full day (20 hours). This is not a flashlight designed for "throw-away" casual use – it's a serious tool.
Focusing and Optics
Going back to the focusing optics—we really liked how we could use our fingertips to pull in and push out the lens bezel. We also loved the extremely wide beam angle that lit up nearly everything in our sight. To demonstrate the wide angle, we set the flashlight on a chair approximately 2 feet away from a wall. The resulting solid beam of intense light was nearly 4 feet wide. That's a beam angle of 90 degrees and the resulting spot was completely even, with no hotspot.
Push out the optics via the sliding aluminum bezel and you get a beam angle of approximately 45 degrees. In that mode, you get a super bright centralized hot spot. This hot spot is perfect for really honing in on your target while giving you a broad wash of surrounding light. That lets you see everything in context. Even better, you can twist the bezel clockwise to lock in the mode. That makes sure the focus doesn't change on you during use.
We took this light out around the neighborhood to use it on a near-moonless night late last month. It easily focused on what we were looking at. The broad beam also made it easy to simply flood an area with an unbelievable amount of light. It seemed to stretch further than a football field. Coast claims over 600 feet. The tight beam let us point so far, we literally used the HP7 as a virtual "sky laser pointer", tracing out constellations in the night sky.
Conclusion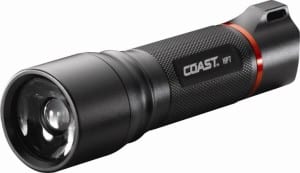 We really like this flashlight. It's got a build quality that is far above most of what we've seen on the market. It's certainly built with better attention to detail than those inexpensive throw-aways you are starting to see everywhere. Those cheaper flashlights won't give you the ability to drop them or get them wet. Coast also offers a lifetime guarantee—at least against defects in materials and workmanship.
Clearly, Coast is going after those who are serious about their flashlights. With that in mind, you should compare these flashlights to other quality models with similar output. When we do that, Coast demonstrates an above-average value. It's a great product—despite having lots of competition. If you want a high-quality, easy-to-use, and feature-rich LED flashlight, this is it.
Pricing
Pick up the Coast HP7 flashlight for around $40. The rechargeable Coast HP7R costs about double—expect to pay $81 or so.