DeWalt has come out with a solution for professionals needing a recip saw for tighter situations. The DeWalt 20V Max Compact Reciprocating Saw is one of the lightest on the market, weighing in at 5.0 pounds. It's also the shortest in the 18/20 volt class with a length of 14-1/2 inches. The compact size gets it in between studs for applications around framing and the light weight should make users happy. Compact recip saws often get a reputation of being suitable only for occasional use and not as a full-powered, full-featured serious demo tool. I'll take a look and see if DeWalt's model DCS387B fits in with the compact crowd or if it can keep up with its full-size cordless brethren.
First Impressions
The box seems awfully small and light to be holding a reciprocating saw. While beauty is in the eyes of the beholder, I love the look of the DeWalt 20V Max Compact Reciprocating Saw. Like other compact models, the motor has been bent down at about a 45-degree angle, which is one of the reasons that this saw is so compact. Picking up the saw, I really like the feel. Using a two-handed grip, I don't feel like I'm having to work just to hold it in place. My guess is that this will translate to a bit more control during cuts since my hands are closer together than on a full-size saw. I'm not entirely sure that I'll be able to make one-handed cuts with the way that the weight is distributed forward.
One thing that I notice is that the DeWalt 20V Max Compact Reciprocating Saw is pretty basic when it comes to features. You'll find a typical keyless blade change system, pivoting shoe, and variable speed trigger. The trigger is big enough for just one finger, The trigger spring tension may feel a little tight, but that should actually help maintain speed control if I'm not going full throttle. One nice addition is the lock-out switch that will prevent accidental engagement of the motor. There's also a small LED at the front to help out in darker corners that you may have to cut. I really like that I can position the blade clamp in four positions to maintain a solid grip while cutting in a variety of situations, particularly against walls and overhead.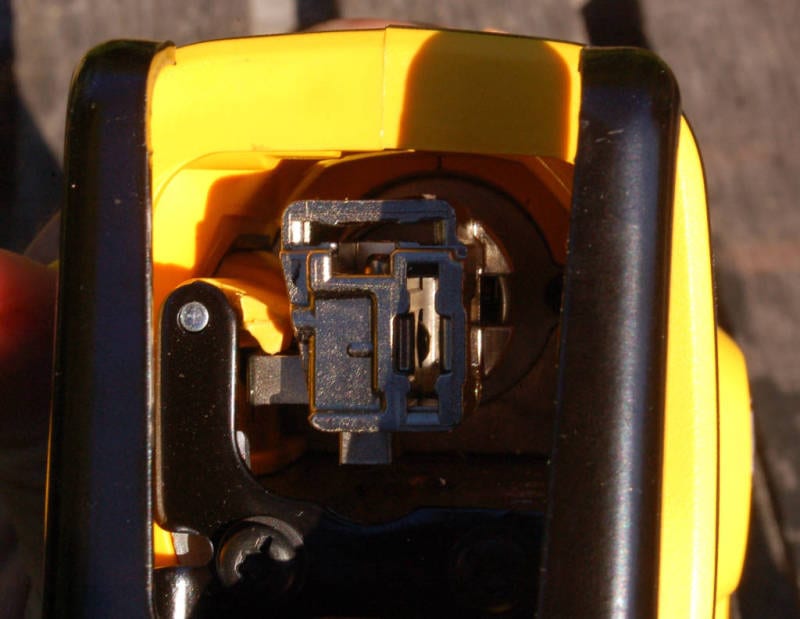 There are a few features that you'll find are missing on this compact recip saw. There's no trigger lock which would help as hands tire from the nature of using a recip saw. The shoe is not adjustable, so you'll be using the same 1-1/8″ section of your blade unless you don't want the additional support. You also won't find any vibration control or orbiting action. If nothing else, it would be nice to see a rubber overmold on the handles just to absorb some of the impending vibrations.
DeWalt 20V Max Compact Reciprocating Saw: Putting it to Use
Installing the blade on the DeWalt 20V Max Compact Reciprocating Saw is a snap. The blade clamp release is on the outside of the upper handle, so it doesn't matter where the clamp is in its movement pattern when you want to install or remove a blade. The 4-way clamp is also simple and intuitive. You've got a traditional vertical installation point that will handle the blade facing either up or down. Just above that is the horizontal installation point allowing for the blade to work left or right. Using this blade clamp design eliminates the possibility of an orbital action. Even if it were an on/off selection switch, the danger of someone cutting to the side while still orbiting is likely to great to offer it in future models.
Getting the cut started, the first thing I noticed was the vibration. Not that vibration is unexpected with a recip saw, but this was a lot. I actually pulled out the Milwaukee M18 Fuel Sawzall just as a comparison… and they're really in two different leagues. As I cut through a piece of pressure-treated 2 x 10, I thought surely I wouldn't be able to work with this for very long. However, if you can really push the shoe against the material you're cutting, it smooths out a lot. You're not always going to have this option with demo work, but it will help tremendously when you do.
The cutting speed with the DCS387B was rather impressive. Even the torture of cutting through pressure-treated 8 x 8 lumber didn't take nearly as long as I feared. The 2900 strokes per minute and torque to back it up made quick work of the job. I did try to intentionally bog down the blade in that 8 x 8, which I successfully did. It took more downforce than you would typically apply in any situation to do it though.
With the vibration, I considered one-handed work to be a near impossibility. Once the cut was started, I was able to really stabilize the saw against the shoe and had some mild success. Everything I was cutting was pressure treated, so the saw really needed some help with the second hand to push through it more efficiently. Still, with softer materials, some one-handed cutting might be possible. I just wouldn't plan on it. If you really need the one-handed capability, you're better off dropping in size to something like Milwaukee's M12 Hackzall.
DeWalt 20V Max Compact Recip Saw: Considering the Big Picture
I really would like to see DeWalt start to develop some anti-vibration features to add to this saw. It's the one sticking point on an otherwise great experience. Because of the nature of demo work, vibration is what you're going to notice first if it's not under control. Once you get past the vibration, the DeWalt 20V Max Compact Reciprocating Saw is really effective at demo work.
It might be easy to complain about features that aren't there, like orbiting action, trigger lock, and adjustable shoe. At the same time, I don't want to pay $200 for this saw, either. Because of that vibration, heavy recip saw users are probably going to want to look elsewhere. The fact that it's a single battery on a 20V platform with a brushed motor is really going to limit the run time for the amount of work you can reasonably hope to accomplish.
There isn't a whole lot of competition in the compact cordless reciprocating saw market. If you don't need a compact saw, you might look at the same price point that is better on vibration. You'll give up several pounds in reduced weight as well as very good ergonomics to do it though. For the pro that needs a recip saw for occasional or light daily use in tighter areas, I can give this my recommendation.
DeWalt 20V Compact Recip Saw Features
4 position blade clamp
Compact, lightweight design
Lock out switch
LED light
DeWalt 20V Max Compact Reciprocating Saw Specifications
Model: DCS387B
No Load Speed: 0 – 2900 SPM
Stroke Length: 1-1/8″
Electric Brake: yes
Blade Clamp: keyless
Vibration Control: no
Length: 14.5″
Height: 7.5″
Width: 3.5″
Weight: 5.0 pounds
Price: $129 (bare tool)
Warranty: 3 year limited, 1 year service agreement, 90 day money back