Last Updated on June 2, 2021
When we did our compact miter saw shootout, we also took the opportunity to start diving deeper into a tool class that's beginning to gain momentum—cordless miter saws. The DeWalt 20V Max miter saw (model DCS361) presents a lightweight solution for trim carpenters that stays on a popular battery platform. So has DeWalt looked at the competition and brought an even better product to market? That's what we wanted to find out.
DeWalt DCS361 First Impressions
DeWalt decided to go with a 7-1/4″ blade on their cordless miter saw. This is a good move in my opinion. 7-1/4″ blades are much easier to get your hands on, have a larger variety available, and are cheaper than the 8-1/2″ blades that other compact miter saws are using. In addition, the slightly smaller blade is also going to be easier on the motor and make the system more efficient. Plus, if I wanted more cutting depth, I'd probably switch to a 12″ compound miter saw.
The DeWalt 20V Max Miter Saw is a sliding system, which I was very glad to see. Although you're going to be limited to 2x material in this class of tools, there's no sense in limiting its cross cutting ability by leaving the slide out. In fact, you'll be able to cut up to a 2 x 8. This should be a pretty solid range for trim carpenters, flooring installers, and some woodworkers.
DeWalt DCS361 Compact Miter Saw Build Quality
Build quality is excellent on this saw. Essentially, the DeWalt 20V Max Miter Saw is just a battery-operated version of a compact miter saw. That seems like a pretty obvious statement to make, but DeWalt didn't go cheap and use a bunch of plastic. Case in point is the cast metal base which gives you a solid, stable platform to work from. There aren't any extension wings integrated into the saw, so you may want to mount it on a stand that includes them or to your workbench.
Moving around to the back, you'll find a three pronged bevel lock knob. I like the oversized design, however, I found it a challenge to get a comfortable grip. I think a traditional two pronged approach here might be better—keeping the size and the outward angle of the handle. Considering that unlocking or locking the bevel takes all of 3 seconds, this certainly isn't a deal-breaker.
Mitering and Beveling
The miter markings are etched into the base and very easy to see. Both bevel and miter measurements are indicated with a plastic red marker. The contrast helps making your settings easy to see. The safety switch is integrated into the trigger and I really like the design. You just slide your fingers in from the side to push it into the ready position. I like the fact that I don't have to use my thumb to hold down a separate switch while I press the trigger. You can get used to anything, but this is one of the simplest safeties I've used in recent memory.
Appropriately paired with the DeWalt 20V Max Miter Saw is a 40 tooth finish blade. We'll see how it performs before deciding if an upgrade is required.
DeWalt DeWalt DCS361 Miter Saw Specs
Model: DCS361B (bare tool), DCS361M1 (kit)
Power: 20V Max Battery
Blade Size: 7-1/4″
Arbor Size: 5/8″
No Load Speed: 3750 RPM
Bevel Capacity: -3 to 48 degrees (left only)
Cut Capacity: 2″ vertical, 8″ horizontal at 0 degrees bevel and miter
Crown Nested Cut Capacity: 9/16″ x 3-5/8″
Base Molding Cut Capacity: 5/8″ x  3-1/2″
Listed Run Time: 183 pine 2 x 4 cross cuts
Dust Extraction Port: yes, bag included
Weight: 30 pounds
Warranty: 3 years
DeWalt 20V Max Miter Saw Performance
DeWalt claims that you can get up to 183 cuts in 2 x 4 pine on a single 4.0 amp hour battery. I'm going to have to take their word for it. The variety of materials that I needed to cut wouldn't make a justifiable claim since I was cutting different materials and sizes. However, I've seen results from other users that would back this claim up. What I really wanted to know was how the cut feels. Would it act like a battery-operated saw that has to be babied through each cut, or can it act like a miter saw?
Smooth Cutting
I first took the DeWalt 20V Max miter saw to the original run time material – untreated 2 x 4 pine. You never get a second chance to make a first impression, and DeWalt made a good one. Cutting through that first piece of pine was an indication of good things to come. The blade was smooth and the motor confident. I made a couple more cuts for fun and tested out the mitering and beveling features.
DeWalt drives down the opposite side of the street when it comes to marking a cut line. Most brands use a laser that can be adjusted if when accuracy becomes an issue. The DeWalt DCS361 avoids this by using an LED that helps the blade cast a shadow on its cut line. In the shop, I had no problem seeing my cut line from the raised position. It was a bit tougher in the sunshine. However, I was still able to see it as the blade approached the material. I'm going to withhold judgement on whether or not I like this better than lasers until I've had the chance to use it more. The fact that no calibration is required is a huge plus though.
Solid Miter Stops and Lock
Mitering is easy with this model. The positive stops for each of the common angles is solid. There is no question when you are in one of those stops. For cuts that are an odd angle, the miter lock is also very effective and easy to employ. Beveling requires you to endure standard reach around for locking or unlocking. I had very little trouble dialing in the bevel angles that I wanted. It was nice to see that the DeWalt 20V miter saw is just as accurate as any of the other miter saws we have in the shop.
I took the cut capacity to the maximum 2 x 8 on a piece of pine. Again, the combination of the motor and 40T carbide tipped blade made for a confident cut. Crown molding was hardly a challenge for this system. Even pressure treated 2x material wasn't too much trouble. As long as I let the motor and blade do the work instead of mashing it through, I got great cuts.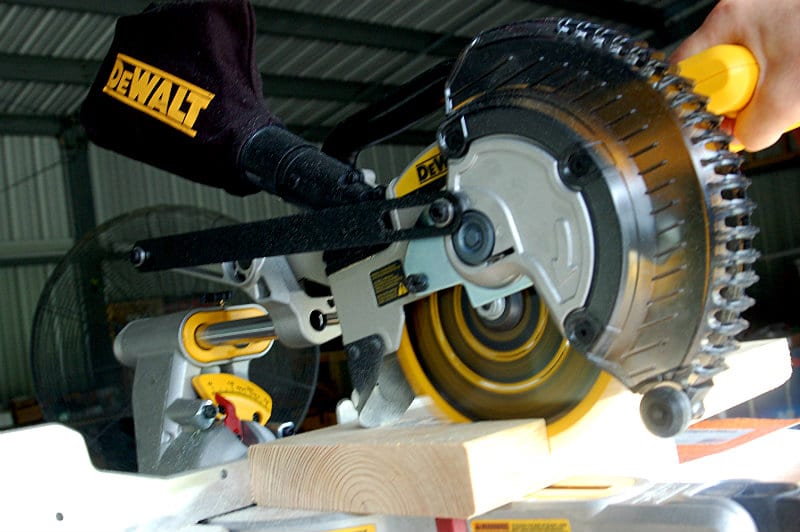 Room for Improvement
I came across a couple of issues during testing. Among the minor complaints is the slide on the DeWalt DCS361. It could be smoother. Again, a minor issue. Where I ran into a more significant problem was blade changes. They're never as simple as a circular saw to begin with. The bolts that need to be loosened to move the blade guard plate out of the way fit tight. I needed to produce some pretty significant torque to move it. The blade change wrench leaves you trying to grip the short end. After nearly stripping out the Torx head, I gave up and carefully took a drill to the flathead part of the combo head.
Conclusions
The only question that I'm left with is why DeWalt didn't go with a brushless motor on this model. Run time is excellent and cutting is confident, so I wouldn't say that it necessarily needs it… but it'd be nice. Perhaps that was how they were able to keep the kit price under $400. Whatever the reason, DeWalt has a successful product here. We hope DeWalt runs with the success of this model and offers a brushless option in the next generation.
The DeWalt DCS361 really performed well overall. We've got a compact miter saw in the shop that we like, but I'll be taking the DeWalt 20V Max Miter Saw for those jobs that don't require more than 2 x 8 capacity. Cordless convenience with power that exceeds my expectations and excellent build quality earn my pro recommendation for this model. The pros far outweigh the minor issues that exist. Trim carpenters and flooring installers will particularly find this to be a useful addition to their DeWalt 20V Max tools.
As a bare tool, the saw runs $279 or get the kit for $369.
Shop Amazon