If the DeWalt 20V Max Tripod Light looks familiar to you, you're not alone. It's very similar to Milwaukee's 2131-20 and 2135-20. But is it the same light on a different battery platform? Or are there some differences worth considering?
Pros
Robust design
Collapses to 39″ and expands to 7′
Very easy adjustments and setup
Cons
No AC power or battery charging
Several artifacts in the beam
Design
A look at the design reveals some ingenuity in how you deploy the light. From its collapsed position (we may or may not have pretended it's a bazooka), press the gray button and slide the handle down to push the legs out. It's a very natural and easy operation.
Two quick clamps secure the telescoping pole in place. Release those each in turn to set the height where you want it. Again, it's a very easy operation. The light head nests in the yellow support, and it's an easy mistake to try to raise the plastic support instead of the light's head. Just be sure to grab either or both holds on the black protective plastic around the lens.
Once you extend the light to the height you want, it also pivots to either side. One downside of this kind of design is that it doesn't give you much downward angle for more of an overhead light.
Just below the quick clamps, you'll find the control button.
At the very base of the light is the battery compartment. Our 20V Max and FlexVolt 3.0/9.0 Ah all batteries fit fine, but I don't have a 4.0/12.0 pack to test. If you've tried one, let us know if it works!
Battery is the only power source you get here. There's no AC plug for an extension cord and it won't charge your batteries. That's a move away from Milwaukee's versions – one with dual power and one that also charges.
Output
The DeWalt 20V Max Tripod Light will give you up to 3,000 lumens. You also have two other modes to work with, but DeWalt doesn't reveal what those output levels are. For now we'll call them "less than 3,000" and "less than less than 3,000". Or medium and low – your choice. Cycle through those modes by pressing the control button.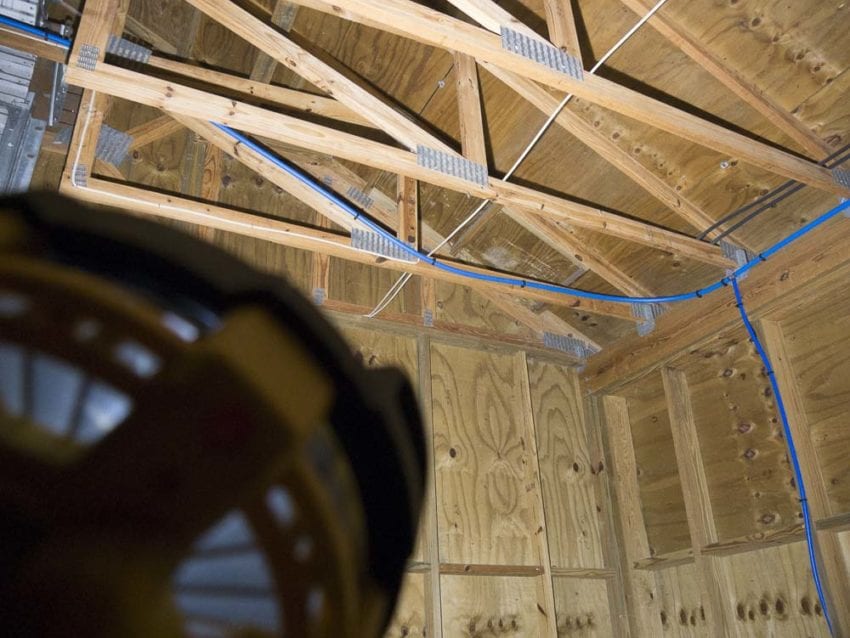 The light comes from a single, massive LED chip in the center of the lens. The light is nice and neutral and, like most lights in this class, strays toward the orange side of the spectrum on the edges.
There is a slight hot spot in the center of the beam and the reflector design creates several artifacts in the beam. It's certainly not a deal-breaker that affects your ability to see well. However, if you're used to a high-end light, you'll notice those.
Just for some bonus trivia, the light works in any position, including fully collapsed.
Price
As a bare tool, the DeWalt 20V Max Tripod Light runs $199. The kit with a 6.0 Ah battery will set you back $329. Milwaukee is easily the most direct competition here. Their dual power 2131 is $199 bare (no kit option) and their charging 2135 is $399 bare or $549 as a kit with a 9.0 Ah battery.
DeWalt offers an extra 500 lumens over Milwaukee's 2131 but doesn't have the option to plug in an extension cord.
The Bottom Line
The DeWalt 20V Max Tripod Light has plenty of output and a proven design for easy transport and height adjustment. While it lacks an AC outlet that its competition has and there are some artifacts that show up in the throw, I still give it my recommendation for Pros on DeWalt's 20V Max and FlexVolt lines.
DeWalt 20V Max Tripod Light Key Features
Natural white LED provides accurate color visibility, long life span, and stays cool to the touch
Three brightness settings to customize work space illumination
Telescoping pole extends light head to 7 feet to reduce shadows and glare
Latch mechanism on handle to easily extend and collapse legs
Tough shroud protects light head and withstands jobsite conditions
Over 11 hours runtime on low
DeWalt 20V Max Tripod Light Specifications
Model: DeWalt DCL079
Voltage: 20V
Lumens:

1,001 – 3,000

Height: 39″
Weight: 16 lbs.
Length: 9″
Warranty: 3 years limited