DeWalt's Cordless 12-Inch Miter Saw Requires Only One FlexVolt Battery
Way back in 2016, we got our hands on DeWalt's FlexVolt 12-inch miter saw, which required two FlexVolt batteries as a power source. Now, the brand switches gears to focus on providing more power with a single battery, as well as bringing some new technology into its newest generation of miter saw. We wanted to take a deeper look into what else changed with the introduction of the DeWalt 60V 12-Inch Miter Saw.
DeWalt 60V 12-Inch Miter Saw: The Big Deal
DeWalt's DCS781 miter saw sees quite a few differences when you compare it to its predecessor. Most notably, the power source changes from requiring two FlexVolt batteries to only needing one. Despite this, there's no loss of power or runtime. In 3 1/4-inch base molding, the older model achieves up to 289 cuts per charge, and the DCS781 raises that number to deliver a whopping 675 cuts per charge.
DeWalt also decided to nix the AC power adapter in the 60V 12-Inch Miter Saw. However, we don't think it'll be an issue to get all-day runtime on the job, especially if you're carrying more than one FlexVolt battery.
Another change DeWalt made was shaving off a lot of weight. The older DHS790AT2 model weighs a hefty 68.8 pounds bare, but with the newer saw, you're seeing a weight of just over 50 pounds.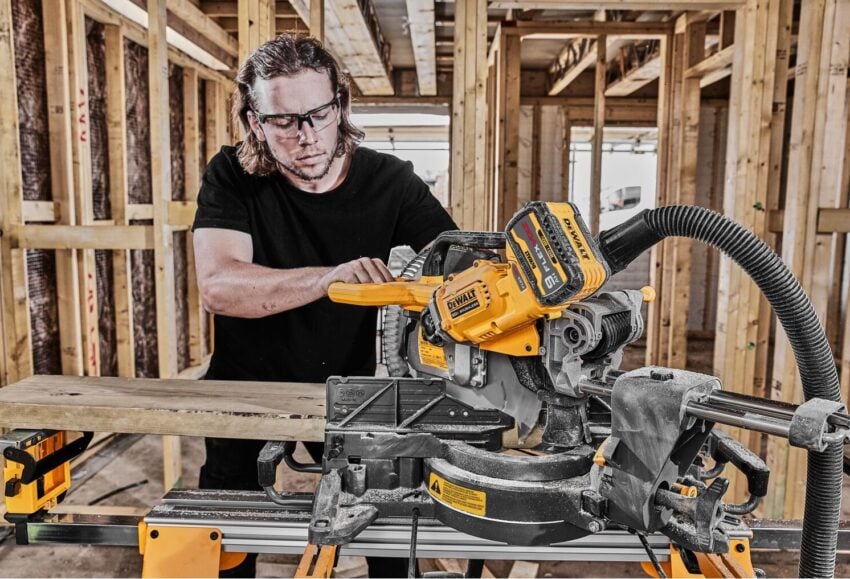 Additionally, the DCS781 saw utilizes Regenerative Braking Technology, which extends runtime by redirecting lost energy back into the battery similar to what you would see in RBS brakes in a car. This saw's bevel-driven transmission also reduces power losses that could occur with belt-driven designs.
Additional Features
Achieves up to 255 cuts in pressure-treated 4×4 lumber
AirLock dust port compatible with DeWalt extractors to capture up to 94% of dust
Includes standard 1 7/8 in. and 2 1/2 in. vacuum hose adapters
CutLine blade positioning system uses LED light to provide accurate cut line indication
DeWalt 60V 12-Inch Miter Saw Price
Ready to pull the trigger? The bare tool will retail for $699 and the kit will be $849, including a 9.0Ah FlexVolt battery and charger. This miter saw will be available at your favorite DeWalt retailer starting in February 2023.
DeWalt backs your purchase with a 3-year warranty and 1 year of free service.
Specifications
Model: DeWalt DCS781
Length: 30.5 in
Width: 19.5 in
Height: 17.7 in
Weight: 50.9 lbs (bare)
Blade diameter: 12 in
Max cutting depth: 6.5 in
No load speed: 3800 RPM
Cut capacity: 12.1 in
Bevel capacity: 49 in (both directions)
Power source: 60V FlexVolt battery