With 19.4 joules of impact energy, the DeWalt FlexVolt 2-inch SDS Max Combination Hammer is currently the king of its cordless category. While it proves to bring quick demolition to concrete whether chipping or drilling, its safety and anti-vibration features make it easy on the user. We used it to remove a rebar-reinforced concrete-filled cinderblock wall surrounding a pool filter system.
Pros
More power than any competitor
Seven speeds
Effective SHOCKS Active Vibration Control
E-Clutch's tight tolerance protects the user in a bind-up
Large hammer dust extraction system (sold separately) captures airborne particles
DeWalt Tool Connect for tracking and management
Cons
Recommendation
DeWalt's big combination hammer pushes the power and functionality envelopes with great success. It seems unreal that you can cordlessly drill 2-inch holes and break up solid concrete, but the 19.4 joules of impact energy and the 12Ah FlexVolt battery make it happen. It's a hefty tool—it has to be—but the vibration control smooths out the fatigue, and the E-Clutch gives you peace of mind as you work. Whatever chipping or drilling task we had in front of us during this review, the DeWalt DCH733 rotary hammer seemed up to it.
DeWalt DCH733 Rotary Hammer Performance
It was only a few years ago that talk of battery-powered tools coming within a stone's throw of corded tool power seemed out of reach. But now, cordless tools often match or exceed the power of their corded counterparts. The DeWalt FlexVolt 2-inch SDS Max Combination Hammer is a great example. By the numbers, it's the most powerful cordless tool of its kind with 19.4 joules of impact energy.
Editor's Note: What is a Joule?
One joule can be defined as the work required to produce one watt of power for one second, or one watt-second (W⋅s). So a kilowatt-hour equals 3.6 megajoules). This relationship can be used to define the watt. The joule is named after the English physicist James Prescott Joule who lived from 1818–1889.
The DeWalt Hammer just pulverizes concrete when chipping and turns masonry to dust when drilling. In the photos, you'll see we are demoing the concrete-filled cinderblock enclosure around a pool's filter system. It's a job that requires brute force—and that's exactly what the DeWalt gives us, and lots of it.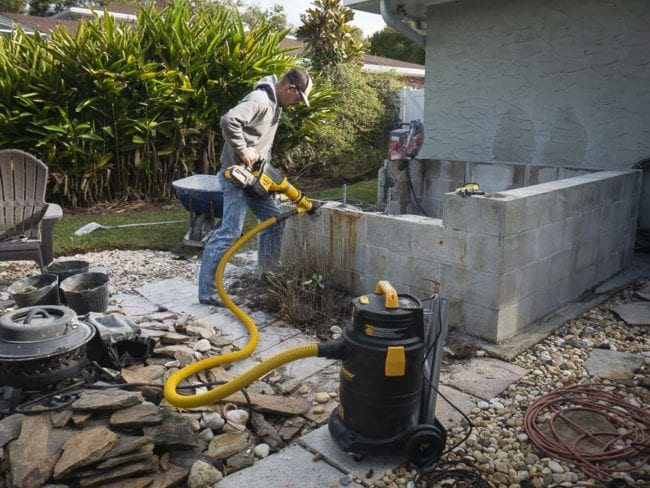 It wasn't part of this job, but for testing purposes, we also installed a 2-inch bit and drilled some holes. The tool didn't break a sweat!
We couldn't do official runtime tests, but over the course of the review, I estimate we could run the tool on a 12Ah FlexVolt pack for roughly 40+ minutes.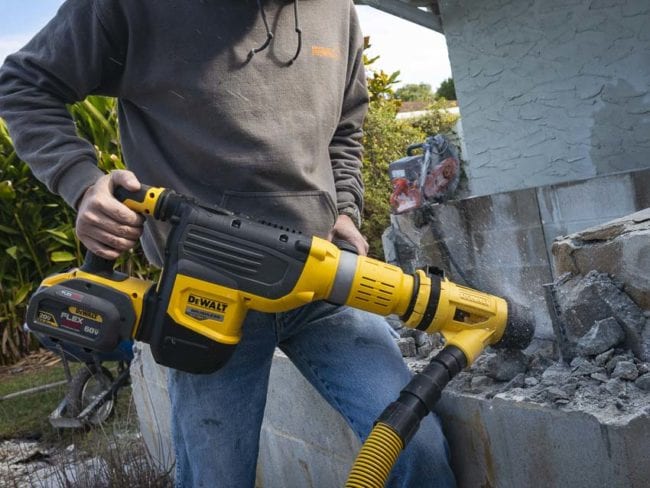 How Does the DeWalt FlexVolt 2-inch Rotary Hammer Feel?
Unsurprisingly, the tool is a hefty 21 pounds (without the battery). That's in line with the cordless competition and comparable to the corded 2-inch SDS-Max tools I was using just a few years ago. The weight works in your favor for many tasks, of course.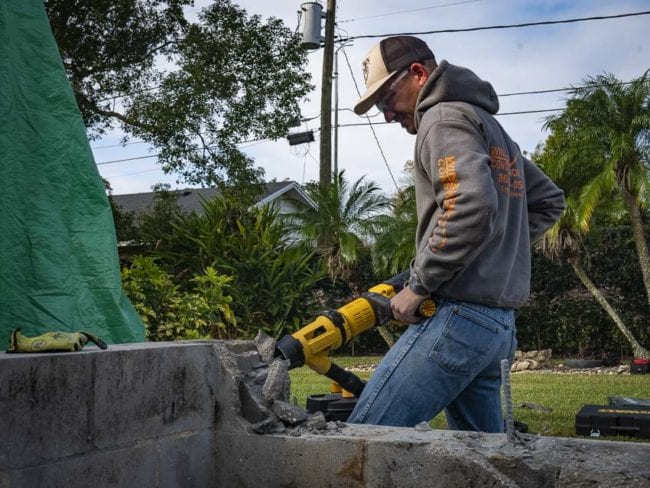 All that power hammering into the concrete could have an equal and opposite force in the user's hands if it wasn't for the DeWalt Hammer's Active Vibration Control. But the internal anti-vibe mechanism and floating handle's accordion-like design really smooth out the action.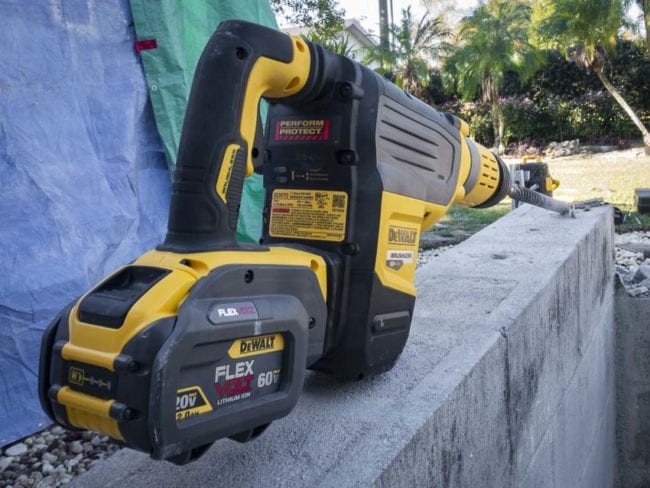 The most important safety feature would be DeWalt's E-Clutch which we've seen on other high torque rotary tools like their Stud and Joist Drill. Good riddance to the days when a rotary hammer could bind up and do some serious damage to fingers, wrists, elbows, and shoulders. The E-Clutch senses that sudden violent motion and stops the tool in its tracks.
We found it simple to change modes on the tool. Just flip the dial at the top and you instantly flip between the hammer and rotary hammer functions.
A variable speed dial control in front of the trigger lets you set the maximum rotational speed for the tool. That control sits to the left of the LED E-Clutch and service life indicators.
Other Features on the DeWalt FlexVolt 2-inch Rotary Hammer
The DeWalt FlexVolt 2-inch SDS Max Combination Hammer's brushless motor and advanced electronics help it maintain constant speed under load. DeWalt claims that you won't be able to bog it down—even with higher PSI concrete or long bits. That claim has stood up so far in our experience.
We recommend the DeWalt DWH053K large hammer dust extraction attachment for chiseling or the DeWalt DWH050K attachment for drilling (both sold separately). Many pros have used drilling dust shrouds, but this was my crew's first experience using a chiseling extractor. Of course, some of the extracting results will be a function of your dust extractor's power. The DWH053K attachment worked remarkably well, even sucking up large enough chunks of block that we occasionally had to unplug the hose. That was a bit inconvenient, of course, but we knew if it was capturing larger chunks that it was certainly effective for dust. Anything is better than the long-term silica inhalation!
As you might expect on a flagship tool, the DeWalt SDS-Max hammer comes Tag Ready so you can use DeWalt's Tool Connect mobile app to connect, track, and customize its performance. It has the potential to save you serious time and money, especially if you're running a large crew.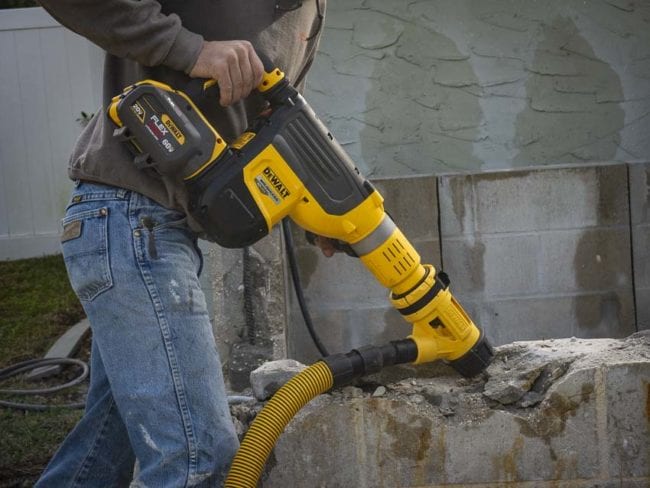 How Much Does the DeWalt DCH773Y2 Cost?
In the cordless world, the DeWalt FlexVolt 2-inch SDS Max Combination Hammer seems to be in a league of its own. No other battery-powered SDS-Max rotary hammer currently has this capacity or power. Here's a look at the field:
Milwaukee 5339-21 (Corded, 19.9 Joules): $749
DeWalt FlexVolt 2-inch SDS Max Combination Hammer DCH773Y2 (Kit): $1,099
Bosch RH1255VC (Corded, 14.1 Joules): $1,099
Metabo HPT DH52MEY (Corded, 2-1/16-inch, 16.2 Joules): $1,106
The Bottom Line
The DeWalt FlexVolt 2″ SDS Max Combination Hammer sits out in front of the cordless competition by a long shot. With all that power, anti-vibration, E-Clutch, and a competitive price, you've got to consider it if you're in the market for a big hammer. Be sure to pick up the shroud and extraction attachment for OSHA compliance. Using the 12Ah battery will have you safely on to the next job faster than ever before.
DeWalt FlexVolt 2-inch SDS Max Combination Hammer (Kit) Specifications
Model: DCH773Y2
Impact energy:

19.4 joules

Impact rate:

1105-2210 BPM

Speed (no load):

145-290 RPM

Optimal concrete drilling:

7/8 – 1-7/8 in.

Dimensions (HxL):

11.2 x

25.4 in.
Weight:

21 lbs.

Vibration:

10.1 m/s²

Price: $1099.99