The DeWalt FlexVolt Table Saw (DCS7485) let Pros take an early leap of faith into the FlexVolt system. If anything, this table saw would prove whether a 60V platform could really usher in the cordless jobsite. So far, I've been impressed at how the DeWalt FlexVolt miter saw solved the problem of power on a 12-inch miter saw by using two 60V batteries at 120V. However, this new DeWalt cordless table saw runs on just one FlexVolt 60V battery pack. We wanted to know what it could handle and if it could replace a corded jobsite table saw.
Check out our best portable jobsite table saws article for even more great recommendations
DeWalt DCS7485 First Impressions
At about 13 inches tall, roughly 23 inches square, and 48 pounds, the DeWalt DCS7485 FlexVolt Table Saw must have the best power-to-weight and size ratio of anything available. It even has a handle for easy carrying. And yes, you can carry it with one hand.
What's even better is that it includes the same features as DeWalt's full-sized saw – the telescoping, rack-and-pinion fence with swing arm for large material support, dust collector adapters on the saw and blade guard, tool-free adjustment for the guard and riving knife, table coating, and onboard storage for the blade guard, fence, wrenches, and miter gauge.
It also includes things that even the corded saw doesn't – a dust collection shroud below the blade that channels more waste toward the dust collector, a brushless motor, large rubber feet, Power Loss Reset that defaults to "off", and of course, cordless technology.
The 8-1/4-inch blade on the DeWalt DCS7485 has a thin kerf and 5/8-inch arbor with a design specific to the FlexVolt line and cordless efficiency. A standard 15-amp table saw is going to have a 10-inch blade, so this is clearly one area that DeWalt made a trade-off to run on one battery. The blade spins at a no-load speed of 5,800 RPM and can cut 1-3/4 inches at 45° and 2-1/2 inches 90°. 24 inches of ripping capacity to the right of the blade and 12 inches to the left isn't too shabby for the compact profile of this saw.
DeWalt FlexVolt Table Saw Performance
We do a lot of finish work. However, for this review, I took the DeWalt FlexVolt Table saw to a home we're building on a beautiful lakeside lot. Although there's mostly just trim work left, I've used the saw from the beginning of the job.
Any doubts I had that it could handle the job were quickly dispatched. To have such a powerful saw in a small, portable package is so helpful to the jobsite. It's hard to understate it. I've cut 3/8-inch strips off 2×4 PT at full depth, ripped plywood sheets, and trimmed out this house using this model. It didn't fail me once or leave me regretting the use of a cordless table saw.
Be sure to check out our best jobsite table saw article.
DeWalt DCS7485 Field Notes
The smooth movement of the rack-and-pinion fence is excellent like its predecessor's. That's a feature that most Pros around PTR circles usually praise. The fence is easy to take off – there are pins for easy placement. Since the entire table moves on the rack and pinion system rather than sliding the fence, it stays true and locks down well.
The work support swingarm is a feature I've never actually used before. Once I used it for wider cuts I didn't want to be without it. It prevents the far end of flexible pieces from wobbling. That lets you push the piece through the cut without the stock lifting from the table around the blade. The DeWalt DCS7485 delivers cleaner, safer cuts.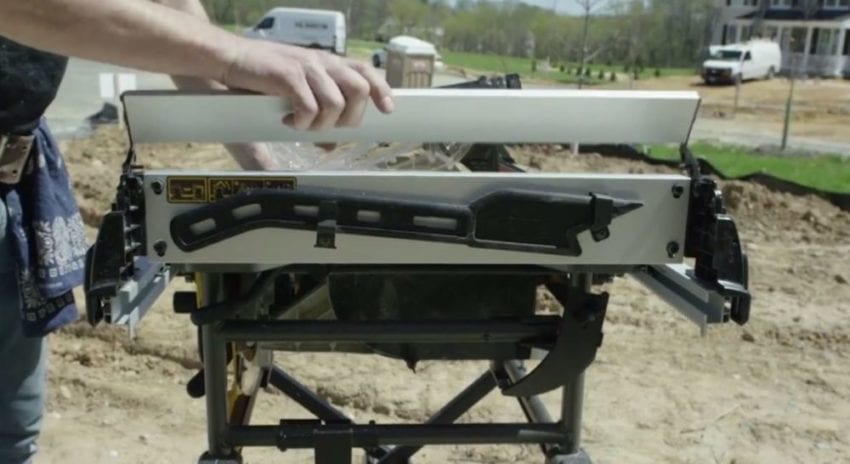 The blade height control and bevel mechanism are more familiar features taken from DeWalt's corded saws and work just fine.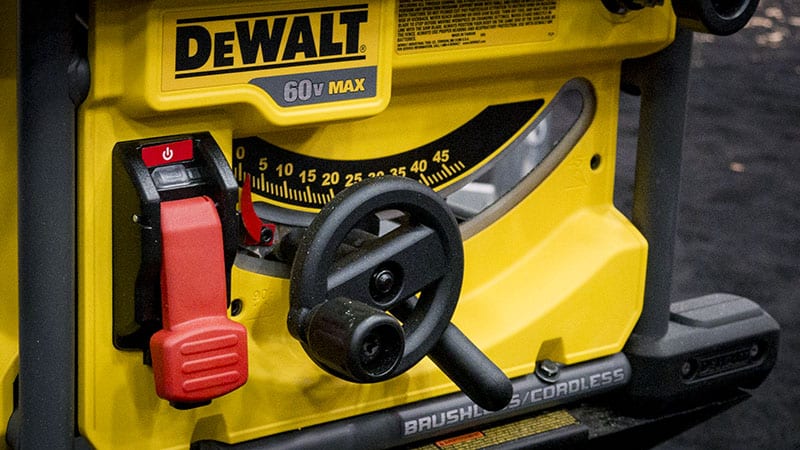 The safety guard over the switches prevents you from accidentally turning it on. You actually have to lift up the red paddle to engage the motor. Simply pressing the red paddle turns it off. If the battery dies during use, the saw defaults to "Off". That prevents it from starting back up when you replace the 60V battery pack. DeWalt calls this the Power Loss Reset.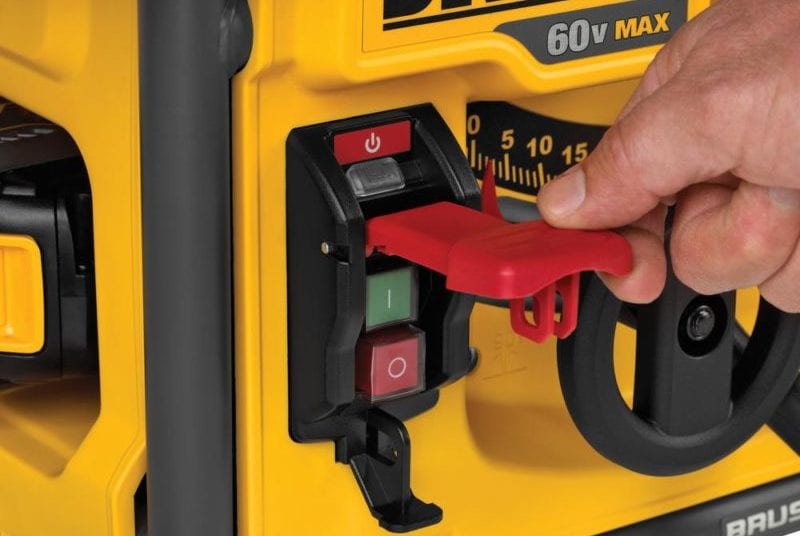 Room For Improvement
It might become the best tool on Earth if it had an AC adapter like DeWalt's miter saw. That would greatly increase FlexVolt's flexibility for obvious reasons. But I know that there are engineering challenges and price point targets that can conflict with that goal (though there are whispers of one coming).
So in lieu of that, I'd love to see the kit come with the 9Ah battery instead of the 6Ah. The saw performs just fine on the 6Ah, but I purchased the 9Ah and I haven't regretted it for a minute. You get all the power you need for about as long as you need with as much portability as you can handle.
That's all assuming you're good with an 8-1/4-inch blade capacity. Some Pros aren't going to be happy with unless they have a 10-inch job site table saw. DeWalt already has already proven they can match the 15-amp motor on their miter saw with two batteries, so it will be interesting to see if that upgrade comes down the road. The good news is that if they do, the AC adapter for two batteries is already in production.
The Bottom Line
Two questions pop up when considering a cordless table saw: power and capacity. The DeWalt cordless FlexVolt Table Saw bumps down to an 8-1/4-inch blade with 2 1/2-inch max cutting capacity to deal with its single battery power source. With the capacity it has, I find there's enough power to get the job done without regrets of cutting the cord.
It's gutsy for DeWalt to present a cordless table saw to the world, but it really is a solid step forward with the only major trade-off being a smaller blade. It's an excellent performer and I take it with me to every job. Of course, I started off skeptical of a battery-powered table saw, but it replaces my bigger, heavier full-sized version for most of the work I do.
In the absence of an AC adapter like the one on the FlexVolt miter saw, I suggest going with the 9Ah battery instead of the 6Ah battery in the kit. If you're going to commit to the FlexVolt line as a whole, it makes sense to have a couple of 9.0's at your disposal. Otherwise, this saw is a home run thanks to features taken straight from their popular corded models.
Check out our review of the DeWalt FlexVolt Grinder, our DeWalt FlexVolt reciprocating saw review, and our review of the DeWalt FlexVolt Chainsaw.
DeWalt DCS7485 FlexVolt Table Saw Features
Rack and pinion telescoping fence rails make fence adjustments smooth and accurate
24″ of rip capacity for ripping 4×8 plywood or OSB sheets
Run off of 20V/60V Flexvolt battery system for maximum portability
Site-Pro Modular Guarding System allows for tool-free adjustment of the guarding
Power-Loss Reset prevents accidental re-starts following a power disruption when the switch is left in the "on" position
Metal roll cage base offers greater durability than plastic bases
Onboard storage for Guard, Fence, wrenches and miter gauge
Table coating reduces friction for smoother cutting
DeWalt Cordless Table Saw Specifications
Model Numbers:

DeWalt DCS7485T1 (Kit)
DeWalt DCS7485B (Bare)

Arbor Size:

5/8 inch

Blade Diameter:

8-1/4 inch

Depth of Cut at 45°:

1-3/4 inch

Depth of Cut at 90°:

2-1/2 inch

Dust Port Diameter:

2-1/2 inch

Max Rip to Left of Blade: 12 inches
Max Rip to Right of Blade: 24 inches
No Load Speed:

5800 RPM

Height:

12.8 inches

Length: 22.8 inches

Weight:

48 pounds