One of the defining characteristics of Americans throughout our country's history has been our ability to truly innovate. Certainly one of the areas we've seen the greatest benefit has been in our manufacturing and tool development over the last century. Long before the DeWalt Made in the USA program was launched, it was American ingenuity and innovation that launched the brand into what we know today. Our tour of the DeWalt North Carolina Plant gave us a perspective on the company we hadn't experienced before.
A Brief History of DeWalt
Back in the 1920s, Raymond E. DeWalt faced a major problem as a supervisor: Meet an impossible quota of woodworking projects without increasing the payroll. He designed a machine with a yolk attached directly to a motor and saw. It was capable of being raised and lowered and could slide, cut at an angle, and bevel to wide range of angles. It was said that DeWalt's first radial arm saw did the work of four people to meet the tough demands of the day.
In 1923, Mr. DeWalt applied for the patent on his DeWalt Wonder-Worker and received it in 1925. Of course, the radial arm saw has given way to a combination of compound sliding miter saws and table saws, but this innovation started DeWalt on a course that has been meteoric. In 1924, while waiting on that patent to come, Raymond DeWalt officially started the DeWalt Products Company in Leola, Pennsylvania.
Quick Expansion
By the 1940's, World War II was well underway, and America's involvement was inevitable. DeWalt expanded rapidly around 1941 to meet the government's demand for national defense and machinery. In 1947, the company reorganized and emerged as the DeWalt, Inc. brand we know today. It's been sold twice, first to American Machine and Foundry before moving to Black & Decker and finally settling under the Stanley Black & Decker umbrella.
By 2002, manufacturing had all but completely moved out of the United States to China, Mexico, Japan, Korea, and Thailand where it would be less expensive. Fast forward to Veteran's Day 2013 when DeWalt announced that it would begin shifting parts of the manufacturing process back to America under the DeWalt Built in the USA with Global Materials initiative. Recently, the program was re-branded as DeWalt Made in the USA with Global Materials.
Materials and parts manufactured in Brazil, China, the Czech Republic, Italy, Mexico, and the United Kingdom are now sent to seven plants here in the United States for assembly and final touches before heading to dealers, distributors, shops, and jobsites across the county. Perhaps most importantly, bringing the final steps of the manufacturing process back to the USA has resulted in the creation of roughly 500 new jobs for American workers.
Visiting the DeWalt North Carolina Plant
We got a chance to visit the North Carolina plant last year. It started in October 2013 with assembly lines transferred from Mexico. DeWalt uses about 65,000 sq. ft. of a 1.2 million sq. ft. facility for manufacturing. The rest of that space is used for distribution. The new plant has reduced the lead time on equipment to the end-user to nearly zero—down from around two weeks. A nifty fact: The building actually has a line within it that sits atop the North Carolina and South Carolina border!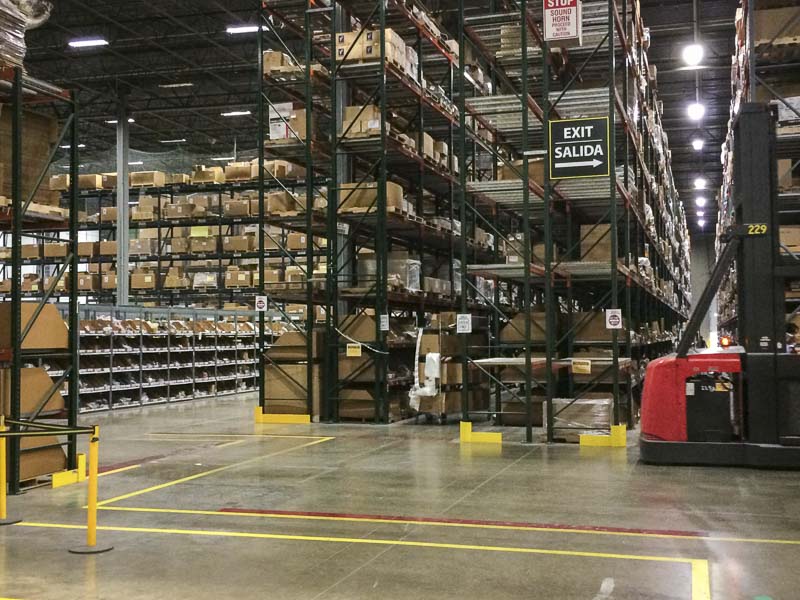 Cell Manufacturing Techniques
29 different models of tools are produced in this one DeWalt North Carolina Plant—including both 18V tools and new 20V Max brushless tools. All in all, the facility manages about 400 part numbers. The interior layout is divided into assembly cells. A cell may handle a drill and hammer drill or even three different, but related, SKUs. Because the tools in each line are similar, they can swap out a cell to a different tool in about 10-15 minutes.
On our visit, we saw DeWalt teams making 18V reciprocating saws and also impact driver and drill/driver kits. We also got to see machines that have been online since February 2014 making armature motors 24/7—over 42,000 motor assemblies per week! Of course, possibly the coolest thing we got to do on our trip was building our own DeWalt XR Hammer Drill and run them through QC testing. The line goal was 120 tools/hour for these products…something we probably didn't help with our clumsy intervention.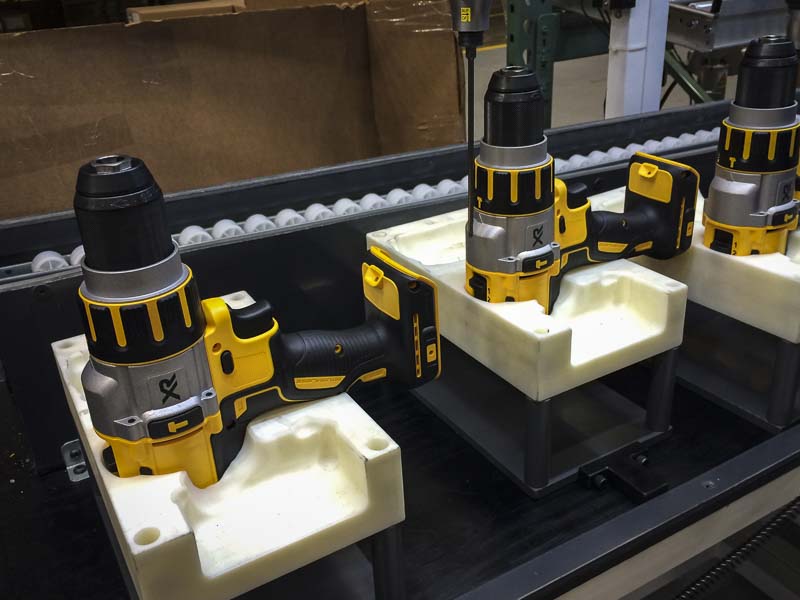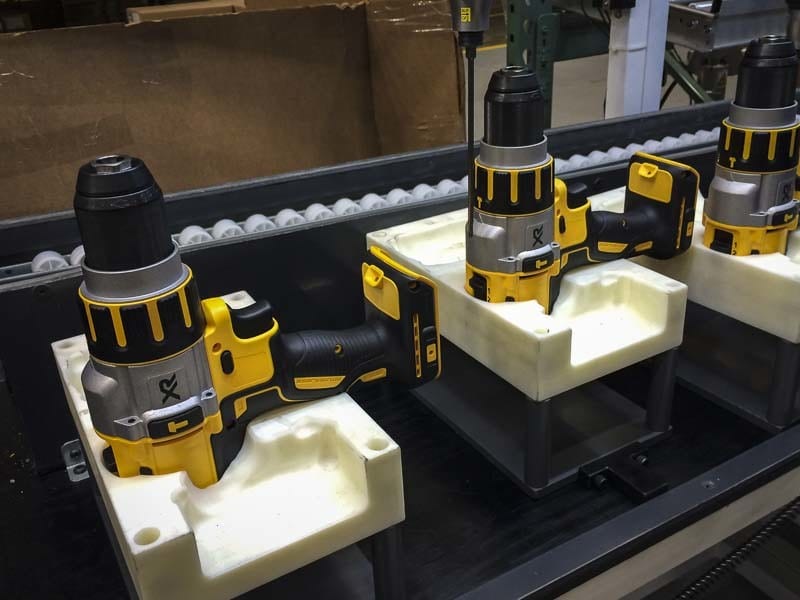 We started by assembling the case and securing the transmission. Then we loaded the flash memory for the tool and tested it for torque, hammer drill mode, and clutch control. Finally, we added the belt clip and bit holder, added the labels and stickers, and packaged up the tool for sale.
What Does Made in the USA Mean to Joe Pro?
End users have taken notice. Despite political leanings, we're a very patriotic country, and most of us want to buy USA-made products when we can. Many of us are willing to pay a little more for it if we need to. There's still a sense that tools made by Americans are of a higher quality than those produced overseas. There's certainly confidence that comes along with the pride of owning and using American-made products.
DeWalt has seen the value of bringing jobs back to the U.S. through this program and has plans to continue expanding it. 2015 saw more than 62 million units produced under the DeWalt Made in the USA with Global Materials effort. With the ability to handle steel and cast machining in-house, DeWalt currently produces plastics, motors, and powered gearing in their seven US-based plants.
Additional Thoughts
Is this program the perfect solution in a global economy? Of course not. We still have a massive trade imbalance. Still, we'd rather see tools produced using 100% American materials and manpower whenever possible. It's certainly a step in the right direction and one that seems to be generating results. Hopefully, the initiative will continue to gain more momentum as more manufacturing is returned to our shores.
Each brand in the tool industry has to push itself to be the most appealing to end-users. Some work toward being the best value. Others work to have the most power. Several want to be known as the toughest or longest lasting. While there are elements of all these ideals within DeWalt, it seems what the DeWalt Made in the USA initiative really does is dare other brands to produce quality, professional-level tools at competitive prices while bringing jobs back to the United States. We like what we see at the DeWalt North Carolina Plant and hope others take up that challenge.
DeWalt Made in the USA with Global Materials: US Manufacturing Plants
New Britain, Connecticut
Hampstead, Maryland
Shelbyville, Kentucky
Greenfield, Indiana
Cheraw, South Carolina
Charlotte, North Carolina
Jackson, Tennessee
DeWalt World Headquarters