Without a doubt, my favorite pair of jeans for either the office or the jobsite is the Dickies X-Series. But they're out to tempt me with something new – the Dickies Flex Tough Max Denim Jean. This one's a bit different from the norm when you think about men's jeans. And no, I'm not making the switch to skinny jeans.
It's the blend of materials that give the Dickies Flex jeans a different feel and slightly different look. It's a blend of 63% cotton, 35% polyester, and 2% Lycra. Cotton has always been the foundation of jeans and the other materials add certain characteristics.
At 35%, polyester is clearly the biggest intruder in cotton's kingdom. Polyester is what dry-fit shirts are made of. It adds excellent breathability as well as moisture-wicking to a garment. Lycra is well-known for its inclusion in bike shorts and other form-fitting clothing. While Dickies Flex jeans don't fit like my bike shorts, the 2% inclusion works with the polyester to introduce some stretch that you don't usually see.
Dickies Flex Tough Max Denim Jean Fit
Before we dig into the real-world merits of the material blend, let's start with fit. The sizing is a bit more generous than I'm used to from Dickies. I went with my standard 36″ waist, 34″ inseam.
Even though the waist stretches, it's a little bigger than advertised. Probably not to the point of being a 38, but it's a realistic 37. I'm not trying to claim to still have a 34″ waist when I'm actually a 36, so I don't plan for extra room in my jeans. Without a doubt, I need to wear a belt with these.
Length is in an interesting place here as well. I'm walking on more of the end than usual. Similar to the waist, it's maybe an inch longer than I expected. With a pair of work boots on, the boot keeps the leg from getting in the way, so it works fine. Plus, when I bend or stretch, the leg doesn't come over the top of my mid-height boots. So at work, the extra length doesn't really work against the jeans.
In case you're wondering, I haven't found any shrinking through the wash.
Comfort
Comfort is where the Dickies Flex Tough Max Denim Jean is on another level. The addition of polyester and Lycra give the jeans a soft feel right out of the package. The stretch that they give the jeans also makes kneeling and bending very easy.
Style
The Dickies Flex Tough Max Denim Jean is a traditional 5 pocket jean style. All of the major wear areas have an extra layer of stitching for reinforcement and the material blend itself is tougher than straight up cotton alone.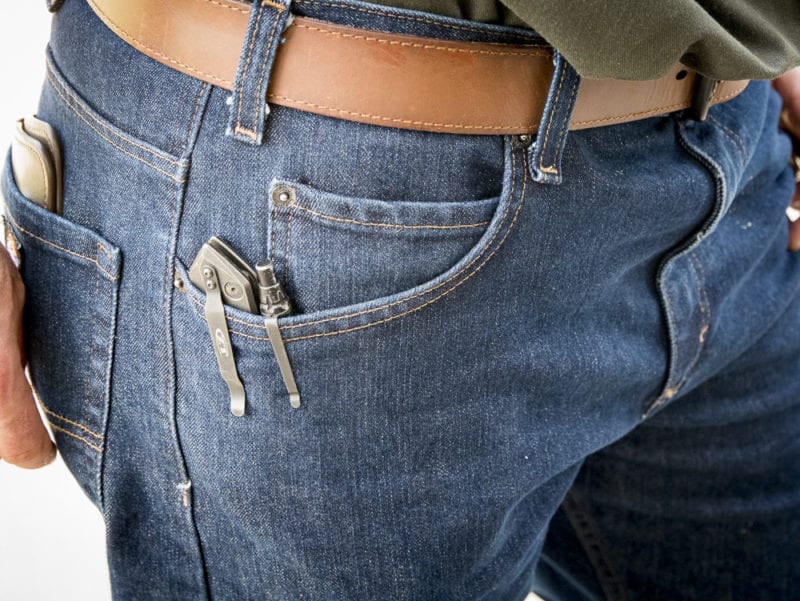 The material also makes the pants sit more loosely on your skin. So when you look at them, you know there's something slightly different, even if you can't put your finger on it right away. But most people that have weighed in their respective opinions don't seem to notice until I point it out.
Parting Thoughts
If you're looking for a pair of jeans that are crazy comfortable the day you buy them and allow to actually work, the Dickies Flex Tough Max Denim Jean is a big win. Just be aware that the sizing is generous and the material does have a slight effect on classic jean styling.
Direct from Dickies' website, the Dickies Flex Jeans will set you back $27.99 – a darn fine price for a comfortable pair of jeans that are also tougher than straight-up cotton. There are 3 denim shades available to choose from, so grab a pair and tell us what you think!
Dickies Flex Tough Max Denim Jean Key Features
Sits slightly below waist, traditional fit in seat and thigh, straight leg
11.5 oz. denim, 63% cotton/35% polyester/2% Lycra
Provides the comfort and freedom of movement on the job
TOUGH MAX technology by LYCRA brand–stronger and longer-   wearing than standard denim
Superior comfort and exceptional abrasion resistance
Straight leg with 20″ opening
Classic 5-pocket styling
Imported