DR Power Commercial Field And Brush Mower Tackles Tough Mowing Conditions
Dragging a big batwing behind a tractor works great for large plots of land. But what about smaller plots or areas that don't have wide access? We connected with Eli Mosley out at the ranch to see how the DR Power Commercial Field and Brush Mower handles tough cutting with its more compact width.
Pros
Honda GXV390 engine
Commercial-grade build
Independent hydrostatic drive system
Simple drive controls
Hand guards
Pivoting deck
Oil drain hose
Built in the USA using global materials
Cons
Could use a little more top-end speed for getting to the work area
DR Power Commercial Field and Brush Mower Performance
DR Power Commercial Field and Brush Mower Basics
DR Power turns to the Honda GXV390 engine for the XD26's power plant. It's a commercial-grade engine with a bulletproof reputation that produces 10.2 horsepower. There's also an oil pump so the engine still has lubrication when you're mowing hills.
Below the mower's 12-gauge steel deck, a monstrously thick 26-inch blade takes care of business. It's capable of taking down grass up to 4 feet high, 8-foot tall grass, and 2-inch thick saplings.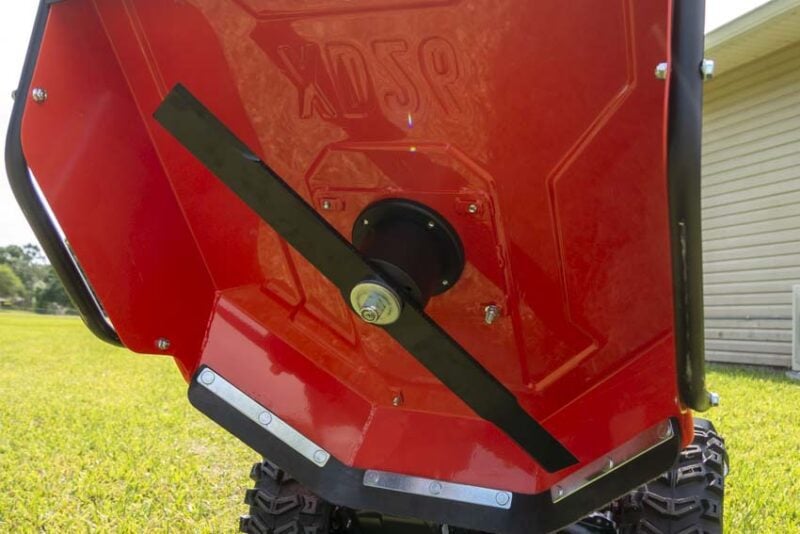 Two elements make the work easier to manage. The first is the two hydrostatic drives. With controls on each handle, it makes for a true zero-turn machine that improves your overall work efficiency.
The other is a pivoting deck. As you deal with the natural bumps and unevenness you find in any field, the deck is able to pivot. It helps keep you upright instead of angling side to side the way a fixed deck mower does. When you have a lot of work to accomplish, you deal with less fatigue at the end of the day.
Cutting With The DR Power Commercial Field and Brush Mower
We had two primary goals. One was to get some of the fields over in Bartow cut back down as what we consider regular maintenance. There's a lot of smut grass and bahiagrass, and the worst of it was around 3 feet tall.
The second section was far more demanding, with most of the field covered in 6 – 8-foot tall growth.
The combination of the Honda engine and high-mass blade chewed through the worst of what we threw at it with ruthless efficiency.
Aside from the excellent cutting performance, several other things stood out to us. On one hand, we wish there was a little more top-end speed for driving to the work area. The mowing speed is great, but getting from point A to point B could be a little faster.
On the other hand, the Honda engine is incredibly efficient. The gas tank holds a little over half a gallon of gas and we were able to cut for about an hour on a tank. Considering the size and power of the engine, we're very pleased.
In that hour, you can expect to cut around 3/4 of an acre in the best conditions. Overly bumpy or hilly terrain will slow you down, though.
DR Power Commercial Field and Brush Mower Design Notes
Drive Controls
The drive controls are very simple to use. Just squeeze the levers for forward motion or push the thumb lever to kick each wheel into reverse. They're pressure-sensitive, so the more you squeeze, the more speed you get.
One thing to look out for is that your hands can get sore if you're cutting large areas. We started noticing our hands within the first hour and by the time we were done with four hours of continuous cutting, they needed a break.
Hand Guards
We love the DR Power XD26's handguards! If you've ever cut brush with a machine similar to this that doesn't have them, you know the scraped hands you'll end up with. Handguards on both sides help us cut thicker brush and trees without risking the same hand injuries.
Drain Hose
Oil changes are easier thanks to the long drain hose that clips onto the side of the engine. Trying to contain the oil without it would be a challenge.
Additional Features
Four integrated tie-down points make trailering easier
1 3/8-inch cast iron spindle deals with the abuse and vibration of the mower's intended uses
Engineered and built in the USA using global materials
DR Power Commercial Field and Brush Mower Price
The DR Power XD26 has a list price of $4799 and is on sale for $4299 at the time we're writing this review. If you'd prefer an electric start, that model runs $300 more. The engine has a 3-year warranty and the rest of the machine has a 2-year warranty. It's the same whether you're using it for residential or commercial applications.
If the overall concept sounds good, but you need a bit more, check out the XD30 with its Kawasaki 18.5 horsepower engine and 30-inch cutting width for $4999.
The Bottom Line
The DR Power XD26 Commercial Field and Brush Mower is an outstanding solution for a variety of areas. If you have narrow access or narrow strips that a large bush hog won't fit on, it's a win. It's also a solid option for smaller properties or smaller budgets where a tractor and bat wing don't make sense.
Specifications
Model: DR Power XD26
Engine: Honda GXV390
Fuel: Gasoline
RPM: 3500 RPM
Cutting Width: 26 inches
Mowing Height: 4 inches
Dry Weight: 313 pounds