Last year we reviewed the EGO 12 in string trimmer which proved to be a great product for those of us with 1/8-acre lots who want to switch to rechargeable outdoor power equipment in lieu of gas powered tools. Where it came up a bit short was in the area of edging or when tackling heavier duty trimming tasks—plus the head was smaller than many trimmers on the market. The new EGO 15 in string trimmer utilizes a brushless motor for more power and motor efficiency, plus it increases (as you can tell from the name) the cutting swath from 12-inches to 15-inches. Those are the two areas I'll focus on the most in this review, and those are the two areas that should concern anyone who's still holding out on jumping into the EGO platform or picking up the new ST1501-S trimmer.
EGO 15 in String Trimmer Features
The first thing you note about the new ST1501-S string trimmer is that EGO improved their packaging. Packaging? Who cares about that? It's just that the new EGO 15-in brushless string trimmer comes folded in half. That's right, you unfold the straight shaft and then insert the two supplied allen screws, securing them with the included wrench. You can do this because the 56V brushless motor is located directly atop the string trimmer head. There's only wiring running through the shaft, and it's well-protected by a nice, thick, plastic overmold. At first I wondered if the trimmer folded up for storage, but it's designed to be assembled and stay assembled. Not only is disassembling it inconvenient, it could potentially wear down the wiring at the hinge point if folded and unfolded repeatedly.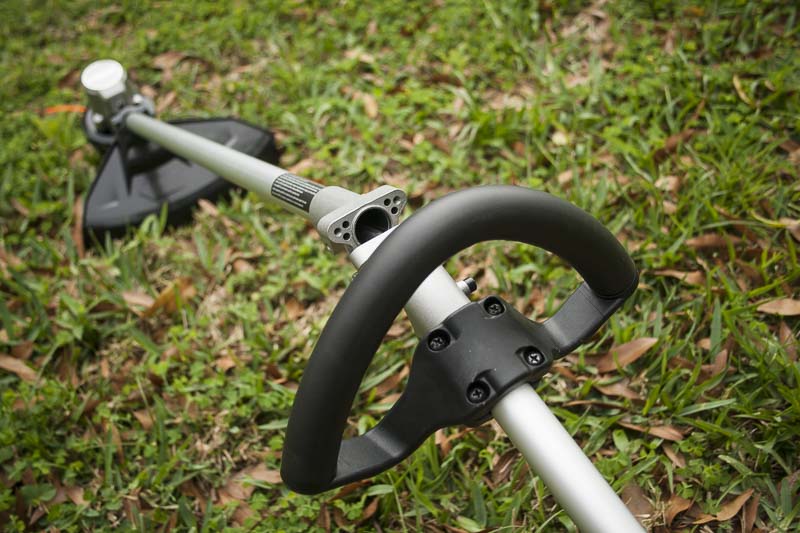 Which brings me to the next important feature—the brushless motor. This new motor offers a bit more power and torque than EGO's last model. That's a good thing, as it's pushing a 15 inch diameter path of string as opposed to the 12 inch path in the former model. EGO needed that additional cutting area, but it also needs the additional power required to drive the string through grass with enough speed and force to do a good job.
Even the line has been improved. While the EGO 12 in string trimmer went through line like it was spinning up an endless spool of spaghetti, the new EGO 15 in string trimmer upgrades from 0.08″ nylon line to 0.095″ twist line. That's nearly a 20% increase in diameter, and it makes a huge difference—bringing the new strong trimmer more in line with Pro-oriented models.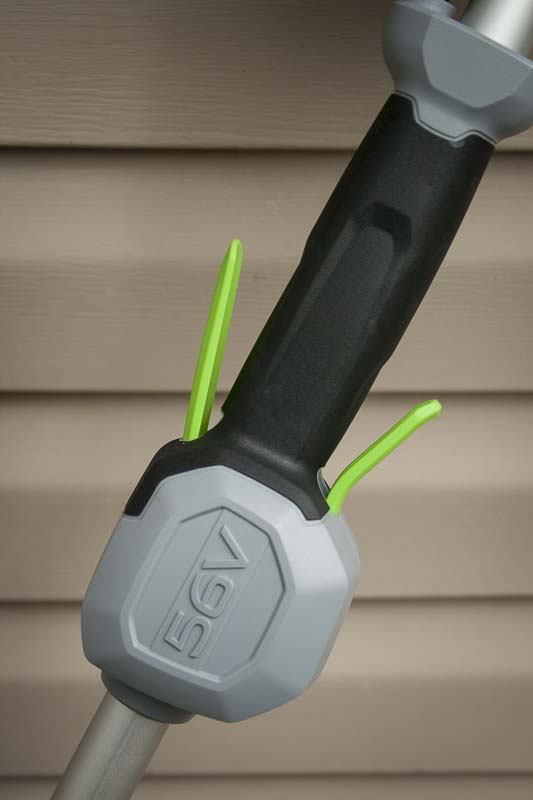 The included 56V 2.0 Ah battery, the same one that comes with the EGO 56V cordless chainsaw, is still loaded on the rear of the EGO ST1501-S, behind the handle and trigger. It slides in easily, with a satisfying 'click' to let you know you're ready to go. Both the handle, battery retaining system, and the triggers have been redesigned. The new trigger and lock off lever are similar to what you'll find on something like an ECHO SRM-225i string trimmer or a Toro. I've found these to have positive and negative features. These triggers are more sensitive—which I like—and able to give you more control over the tool than a power-tool-style squeeze trigger. The downside is that they tend to be more fragile. It's really a matter of preference and I've seen ECHO, Toro, and Stihl use both—even with concurrently shipping products. In either case, the new trigger system feels great, works smoothly, and offers lots of control over the tool. The lock-off lever (required for a battery-powered string trimmer) is very well-placed, and it never got in the way when starting the tool.
The bump protector is gone from this new EGO cordless string trimmer, likely a move by EGO to present this new trimmer as more of a pro-oriented model. I can't say I miss it too much. Though I initially found the device to be useful for keeping away from the paint on my house, in actual use I tended to ignore it.
EGO ST1501-S Build Quality
The new EGO 15 in string trimmer is well-designed, and looks like it should provide many years of service. I love the streamlined approach EGO is taking with these tools. While their 56V cordless chainsaw looks like it might have been a bit too futuristic-looking for its own good, the EGO 15 in string trimmer is perfect—with a nice straight shaft and ergonomic feel. The trimmer comes folded in half as I mentioned, and you also need to attach the cutting guard and adjustable front handle. Both of these are accomplished easily, and both are made of sturdy plastic that feels like it can take some abuse. The handle padding is very comfortable—and a nice addition to the tool. The new manufacturing processes available for rubber and synthetics should give it a decent amount of life.
The fact that the brushless motor is located directly atop the spinning cutting head means that you aren't dealing with a spinning shaft within the tool. Less moving parts equals greater life—one fo the general concepts that continues to make cordless outdoor power equipment so attractive. The fact that I can't talk much more about the build quality of the new EGO battery powered strong trimmer speakers to its simplicity of design—it's a well-built machine with little to no frills to get in the way. That's what you want in a tool, and that's what EGO delivers here.
Using the EGO 15 in String Trimmer
I used the new EGO 15 in string trimmer for about two weeks, trimming up the fence line, driveway, and front retaining wall on my property. Starting the tool is simple—you just insert the battery until it clicks, grasp the safety lock-off lever and squeeze the trigger. There are no On/Off digital controls or "boost" settings on this trimmer. It just fires up and goes. There is a bit of a lengthy soft-start on this tool, which takes about a full second or so to get up to its maximum ~5800 RPM spinning speed. The tool would feel more "confident" if this time were shortened, but once it's up to speed the cutting power is impressive.
Trimming back the heavy dwarf jasmine that rolls over top of that retaining wall was a task the former 12″ trimmer couldn't handle well. I'm not sure if it was solely the fault of the .080″ line or the lack of a brushless motor—likely an unequal combination of both. In either case, the new 15 in model made quick work of cleaning up a nice hedge along the edge of the wall as quickly as any other cordless trimmer I've used. In fact, it almost pulled me along, so eager was it to cut away the stubborn vines. As an edger, the EGO ST1501-S trimmer is back in the game, providing a lot more capability than just cutting back some grass around your trees, home, or deck. There is a substantial amount of torque on this trimmer, and you can feel it as you work—and you can hear it as the motor refuses to bog down.
I liked the ergonomics of the new EGO brushless trimmer as well. It felt good in the hands and was easy to both lift and maneuver. One thing that might be a nice addition is an anchor point for a shoulder strap. I find that to be a great relief when using a string trimmer for any serious length of time. Grasping the tool just in front of the handle however, balances it nicely for carrying when you're moving from one location to another.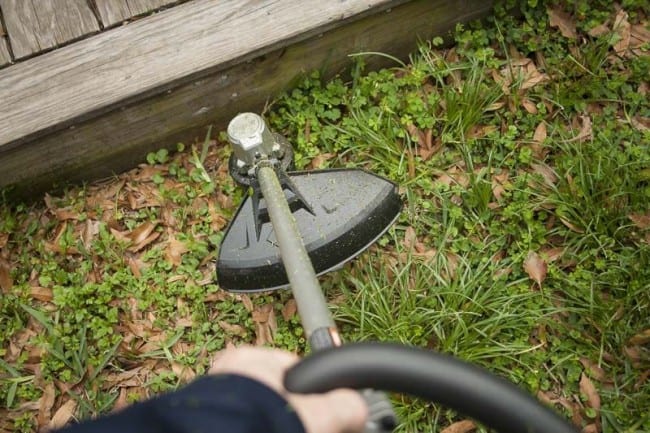 Conclusion
EGO has once again developed a product that is what I'd like to describe as a "Pro's tool for home use". If I'm trimming all day, I'll likely still want to use a gas model to give me enough run-time and unlimited power, but for home use I love the simplicity of battery powered outdoor power equipment. The EGO 15 in string trimmer is now a tool that most Pros with a smaller yard (like me) will really appreciate. It will get the job done, and you'll feel comfortable using it while it keeps your yard looking great. For more information please visit the EGO website.