EGO Commercial Blower Targets The Top of the Power Charts
As we dig deeper into EGO's professional line of cordless OPE, we have several questions to answer about the EGO Commercial Blower. Is the EGO LBX6000 really the most powerful cordless blower available? Will Pros adopt EGO's battery backpack system as one of their key landscaping tools? We'll look at those plus a few others.
Pros
One of the most powerful cordless blowers (18.2 N)
Lightweight in your hand thanks to the backpack battery
4 modes plus Turbo
More than 1 hour of runtime on Turbo and nearly 6 hours on low
Outperforms Stihl and Husqvarna cordless models
Cons
High price is an obstacle for some
Performance
Let's face it, we all want to know how much power the EGO Commercial Blower has. They claim 600 CFM and up to 168 MPH. Those are great numbers to flash, but Newtons take all of that and tell us how much actual blowing force a blower has.
To see what the EGO LBX6000 is up against, we need to turn back the clock to our best cordless blower article from a couple of years ago. Here's what the top 3 deliver:
EGO 575: 17.3 N
Stihl BGA 100: 17.0 N
EGO 530: 16.5N
EGO Commercial? A somewhat underwhelming 15.2 N…
… until you press the magic Turbo button. The power level button on the front cycles through 4 modes. Hold it down to jump into turbo and be blown away by its 18.2 N— briefly the King of the Cordless Blower Hill.
And it would still be on top if it weren't for the Ryobi cordless backpack blower that hit 20.0 N and EGO's own 650 CFM blower that moved the bar to 20.8 N.
A Little Perspective
Let's put that in a little perspective if you're here wondering how it compares to professional gas blowers. Right now, cordless blowers are in a race to hit 20 Newtons. That's the magic number that seems to be the mark of a primary gas replacement for Pros. However, the most powerful backpack blowers are capable of hitting more than 40 N, so there's still a long way to go before it's a pure 1:1 comparison between the two.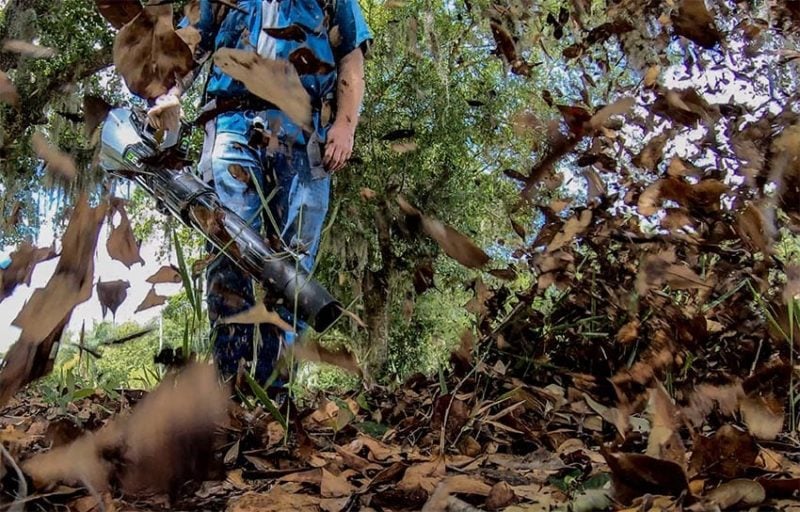 Runtime Estimates
The EGO Commercial backpack battery holds a massive 1568 watt-hours of energy. As much as we love you guys, we're just not going to runtime test with that much capacity. Keep in mind that for the commercial Pro, it's more about how many lawns or how much acreage you can maintain across all the tools on one charge.
Here's what EGO says to expect:
Level 1: 5 hrs, 48 min
Level 2: 4 hrs
Level 3: 2 hrs, 16 min
Level 4: 1 hr, 36 min
Turbo Boost: 1 hr, 10 min
Let's Make Some Noise
Engine noise is one of the reasons some communities are banning gas blowers and other OPE. But even among cordless blowers, there's a wide swath of noise levels.
The EGO Commercial Blower Hits 82 dB(A) in high and 87 dB(A) in turbo. That's right in line with the middle group of blowers from our last shootout and 8 dB(A) lower than the loudest we've tested. Stihl's BGA 100 is the quietest at 81 dB(A) at its highest speed.
EGO Commercial Blower Key Features
Design
EGO stick with the same inline axial fan design we see on their residential blowers. The big change is that you can't attach a 56V battery to it. The primary power source is the backpack battery. If you really want commercial equipment without the backpack battery, you can use standard EGO batteries with the BH1001 Battery Harness.
Weight
One of the really nice things about the Commercial Series as a whole is that the weight of the battery is on your hips and not the tool. That drops the blower's weight down to 8.2 pounds, making it one of the lightest blowers in your hand. Only Stihl and Husqvarna are lighter.
Additional Features
Brushless motor
Lock off switch
Round and flat nozzles included
Price
As a bare tool, the EGO LBX6000 runs $429 and you'll need to pony up another $1299.99 for the backpack battery. The good news is that one battery covers the entire line. If you're a homeowner, that seems pretty steep, but Pros are the target here.
When you look at replacing your gas tools with battery and the expanding influence of noise and emission ordinances, stepping into the system now might open doors to revenue sources that aren't available otherwise. Food for thought.
The Bottom Line
The EGO Commercial Blower is one of the most powerful cordless blowers currently available. Paired with their high-capacity backpack battery, it's part of a system that Pros can legitimately get behind.
There are still some power trade-offs when you look at gas models as a comparison. However, you won't find a more capable blower for areas where you need to avoid engine noise and emissions, either by preference or by ordinance.
EGO Commercial Blower Specifications
Model: EGO LBX6000
Voltage: 56 V
Maximum air speed: 146 MPH
Noise rating: 95 dB
Maximum Air Volume: 600 CFM
Depth: 39.370″
Height: 10.236″
Width: 70.87″
Weight: 8.157 lbs
Warranty: 2 years limited
Price: $429