It was a dark and stormy night only a week after my wife and I moved into our home. Our excitement quickly turned into concern as Hurricane Irma bore down. As soon as we'd finished unpacking, I was ripping plywood and battening the hatches. Then, the worst came: Netflix was knocked out, along with the power, as the storm approached. Ultimately, we were fortunate, although there was quite a mess to pick up outside. We took up some gracious friends' invitation to stay at their energized home since the weather was still hot and swampy. If only we'd had the Energizer 3200-Watt Portable Inverter Generator, we might have been able to stick it out at our place. It's the little brother of the eZV7500 you may have seen earlier this year.
I've put this highly-portable inverter through its paces over the last couple of months. What you should expect depends on more than just sitting in the 3000-watt class.
Top Features
Three Ways To Start
You can start the Energizer 3200-Watt Portable Inverter Generator with a traditional pull-start, an electronic switch on the interface, or a remote with a 100-foot range.
Ecomode
This is an optional throttle setting whereby the generator meets power demands dynamically. It causes the generator to idle under no load and lowers the decibels dramatically under all loads. Ecomode's maximum decibel output is 59 (100% load).
Dual Wave Technology
This technology controls both voltage and current for a true sine wave output under any load. True sine waves approximate the power distribution from your utility company, allowing smoother start-ups, longer life, cooler running, and a handful of other benefits.
Other Features
Built-In Mobility Kit: A fancy way to say the Energizer has a folding handle and wheels, it's more than most generators can boast.
Parallel Capable
Digital Display
Remote Start-Up to 100 feet away
Prep Time
Oil Fill
The Energizer 3200-Watt Portable Inverter Generator requires several pre-operation tasks. Behind a small panel on the port side, held on by a couple screws and plastic hooks, is the oil fill. To help with oil fills, Energizer includes a plastic oil transfer tool with a long spout. Interesting, I thought at first, until I saw that oil fill is recessed a couple of inches inside, near the top of the opening.
Frankly, it's a pain in the neck to fill, made more difficult by the hard-to-screw-in dipstick. It's a bummer since you'll need to fill up the transfer tool several times to reach capacity and check the oil level often during operation. I recommend getting a long funnel to save yourself some hassle.
Hopefully, the manufacturer makes this process a little easier in the next generation. I managed to avoid spills but it wasn't easy. I suggest you shove a rag underneath the oil fill while you do it. There is a low oil indicator, but don't wait for that. Be sure to maintain the generator proactively.
Power Up
Filling the gas tank is much easier. It features a tough metal gas cap connected with a chain, which is a nice touch. Energizer warns against fuel with a high ethanol content, but you can run it using standard e10 fuel. My preference is to run non-ethanol gas to avoid issues since this isn't my every-day use system.
A 12-volt battery sits behind the plastic grill on the front panel. This battery provides power for both the electric and remote starts. To connect your wires, you'll have to remove the grill and the bracket holding the battery. It's a bit of a tight squeeze getting the battery out and even more difficult once the wires are connected. Here, like the oil fill, I hope the manufacturer would make it more user-friendly the next go 'round.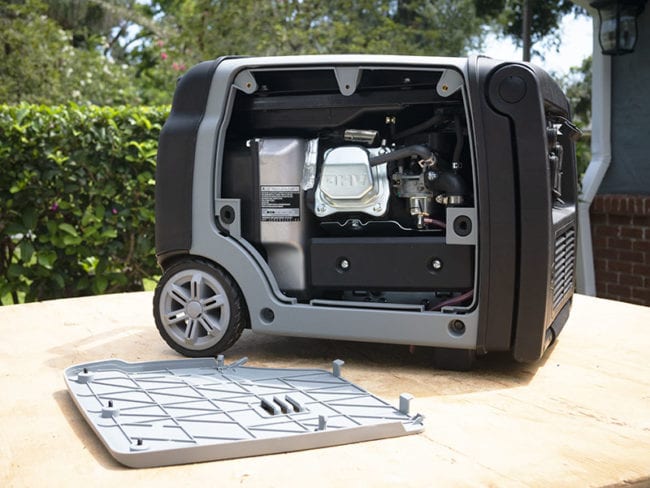 The final preparatory step is to soak the air cleaner in oil. This can be a messy process, but with a small tub and some gloves, you can complete it unscathed. Be sure to dispose of the oil properly.
Riding the Dual Wave
Once up and running, my goal was to plug in those things we'd need if we found ourselves without any power. Of course, the fridge came first. A regular-sized refrigerator requires about 750-800 watts to run, but keep in mind there's a total surge demand around 2200 watts when the compressor kicks on. Even with that demand, I still have plenty of power for lights.
The Energizer 3200-Watt Portable Inverter Generator gives you up to 3200 peak watts and runs at a continuous 2800 watts. You can easily do the math per bulb.
In any event, the Energizer handled these two needs with flying colors. In EcoMode, you can tell when the refrigerator's compressor kicks on and the generator dynamically meets that demand. It's harder to tell in wide open throttle. Using the remote control is a great convenience, too. Just hold the button for a second or two.
Energizer claims that the eZV3200P can run a 13,500 BTU air conditioner on its own. This is the final piece of the stay-at-home-when-the-power-goes-out puzzle. A 5,000 BTU unit requires just over 1,000 watts at peak – good enough to keep one room cool. I'll need to switch between the refrigerator and air conditioner to prevent overload. But that's a small price to pay for the compact convenience of the eZV3200P. Besides, the refrigerator can remain unplugged but effective for hours if I don't stand in front of it with the door open.
What About the Job Site?
2800 continuous watts can supplement a single-man crew or run a couple of lower-draw tools. It has the ability to run anything up to 20A that needs a 120V source, so your miter saws and table saws are on the menu. You just have to stick with using one at a time. What's nice is that the noise level stays down so it's not adding much to the job site decibels.
Price and Value
At $1049, the Energizer 3200-watt generator is sitting at Honda pricing. Honda's 2200-watt Super Quiet model is $999. Their 2800-watt unit is also $999, but it runs a little higher in the noise department. With Energizer being a relatively new player in the market, it will take more than just a couple months of use before I can say for sure if it belongs in the premium class. That said, the power, noise level, and feature set at least initially compete well against Honda.
The Bottom Line
While the Energizer eZV3200P can run just about any 120V appliance or tool, you'll want to look to a higher power class if you want multiple high-draw items running at once. Keep that limitation in mind if you're considering this model for job site or emergency power uses. As a recreational generator, it's a nice balance of power, portability, and noise level.
Energizer 3200-Watt Portable Inverter Generator Specifications
Model Number: eZV3200P
Watts 3200W Peak 2800W Continuous
Start Method Recoil, Electric and Remote up to 100ft
Power Delivery EcoMode AVR
Fuel Capacity 91 Unleaded Gasoline / 7.4L

208 CC motor

Panel Outlets 2x 120V 20A socket, 1x 12V 5A DC socket, 1x 120V 23.3A twist-lock socket
Runtime 15.5 Hrs (25%) 4.2 Hrs (100%)
Fuel Gauge Included
Noise Level 52dBA @ 25% Load, 60dBa @ 100% Load
Choke Included
Display Multimeter Display
Shipping Dimensions 610 X 465 X 500 mm
Warranty 3 Year Limited
Extended Warranty Options 12, 24 & 26 Months Available
Price: $1049 (Amazon)
Shop Amazon