You may have seen some of the dead-blow hammers and mallets running around. When you strike an object, especially something hard, shot inside deadens the blow. This is in contrast to the vibration and bounce back you get from a traditional model. Now we have the Estwing AL-Pro Shot Hammer. This is a different application than we normally see, but is it going to be the new premium hammer everyone wants to get their hands on?
Material Choices
We hear a lot about titanium with Stiletto framing hammers and the power to weight ratio they offer. It certainly pretty incredible. But as nice as those hammers are, even with their poly fiberglass handles, one of our favorites is still the Powerstrike Framing Hammer. Like the Powerstrike, Estwing opts for aluminum. This is much the same rationale as the bicycle industry – aluminum offers high strength and lighter weight than steel, though steel has better vibration dampening properties in general.
Thanks to the forging process and the alloy Estwing goes with, it's claiming to be even lighter than titanium. That's not a claim we can validate since titanium hammers go with a different material for the handle. Estwing's aluminum, however, makes up both the handle and head.
Design
In an ideal world, we'd be able to forge an entire hammer around whatever core we wanted. However, that's not the case. Estwing has a few possibilities here: design a removable face to insert the shot to the core, go in through the top, or go in through the claw. The Estwing AL-Pro Framing Hammer uses a rear insert method, given away by the fastener location.
That doesn't make it the sleekest-looking framing hammer the world has ever seen. But as we have experienced before, don't judge a book by its cover.
Features
The features of a framing hammer are pretty basic once you get past the material choices and, for Estwing, the shot head. Framing hammers come as either a smooth or milled face. And in this case, you can choose whichever you like.
Moving to the back, you have a claw. The Estwing AL-Pro Shot Hammer follows convention here, but you'll notice the space between the claw doesn't go as deep as most. So while the channel is shorter, it keeps the offending nail further away from the pivot point and claims to offer better leverage. I didn't feel an appreciable difference between this setup and my Stiletto. But it's comparing a 16″ and 18″ handle, which isn't entirely fair.
Because this Estwing hammer has a full metal build and not a wooden handle, you get a vinyl grip. That's a must have on any metal handle thanks to the vibration that will still come through. The grip reduces what vibration makes it to my hand and offers a pretty comfortable yet secure grip. The grip is a nice step up from my other premium hammers. The handle also has just enough curve to fit well in hand.
And, of course, every premium framing hammer should have a magnetic nail starter. You'll get one on this model that works well in this class.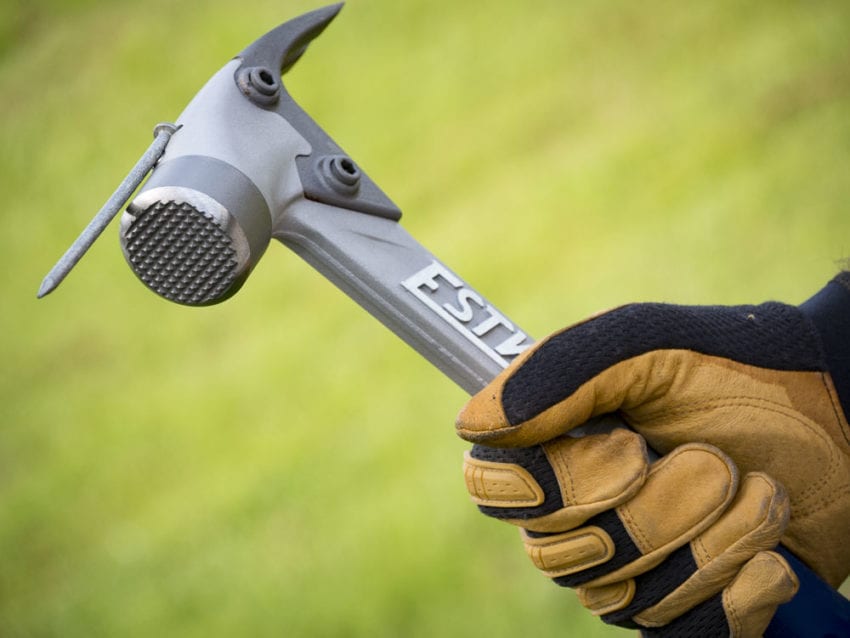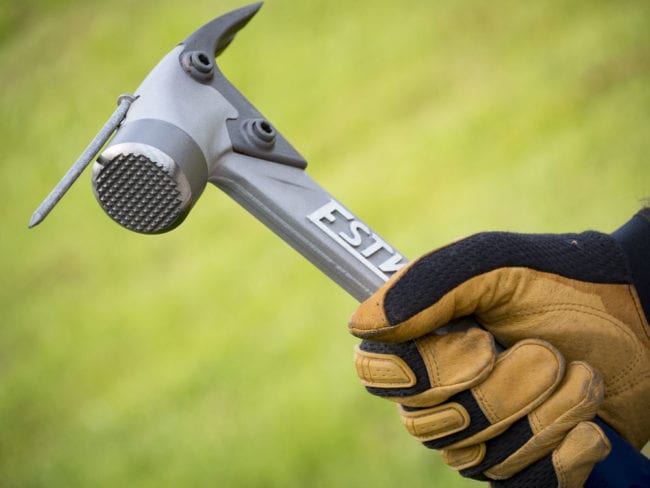 As far as missing features go, some Pros prefer a side nail puller but the AL-Pro doesn't have one. That's far from being a deal-breaker.
A Shot in the Dark?
The Estwing AL-Pro Shot Hammer obviously takes its cues from its dead-blow counterparts. But with a strikingly different application, does the concept still work?
As far as deadening the blow goes, there's a little less bounce back once you get the nail flush, but not much. The main claim to fame is vibration reduction, though. On that end, there is definitely less vibration compared to my cheaper hammers. But when it comes to premium wood or poly-fiber handles paired with titanium heads, it sits comfortably among them as their peer.
Where titanium still stretches ahead in this class is weight. It's a pretty obvious difference just picking up the two styles side by side. Add a third – the steel hammer – and you'll clearly feel the weight reduction with the Estwing's aluminum construction. So the build is a happy medium between the two.
Hitting the Nail on the Head
It all comes down to striking the nail. You can toss the cheap hammers out after just a couple of nails with each. The Estwing AL-Pro is clearly superior. Things got a little muddier when I invited Stiletto and Powerstrike to the party, though. Striking power is similar between the two aluminum hammers and I give Estwing the edge thanks to a more comfortable and secure grip.
Stiletto's titanium still has an overall better feel, especially as the day gets longer. It's not just the lighter weight, but the additional length in the handle also serves to improve the power delivery. Estwing can benefit by offering an 18″ handle option next time around. Even with the extra length, it's going to be awfully tough to beat out titanium in the premium hammer class.
The Bottom Line
When you start talking about dropping $100 or more for a framing hammer, it darn well better be a good one. The Estwing AL-Pro jumps away from standard hammers with a solid gap in performance and vibration control to join the other premium hammers on the market. It does a very nice job fitting in, but titanium models are still going to cover the upper echelon.
Price is a determining factor here and you're going to save money over titanium hammers with non-wood handles. Durability is another consideration with solid aluminum construction taking a lot more abuse than a poly-fiber or wood handle can take. So when it comes to balancing performance, build quality, and price, the Estwing AL-Pro has a compelling argument wrapped in a pretty innovative package.
Estwing AL-Pro Shot Hammer Key Features
Forged aircraft aluminum alloy
MV2 technology
Counter-bored high strength alloy fasteners
Lighter than titanium
Vibration dampening shot technology
Magnetic nail starter in head
Perma-cap interface
Interlocking claw
Patented shock reduction grip
Estwing AL-Pro Shot Hammer Specifications
Models: Estwing ALBK (Smooth Face), Estwing ALBKM (Milled Face)
Head weight: 14 oz / 393 g
Overall length: 16″ / 406 mm
Claw type: Rip
Color/finish: Black and aluminum alloy
Handle material: Nylon
Price: $110.92 (ALBKM)
Shop Amazon