Flex Cordless 5-Inch Angle Grinder Features Excellent Design and High Performance
We've been getting to know Flex cordless tools as a new launch and have been impressed with what we've seen so far. One of the questions we've been trying to answer with each review is "where does Flex fit?" and that's high on our mind as we take a closer look at the Flex 24V Brushless Cordless 5-Inch Angle Grinder.
Pros
Electronic speed control (four settings)
Anti-kickback sensor
Slimmer handle design
Easy, one-step guard adjustments
Excellent kit value
Lifetime warranty on the tool, batteries, and chargers if you register by 12/31/22, 5-year warranty standard
Cons
Flex 24V Brushless Cordless 5-Inch Angle Grinder Performance
Flex designed their first cordless grinder to top out at an impressive 10,000 RPM. That's pretty high and they designed four electronic speed settings to help you control the speed if you're in a situation where you need to tone it down.
The speed is only impressive if the tool can hold it under load, though. We tried a variety of cutting, grinding, and polishing to see how it compares to the other 5-inch cordless grinders we've used.
The power level is impressive for this class. We were able to bog down the wheel as we went, but it held up as well as any other model we've used in the 5-inch class. As we turned our attention from cutting 1/4-inch angle iron to grinding some of the top layers away, we were impressed with how quickly it removed material. Switching over to a flap disk, it left us with a nice, polished shine.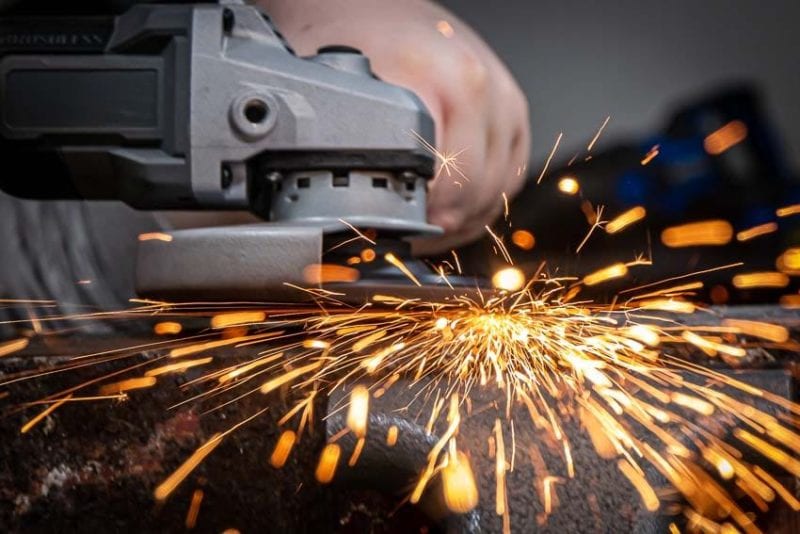 We did the majority of our testing with the 5.0Ah battery that comes in the kit and we'd recommend you stick with that one. Once we ran it down, we put it on the charger and it didn't need any cool down time before it started charging. We switched over to a 2.5Ah battery and it was noticeably easier to bog the wheel down. You can enjoy the lighter weight for the lightest tasks but stick with the 5.0Ah pack as you move into those medium and heavy-duty tasks.
Flex 24V Brushless Cordless 5-Inch Angle Grinder Design Notes
Ergonomics
Flex went with a slimmer handle design than many small angle grinders and it's a move we like. Combined with overmold in all the right places, it offers a secure grip when you're grinding and cutting at a variety of angles.
One of the benefits of a small angle grinder is the weight savings over larger models. Without the battery and with the side handle, this model weighs 4.3 pounds and it's 6.4 pounds with a 5.0Ah battery.
Switch Options
Flex has two grinder styles out of the gate. They're pretty much identical save for how you engage the power. The model we're reviewing has a paddle switch. The other uses an on/off slide switch.
On Guard
This Flex cordless grinder makes guard adjustments as easy as it comes. Simply rotate it counterclockwise (if you're looking down from the top) until it hits the position you're looking for. To remove it, rotate it so the guard is pointing out straight from the tool and you'll feel it loosen to where you can swap it out.
Shockshield Side Handle
In the Flex universe, Shockshield is the term they use for vibration suppression. In this case, it's on the side handle. There's a separation near where it connects to the tool that allows some of the vibration to dampen before reaching your hand.
The handle fits onto the left or right sides, but there's no center top installation point.
Kickback Protection
Flex includes a kickback sensor on the tool. In the event you bind up your grinder wheel or or it kicks back on you, the motor will automatically stop. Despite that control, there's no fast electronic brake when you release the switch. It takes about 2.5 seconds for a Type 27 grinding wheel to come to a stop, so it's not as slow as some.
Flex 24V Brushless Cordless 5-Inch Angle Grinder Price
No matter which style you're looking to get your hands on, the kit runs $249 with a 5.0Ah battery, Fast Charger, and tool bag. If you've already jumped on the platform, the bare tools are $179. Compared to other premium brands in the same performance bracket, it's a pretty solid value.
Keep in mind you also get a lifetime warranty on your Flex tools, batteries, and chargers if you register them by 12/31/22.
The Bottom Line
We set out to determine where this model fits in the realm of cordless grinders. The Flex 24V Brushless Cordless 5-Inch Angle Grinder competes very well against premium professional models in the small angle grinder class. It's not on the same level as cordless 6-inch grinders, but that's not what it was designed to compete against. We prefer its slimmer handle design and having some speed control is also nice. Where it really sets itself apart is the kit value, though. Flex is only charging another $70 for the battery and charger compared to the bare tool, making the kit significantly less than its competition.
Flex 24V Brushless Cordless 5-Inch Angle Grinder Specifications
Model: Flex FX3171A-1C (Paddle Switch Kit)
Motor: Brushless
Speed: 3500/5000/7000/10000 RPM
Wheel Diameter: 5 in.
Arbor Diameter: 5/8 in.
Electronic Speed Control: Yes
Overload Protection: Yes
Variable Speed: Yes
Side Handle: Yes
Spindle Lock: Yes
Length: 12.48 in.
Width: 5.43 in.
Weight: 4.28 lbs.
Warranty: 5 years (lifetime if registered by 12/31/2022)
Kit Price: $249