Gerber Dual Force Multi-Tool Takes Pliers Seriously
If you're the type of person who runs back and forth to your toolbox when working on a project, tools that do multiple jobs are your best friend. Maybe you've used multi-tools in the past and weren't impressed. Gerber got our attention with the Dual Force multi-tool thanks to a new focus. Take a look at its features and decide if it's adding to your toolbox.
Gerber Dual Force Multi-Tool: The Big Deal
To start off, Gerber claims that the Dual Force multi-tool provides twice the jaw strength and force of other multi-tools. It features blunt nose layered construction jaws, which operate like either small fastening pliers or regular pliers. The plier head's 2-position, slip lock design includes extra-large teeth which Gerber designed with control in mind.
Twelve tools in total are featured in the Gerber Dual Force. Along with the plier function, there's a wire cutter, a wire stripper, a plain edge blade, a center-drive axis driver with flathead and cross bits, a saw, a fine/coarse file, a chisel edge, and an 8-inch/20-cm ruler.
The Dual Force also has a 47% narrower headspan than the competition, at 2.375 inches. This makes it compact and lightweight but also improves its strength in torsion tests against competing multi-tools.
Gerber also continues its use of center-axis technology in this tool. This technology allows the Dual Force's driver to operate as a real screwdriver.
Additional Features
Lanyard hole
Sheath included
Vertical or horizontal wearability
Butterfly opening
Locking outboard tools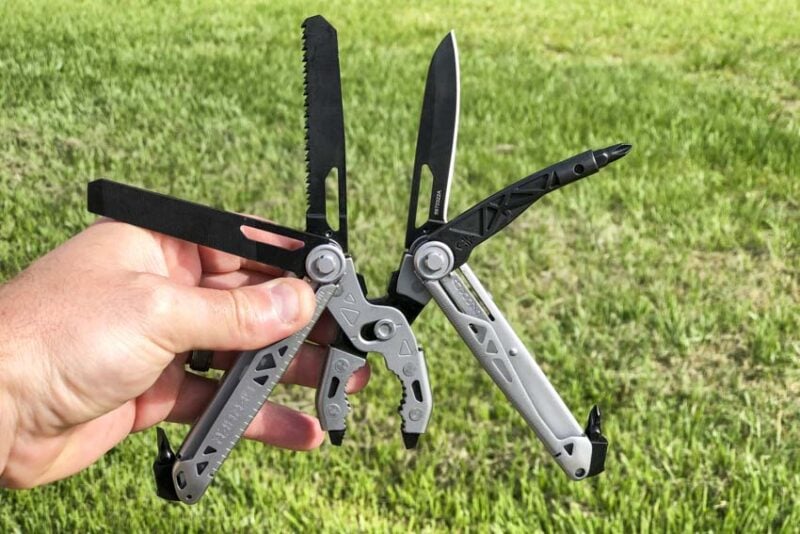 Price
The Gerber Dual Force Multi-tool has a retail price of $110. As with all Gerber products, the multi-tool is backed by a limited lifetime warranty.
Specifications
Model: Gerber 30-001721
Length: 4.65 in
Blade length: 3.25 in
Width: 0.84 in
Weight: 12 oz