The Gerber US-Assist is the latest from our friends at Gerber Gear. Having just heard Kenny Koehler raving about the design of their Center-Drive multi-tool, I had to take a closer look at this new folding pocket knife.
As a kid, I remember when my dad would come home from working at the machine shop and do his ritual pocket dump into the dry sink in the dining room. In the same place at the end of every day, he would put his keys, nail clippers, wallet, pocket change, and his knife. When he wasn't looking, I would play with the little knife and remember seeing the name Gerber on the tang. It was years ago and I can't remember the model, but it was from my dad that I learned what an EDC (everyday carry) knife was.
Fast forward and now I am always on the lookout for a new EDC knife. Let's just say that over the years I have become a little bit of a pocket knife snob. So when I heard about the new Gerber US-Assist, I was interested and maybe just a little skeptical. On paper, the specifications make it look like an ideal EDC.
What I Look for in an EDC
So what sparked my interest in the Gerber US-Assist you might ask?
The best places to start are with a couple of parameters I look for in an EDC knife. This is my list – it's not all-inclusive and everyone has a different take on what an ideal EDC knife might be. For starters, I am American and I love when I can get US-made products and the Gerber US-Assist is a Made in the USA product.
l am keenly interested in the materials used in the knife's construction – not of just the blade but holistically. On the nerdy side, the internals of the knife matter to me too, it's the unseen details that can make all the difference on the assist that opens the blade, the blade pivot, and how the lock functions.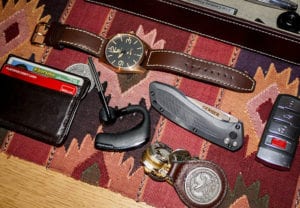 Lastly is overall size. Let's face it, I'm not a Special Forces soldier so I don't need anything that fills up my whole pocket and takes two hands to wield. I like something that fits my hand, stays fairly inconspicuously clipped inside my front pocket, and doesn't make me look like a terrorist when I whip it out to take care of business.
Now that you know where my head is, perhaps you can see why the Gerber US-Assist might be a good EDC fit for me if you check out the specs.
When I first got it a few weeks ago, I initially wasn't sure it had what it takes. I really wanted to love it, but something was holding me back. So to give this knife a full opportunity to win me over, I put away my other EDC knives that I frequently rotate through and have only been carrying this knife for about 3 weeks now.
Blade
What first caught my eye first was that that the Gerber US-Assist uses CMP S30V stainless steel for its blade. If you are a knife snob you will know what this steel is, but for the novice, here's a breakdown. CMP S30V is a custom blend of carbon, chromium, vanadium, and molybdenum along with iron particles. Metallurgists then sinter them together to form a solid stainless steel. What this does is provide near perfect distribution of the individual elements through the alloy.
The end product is a stainless steel generally regarded to be one of the top knife blade steels because it gives an ideal balance of edge retention, hardness, and toughness. It's one of the first "Super Steels", though S35VN is a superior (and more expensive) blend.
While we are on the topic of blades, I like the fact that this knife comes with a modified drop point blade. This is one of the most versatile blade styles as it allows for both push and pull cutting and has a strong tip. I'm not a big fan of serration as blade maintenance can be tricky when it comes time to sharpen it, so I like the plain edge.
This blade has two ramped thumb studs to facilitate ambidextrous deployment. The one thing I don't like is how the blade edge ends in the choil. Shaping to the inside end wears down the edge of sharpening stones and is difficult, so this is one area for improvement.
Gerber US-Assist Handle
Prior to receiving my knife, I looked at what other users were saying online and found the handle might be the most polarizing aspect. Glass-filled nylon does not seem like the first choice from the enthusiast standpoint. With popular low-cost offerings like anodized aluminum or G10, many people think these are the only two reasonable options.
It's interesting to note that my Kershaw Blackout 1550 also has a handle of glass-filled nylon and has given me over 10 years of trouble-free service. Case in point, some materials might look cool, but in the end, unless it is for adding some kind of grip enhancement, does it matter?
I'm starting to think not.
My initial reaction is that the overall size and shape the of handle fit my hand perfectly. There is no jimping on the back of the blade or upper handle area (there is some on the back spacer), no defined forefinger or thumb indention, or other significant features to add grip purchase. However, I found that the handle is very natural feeling. In a way, the handle design felt quite at home in my hand, similar to my beloved Kershaw Blackout 1550.
Pocket Clip
I like how the Gerber US-Assist has a large gap in the clip at the top that allows the knife to carry well in pockets that might have a thicker edge seam. Also, the deep carry style allows the knife to carry very low and inconspicuously. The clip comes installed in a tip-up position but can be switched to tip-down. It's only a two-position clip, so lefties will have to deal with that.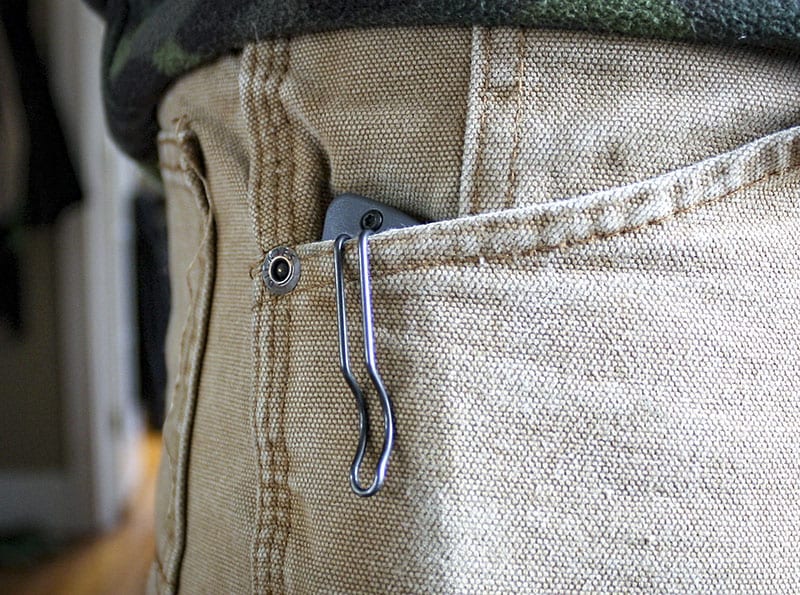 Safety and Locks
The last visible and critical part of this knife is the lock mechanism and this knife has two separate locks. The first is the large button near the pivot point. You deploy the blade by slight pressure against the thumb studs. Once deployed, the button pops out and locks the blade in the open position.
To close, simply push the button in and fold the blade manually. You will feel the spring producing some tension against you as you close the blade. This is pretty straightforward and effective. Lockup is fast and tight.
There is a second cross-bolt style safety that is the small button just beyond the main lock. Think of the cross-bolt safety on many shotguns – push to one side for safe and the other for fire. Same here. You can lock the blade in the closed and fully open positions with this button. That makes it as safe and rigid as a fixed blade when open and won't let it pop open when closed. While I like the design, it takes some getting used to if you're coming from the frame/liner lock world.
B.O.S.S. Technology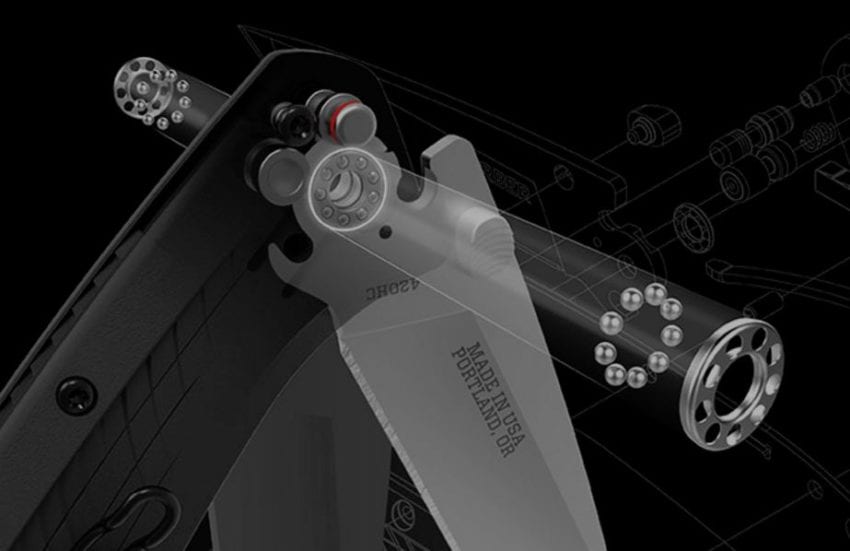 Inside at the blade pivot is what Gerber calls B.O.S.S. Technology. This stands for "Balls Of Stainless Steel". Depending on your point of view, it's either a tongue-in-cheek way to say this knife's deployment system is tough or adds to your masculinity.
Some might argue that in an assisted opening knife, ball bearings would be a moot point. Well, yes and no. What I have experienced with other knives with bearings is that they are butter smooth to open and do not have or need an assist normally. With this knife, I can't even feel the butter smooth (it is smooth, don't get me wrong) because the blade literally flips out instantly and with authority. So I got to thinking, "why do this?"
Given my mechanical engineering background, I can say that yes, the bearing system makes for low friction but also adds stability. Stability is where I can see this knife excelling in that there is absolutely no blade play between the blade and handle. When in the locked position – even with extra side pressure – I couldn't get any measurable play. None!
Final Thoughts
Over the last few weeks, I have really warmed up to the Gerber US-Assist. It wasn't love at first sight, but its design and details did grow on me. It really sunk in with the disappointment of losing it. Coupled with the joy of finding it underneath my driver's seat, I realized just how much I've enjoyed carrying it.
S30V blade steel puts this knife in an elite category, though the handle material choice is a bit unusual for this class. I'd be more excited to see machined aluminum or G10 scales, but glass-filled nylon isn't a deal breaker.
Gerber does a nice job with their B.O.S.S. opening system along with their locking system. It'll take some time to adjust from finger flippers and frame locks to thumb studs and button locks. Give it an honest shot and you might be surprised how much you like it.
Some guys will balk at the $119 price point, but take a look at other S30V knives out there and you'll find it's a decent value. I'd like to see Gerber build on the line with more offerings of blade finishes, handle colors, and materials. I'm encouraged that it looks like Gerber is making a healthy effort to make a quality EDC knife at a reasonable price with high-end blade materials.
Gerber US-Assist Specifications
Handle Material: Glass-filled Nylon
Lock Type: Plunge-lock w/ Cross-bolt Safety
Blade Style: Straight Modified Drop Point
Blade Material: CPM S30V
Blade Length: 3.0″
Overall Length: 7.2″
Weight: 3.9 oz
Warranty: Lifetime in the USA
MSRP: $79.99