Greenworks 24V Cordless Inflator Fills Up To 160 PSI
One of the joys of a well-developed cordless platform is what you can run with the batteries that aren't typical power tools, such as inflators. We got our hands on the Greenworks 24V cordless inflator as an example of what they're doing to expand into lifestyle products.
Greenworks 24V Cordless Inflator Performance
The Greenworks 24V cordless inflator gives you both flexibility and functionality. It has an operating range of 0-160 PSI and can top off your tires from 28 to 35 PSI in under 2 minutes.
This inflator is pretty straightforward when it comes to the controls. Start by hitting the power button and from there you press the + or – button to set your desired pressure on the backlit LCD display. Once you're set, just hit the "play" button to start inflating.
A great example of this inflator's excellent functionality is the auto-fill shut-off function. With it, you set your desired PSI without fear of over-inflation. Once the inflator reaches the target pressure, it shuts itself down.
Realistically, most of us will never need to inflate anything to 160 PSI. Most passenger vehicle tires are in the 40s, mountain bike tires can handle 50 PSI, larger trucks might need 100 PSI, and road bike tires can be 120 PSI. If you happen to have something that requires more pressure, it's nice to know Greenworks can get you there. Plus, there's the confidence in knowing it's built well enough to handle those high pressures.
Low-Pressure Filling
There's also a mode selection button that lets you alternate between the high and low-pressure functions. On the front side, you have a detachable low-pressure hose connection. You can use this for anything from filling air mattresses, pool inflatables, inner tubes, and much more.
By inserting the hose onto the intake on the side, you can also use this mode as a fast deflator.
The big difference between this and the high-pressure hose is you don't have PSI readings or targets. You need to monitor the filling and shut the inflator off when it's complete.
Greenworks 24V Cordless Inflator Design Notes
Dual Power Sources
Roadside emergencies happen and so do dead batteries. Fortunately, you can use any Greenworks 24V battery or plug the inflator into your vehicle's 12V outlet for power. The 9-foot cord stores in the base.
Size and Weight
As far as inflators go, this one is mid-sized. It weighs 4.9 pounds with a 2.0Ah battery and it doesn't take up too much room at 8.5 inches tall and 9.5 inches wide. It's a great option to keep in your trunk or toolbox for emergencies and has a comfortable flexible handle for carrying.
Hoses and Accessories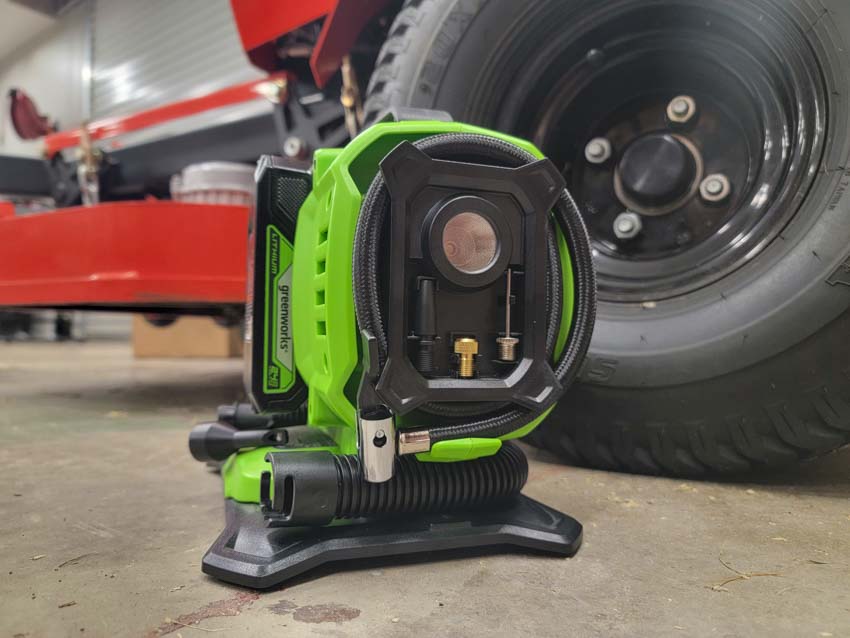 Greenworks did a great job of hose and accessory management on this inflator. They utilize a side wrap system that houses the accessories and neatly stows the high-pressure hose. The detachable low-pressure hose wraps around the base of the inflator body when not in use.
Another bonus is they included a brass Presta adapter rather than a cheap plastic version. Greenworks also includes a pinch valve adapter and sports ball needle.
LED Light
Next to the accessories, there's an onboard LED light. It's very helpful when you're inflating in after dark. To use it, press the light button on the left side of the control panel. It's not super-bright like you'd want from a flashlight. Rather, it's designed to light up the close-range work you're doing.
Note that you need to turn the inflator's power on to use the LED light.
Greenworks 24V Cordless Inflator Price
This Greenworks portable inflator kit retails for $119.99 and comes with a 2.0Ah battery and charger. We did find it on Amazon, but the price was lower direct from Greenworks.
Greenworks includes a 3-year limited tool warranty and a 3-year battery warranty.
The Bottom Line
The Greenworks 24V cordless inflator has your bases covered really well. From a higher than average PSI range to its LED light and dual power sources, it's versatile litte inflator that we can recommend for any home or vehicle.
Click here to check out some last-minute deals from Greenworks.
Greenworks 24V Cordless Inflator Specifications
Model: Greenworks INF24B210
Power Source: Greenworks 24V battery or 12V vehicle power outlet
Weight: 4.0 lbs (bare), 4.9 lbs (with 2.0Ah battery)
Max Pressure: 160 PSI
Digital Display
LED Light: Yes
Deflate Function: Yes
Warranty: 3-year Limited
$Price: $119.99