We're starting to get into a lot of 40V tools this year. It may be the fact that, being based out of central Florida, we get a jump on the rest of the editorial world, since we don't get snow and can start these Spring products much sooner than our "chillier" northern compadres. In either case, the GreenWorks Trimmer came to my attention and a sample was sent to me for review. By this time I've had my hands on the Kobalt 40V string trimmer, the EGO 56V Trimmer and several gas models—each of which have their plusses and minuses. The full name of this tool is the Greenworks G-MAX 14″ 40V Digipro String Trimmer (model 21362). That's a lot to swallow, so we'll just refer to this as the Greenworks Trimmer. They have two models, but this is the 40V Brushless "Digipro" model and it represents their top of the line.
Greenworks Trimmer Features
First and foremost, we're talking about a Greenworks 40V Trimmer that runs on the company's new 40V cordless OPE platform. More than that, you can buy this trimmer with either a 4Ah battery or purchase it tool-only and use the lithium-ion batteries from your existing Greenworks tool collection. Because of the demanding nature of these new tools, the 2Ah batteries will work, but run-time is significantly increased with the use of the 4Ah battery packs.
The Greenworks 14″ Trimmer also uses a brushless motor, which aids in efficiency, allowing the battery to drive the tool longer and harder—and without overheating. Having used both packs on this trimmer, I found the run-time on the 2Ah pack (which I had on-hand from a different Greenworks tool) to be sufficient for quick "pick-up" work, but the 4Ah pack is a must if you've got a significant amount of trimming and edging to do.
The Digipro trimmer's 14″ diameter head cuts a nice wide swatch through the grass and aids in trimming up tall edge material when turned sideways and used as an edger (more on that later). The included 0.80″ trim line is a great size for most use, and the bump head provides an easy way to restore your line. Unlike some bump heads I've used, the smooth line didn't jam in the spindle and the line was fed consistently each time it was needed. An integrated cut-off blade is positioned on the edge of the shield as you might expect.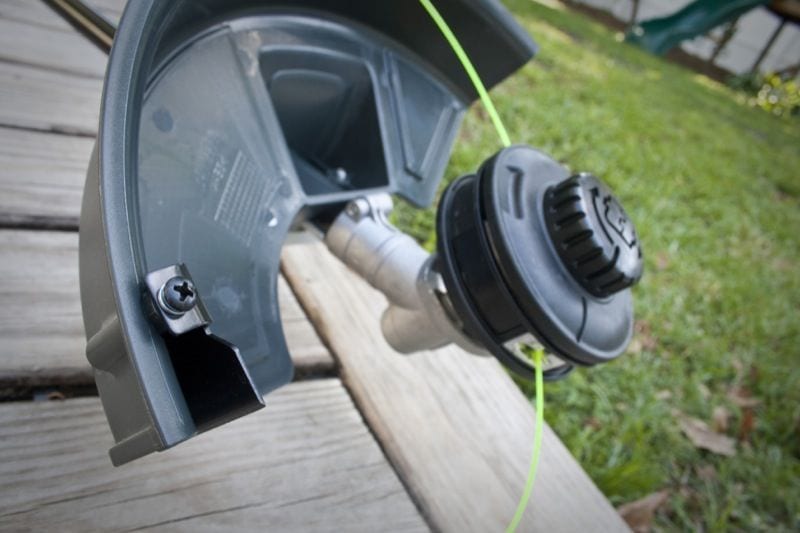 One thing that can be easily overlooked is that Greenworks opted to place the motor at the handle-side of the tool. With more and more cordless tools, we're finding manufacturers like to make electrical connections and store the motor at the business side of the tool. While that's OK for pole saws, it's not the right balance for string trimmers and edgers. Another added bonus is that Greenworks, in engineering their tool this way, allows the G-Max 14″ 40V Cordless Digipro Trimmer to use attachments from companies like Ryobi, TrimmerPlus, and Yardworks. You use it just like any other swappable head device—loosen the plastic wing nut, push in the release button and replace the business-end of the tool with any other compatible attachment.
Specifications
Model: 21362
Motor: Brushless
Battery: 40V 4.0Ah Li-ion model 29472 (included)
Charger: 29482 2-hour charger
Weight: 10.2
Cutting Swath/Path: 14 Inch
Line Feed: Bump Feed
Line Diameter: .080
Adjustable Auxiliary Handle
Attachment-capable
The GreenWorks Cordless Trimmer in the Field
As I alluded to earlier in the review, I've used more than a few string trimmers over the years—and many of them cordless models. The cordless trimmers have been a more recent development, but that just makes it even more of an imperative to find out which models work better than others. The big question on my mind (as I review these products) and on everyone else's mind (as they read about it and consider purchasing cordless) is whether or not these products hold up to their gas-powered counterparts. The answer is a resounding…"not all of them". Seriously, I am starting to form some strong opinions, and manufacturers are putting out both excellent and sub-par products in this segment of the market. Greenworks has a really solid product with the G-Max 40V String Trimmer. I say that for several reasons. One, I used this trimmer just like I did my Echo gas-powered model. But I did more than that. I also used it as my edger—something that is near-impossible with some other cordless string trimmers I've tried. Sure, they claim to be usable as an edger, but in reality, they fall flat in power and practicality. The Greenworks trimmer was a different story.
Using the Tool: This should go without saying, but sometimes I leave off the basics. With the Greenworks Digipro String Trimmer, you just press the power button to engage the battery, and then squeeze the lock-out button (a safety mechanism to prevent accidental starts) while pulling the switch trigger. It may sound confusing, but it's all very natural and everything is perfectly placed. There is actually a high speed mode on the trimmer, which I used during my adventurous edging experiment noted below).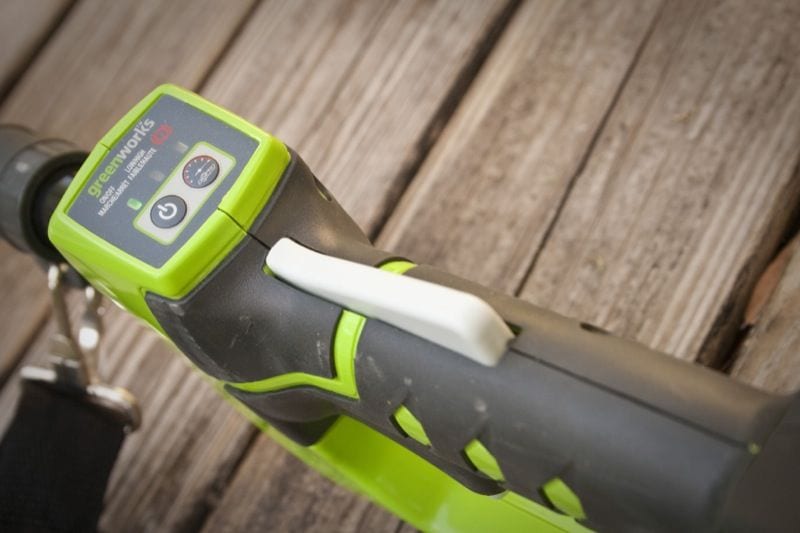 I took the Greenworks and first trimmed up my yard. It performed really well—plenty of power, solid run-time (no recharging on a quarter acre lot's worth of trimming), and a bump head mechanism that never jammed and always fed the line easily and quickly. I then switched to edging mode, holding the trimmer head sideways and running it along the curb to edge my lawn. Easy as pie. I then proceeded to the sidewalk. Piece of cake. This review was going to be boring, so I decided to do something different and edge the dwafr jasmine that was pouring over my block retaining wall on the front of my house. This is a job I usually reserve for my dedicated gas-powered edger. I hadn't even thought to use a battery powered string trimmer on it before—mostly because no trimmer I had used up to this time had demonstrated the level of power required to get through it.
The Greenworks trimmer sailed through the task. It sliced through roughly 25 linear feet of jasmine ground cover, creating a nice 9″ high hedge of ground cover exactly as I wanted. The fact is, Greenworks has a tool that did everything I needed for topping off my yard—trimming and edging—and it did it on a single 4Ah battery charge with room to spare. After I was done, I popped the battery back on the charger, my work done and my wife extremely pleased at how nice our yard worked.
If you're wondering whether cordless tools can replace gas powered models, the answer is "sometimes". In the case of residential use, the Greenworks 40V trimmer answers that question with a hard "Yes". If you're a professional who uses these tools all day, well, I don't think battery powered products are quite there—simply because of the amount of use and run-time required. But that's not the intent of this tool, and for homeowners (or professionals who need to tend their own yard on the weekends and in the evenings) this trimmer by Greenworks is well worth the cost of entry. No oil and gas to mix, no winterizing, and no waiting to get started. It's a grab-and-go tool and it will change the way you think about your personal lawn care.
Agree? Disagree? Leave some comments below, because I'm compiling reader thoughts on cordless in an effort to better understand the market. And since we're in direct talks with several manufacturers, your opinions just might make it to the "top brass" so let loose and tell us what you really think!