Most people will never appreciate the skill it takes to finish drywall unless they give it a shot and find out it's a little more difficult than it looks. Not only do the walls need to be seamless, but you need to make the holes for outlets and switches accurate and in an exact location. We might do a drywall taping and mudding tutorial at some point, but today let's focus on a tool that's designed to make holes in drywall a breeze – the Hilti 22V Cordless Brushless Cut-Out Tool. You'll recognize the business end of it as a rotary tool that spins a thin bit, but what you rarely see is a cordless version.
That's right – Hilti brings this tool onto its 22V platform which is also compatible with its 18V platform. As an old-school guy who's spent plenty of time with a jab saw in hand, I've been slow to make the switch from the manual method.
But watching a few videos of this tool in action – and not being tethered to a cord – is enough to make me want to give it a shot. Let's see if I can keep my hope of tossing my jab saw or if I should just, well, cut it out.
First Impressions
Hilti's signature red and black color scheme makes for handsome tools, and the Hilti 22V Cordless Brushless Cut-Out Tool is no exception. It's a little bit larger than most rotary tools, but rather than giving the impression of bulkiness, it gives one of power. It's just 4.2 pounds and comfortable in the hand. Part of that comfort is due to the long paddle trigger which has an interesting dead man's switch for safety. If the tool's operator isn't holding the switch down, the motor immediately brakes and the bit stops turning.
But that certainly isn't the end of the tool's promising bells and whistles. Two bright LED work lights illuminate the cutting area – my jab saw doesn't have those! The exhaust is designed to blow dust away from the user, which is particularly important because the respirable particles created by cutting drywall are hazardous to your health. I'd still suggest using appropriate PPE. But that dust isn't just harmful to the body; it's also very tough on a tool's motor. Hilti is so confident in the design that it offers the longest warranty of any cut-out tool available, as it falls under the company's 20-2-1 warranty.
Cutting It Out
An interior finish Pro uses the same method for drywall cuts whether he's using a saw or cut-out tool. Measuring roughly where the center of the switch, outlet, or fixture box is before the wall is up, he puts up the drywall, and measures again to find that center. He makes a cut at that center point toward the inside edge of the box. Hitting the inside edge, he moves the blade or bit slightly to find the outside edge of the box and continues the cut around the perimeter until a hole is complete.
No matter how good you are, saws leave a messy edge and outlet covers don't leave much margin for error. Just a little carelessness leaves you with some drywall repair to do around the hole. It's not the end of the world, but wouldn't it be much easier to just make a clean cut that's slightly larger than the outlet box?
Well, there's really no comparison to the saw: the Hilti 22V Cordless Brushless Cut-Out Tool cuts through drywall like butter. It's impressively powerful, it's very easy to make the initial plunge into the sheet, move toward the inside edge, and then hug the outside edge. It leaves a wonderfully clean cut. And as advertised, the exhaust blows the dust away from the tool and from me, making the job easier and safer.
Pro Tip:

The cut-out tool is much like a router, so move it counter-clockwise on outside edges for the most control and least mess!
This tool is beastly – in a good way! Hilti claims it's so strong, it can cut tougher materials than just single sheet drywall including double layer 5/8-inch and even cement board. I didn't have the opportunity to do that type of cutting during the course of the review, but given how it sliced through the cuts I did make, there's not one doubt that it can live up to those claims.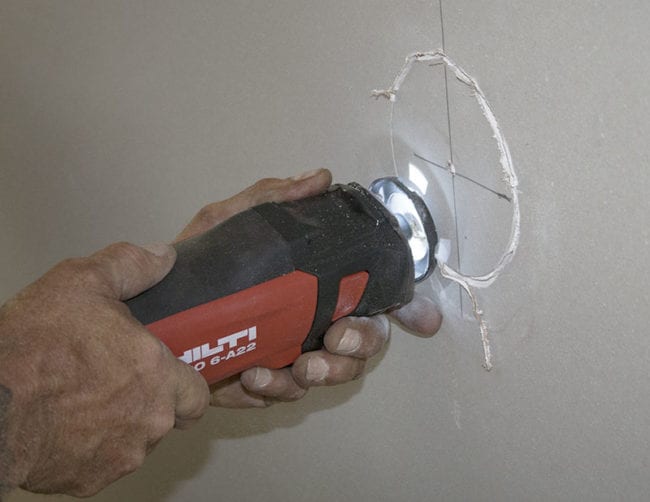 The work lights are great for obvious reasons – working in poor lighting conditions – but they also help quite a bit if pencil marks on the drywall are just a little faint. It keeps you more accurate and helps you avoid mistakes. The dead man's switch works perfectly, too. Couple it with the exhaust that blows that respirable silica dust away from your face, and you've got one of the most powerful, safest cut-out tools you can buy. At least until someone creates a dust shroud that connects to a HEPA dust extractor.
The Bottom Line
The Hilti 22V Cordless Brushless Cut-Out Tool is cordless, brushless, and remarkably powerful. It might look a little bigger than other cut-out tools you've used or seen, but don't let that dissuade you. It still feels light at 4.2 pounds and it's got the chops to cut through doubled-up drywall sheets and even cement board. Safety features like a dead man's switch that brakes the bit instantly, an exhaust that blows respirable dust away from the user, and two bright LED work lights make this an excellent tool for interior finish Pros.
Price is always a consideration and Hilti can hit your wallet pretty hard at times. If you're already on the 18V or 22V battery platform (they're interchangeable), the bare tool will run you $219. It's $379 for the kit with a charger and a pair of 3.0 amp hour batteries to keep you running. That's a pretty big premium over other Pro cordless options from Milwaukee, Makita, and DeWalt. But of course, you get a brushless motor along with Hilti's excellent reputation for build quality backed up by their 20-2-1 warranty service.
Hilti 22V Cordless Brushless Cut-Out Tool Features
Brushless motor provides superior lifetime and cutting performance similar to that of a corded tool
Compatible with all Hilti 18V and 22V batteries
Optimal airflow management guides dust away from the user's face and the motor
Two bright LEDs at the front for good visibility of the cutting area, even in dark corners
One-handed paddle switch and fast-acting brake for additional safety and speed of operation
Easy, controlled cuts around outlet boxes, can lights, etc.
Cuts in dense materials such as abuse-resistant board, cement board
Cuts in double-layer 5/8″ gypsum boards
Fast cutting of long openings in drywall for doors and windows
Hilti 22V Cordless Brushless Cut-Out Tool Specifications
Model Number: SCO 6-A22 (Bare), SCO 6-A (Kit)
Electric Brake
Dimensions: (LxWxH)12.8 x 3.5 x 4.6 Inches
Weight According to EPTA-Procedure 01/2003: 4.2 Pounds
Shop Amazon