Before I really get into this review, let me tell you a story. It's called, "The Hitachi Cordless Brad Nailer: A Love Story in Three Short Paragraphs."
As an on-site, custom woodworker, the idea of "cutting the cord" has always appealed to me. Rather than having to drag out multiple tools from the van, making multiple trips to both setup and tear down, I could just grab my tool and its batteries and go.
Pros
No firing delay
Consistent and quick nail driving
Excellent balance and ergonomics
3.0 Ah battery works all day and then some
Excellent price compared to other cordless nailers
Cons
Heavy, like other cordless nailers
You need to apply extra pressure on longer nails in hardwoods
Recommendation
Hitachi makes one of the best cordless brad nailers available and with replacement batteries costing just $40, it's one you should give a shot.
However, those old cordless tools with their problematic Ni-Cad batteries never presented a viable solution to my problem. They tended to be big and heavy, and over time the batteries would hold less and less charge. In a word, they were just impractical.
Now, however, with the vast improvements made in battery and cordless tool technology, going cordless makes a lot more sense. With the Hitachi Cordless Brad Nailer and the slim, 3.0 Ah Li-Ion batteries that come with it, I can get to work quickly. The job site is less cluttered, I spend less time and energy hauling heavy tools around, and I've got the security of knowing that I have enough power in my hand to get through a full day's work. I'm in love.
Hitachi Cordless Brad Nailer Features
I look for tools that will give me the most bang for my buck. So, after researching various spec sheets and user reviews, as well as talking to other tool geeks, I settled on the Hitachi Cordless Brad Nailer. It offers comparable features to some of the other Pro cordless nailers on the market, but at an exceptional price point.
Brushless motor
Compact 3.0Ah Lithium Ion battery is 3/4″ shorter and .6 pounds lighter than conventional 3.0Ah battery
Air spring drive system
Tool-free selective actuation switch for sequential and bump fire modes
Tool-free depth of drive adjustment
Quick clear nose with tool-less jam release
LED light
Initial Impressions
Like I said, I'm a tool geek. I couldn't wait until the next workday to unpack my new nailer; I had to play with it as soon as I got it back to the house.
While unboxing it, my initial thought was that the nailer feels a little heavy, but also that the tool's balance and ergonomics negate that weight. The Hitachi Cordless Brad Nailer feels good in my hand and they clearly put some thought into the design and production of the tool.
Immediately, I grabbed one of the slim, 3.0Ah batteries I'd purchased and a few pieces of scrap oak. I fired off seven nails in bump mode, just to see how the Hitachi handles rapid fire. As fast as I could drop the safety, it fired without a jam or delay.
If you haven't used a cordless nailer before, nearly all of them have some level of firing delay. That's not the case with Hitachi. One of their greatest selling points is that it fires immediately thanks to their air spring drive system. I was impressed, and couldn't wait to get to work the next day.
Field Testing the Hitachi Cordless Brad Nailer
The next day's agenda included mounting some acrylic mirrors to the bottom of a Murphy bed I had built. This presented an excellent opportunity to break out my new Hitachi Cordless Brad Nailer. I not only needed to frame out the mirrors, but I also needed to hold the mirrors in place while the mastic dried. I used 1-5/8″ brads to attach the 1/2″ poplar trim boards to the bed. The Hitachi worked without a hitch.
The other thing I realized was that, up until this job, I had been dragging out my compressor, a hose, my nailer, and gun oil to jobs like this. The Hitachi Cordless Brad Nailer really simplifies my work, and simpler work makes for a happier craftsman.
Battery Life
I've now had the Hitachi Cordless Brad Nailer for a few months, and I've used it extensively. I used it everything from poplar to oak and hickory, and from edge boards to flooring. One of the most impressive things about this nailer revolves around the battery life.
On one job, I based about 300 feet of ranch style radiata pine. Not only did the nailer avoid jamming up, but all my nails set flush. I completed this ten-hour job on one charge.
On another job, I hung shiplap on a massive set of bunk beds that I'd built. Again, this was an all-day job that I completed using only one battery.
Part of the reason for the seemingly unending supply of battery power has to do with a battery-save feature that this nailer includes. After a certain amount of time being on, but unused, the Hitachi Cordless Brad Nailer shuts itself off. I love this feature, because when I'm "in the zone," I can definitely forget to shut it off, leaving me with a dead gun before lunchtime.
Causes For Concern
I don't have a whole lot of negative things to say about the Hitachi Cordless Brad Nailer. But I did notice that when I'm shooting 2″ brads into hardwood, the gun struggles if I don't put enough pressure on it. However, if I hold the gun with both hands, it will set nails just fine.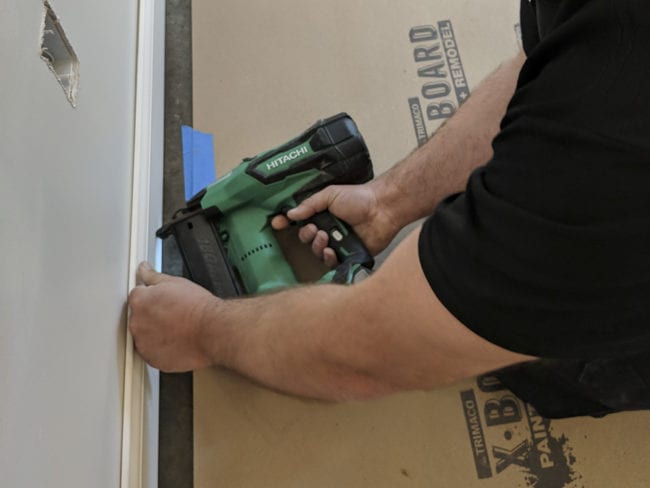 I also have some questions about the electronic controls. Call me a cynic, but in my experience, electronics eventually fail. The question I have is whether the electronics will outlast the firing pin. Only time will tell. Even if it doesn't, Hitachi backs these with a lifetime warranty, so there's some extra confidence to work with.
Price & Value
The Hitachi Cordless Brad Nailer kit retails for $279 and comes with a battery and charger. This seems comparable, if not a little cheaper than most Pro-quality cordless brad nailers on the market right now. Where I was really impressed was with the price of new Hitachi 3.0Ah batteries. Right now, these batteries are retailing for $39.99. So, I bought three.
Final Thoughts
Overall, I would say this gun is a great purchase. It meets my needs at a fair price, and I think anyone looking to ditch their pneumatic tools should seriously consider looking at the Hitachi line of cordless guns. I plan to purchase the 23- and 15- gauge nailers in the future, as I am confident that they will finally allow me to leave the air compressor at home.
Check out my latest projects by following rinne_trimcraft on Instagram!
Hitachi Cordless Brad Nailer Specs
Model Number: NT1850DE
Fasteners: 18-Gauge, Straight Brad Nails
Nail Length: 5/8″ – 2″
Magazine: 100
Magazine Type: Side Loading
Battery Type: 18V Lithium Ion
Battery Amp Hour: Compact 3.0Ah
Number of Batteries: 1
Belt Hook: Variable Position
Jam Release: Tool-Fres
Depth of Drive Adjustment: Tool-Free
Motor: Brushless
Driving Speed: 2-3 Nails per Second
Nails per Charge: Up to 1,650
Firing Modes: Sequential/Bump
Battery Charge Indicator: Yes
LED Light: Yes
Weight: 7.3 lbs
Tool Warranty: Lifetime Lithium Ion
Battery Warranty: 2-Year Lithium Ion
Charger Warranty: 1-Year
MSRP: $239.99
Shop Amazon