Honda Power Equipment celebrated their 35th anniversary with plenty of fanfare and with the launch of the all-new Honda HRN216 lawn mower series. This mower is built new from the ground up as a replacement for their most popular line of consumer mowers.
Honda HRN216: Replacing the Honda HRR216 Lineup
When you sell 300,000 lawn mowers a year from just one line, normal thinking says to keep crankin' 'em out. But Honda Power Equipment isn't satisfied to sit still and they're replacing the HRR216 series with the Honda HRN216 line.
To put that into perspective, it's like Honda replacing the Civic with an all-new model. They sell 300,000 Civics and HRR216's every year.
Power Plant
The biggest difference for the Honda HRN216 is the engine – a completely rebuilt GCV170 engine. It moves from 106 parts down to just 39. It's easier to service, has better fuel efficiency, 9% higher power, and 18% more torque than the GCV160 it replaces.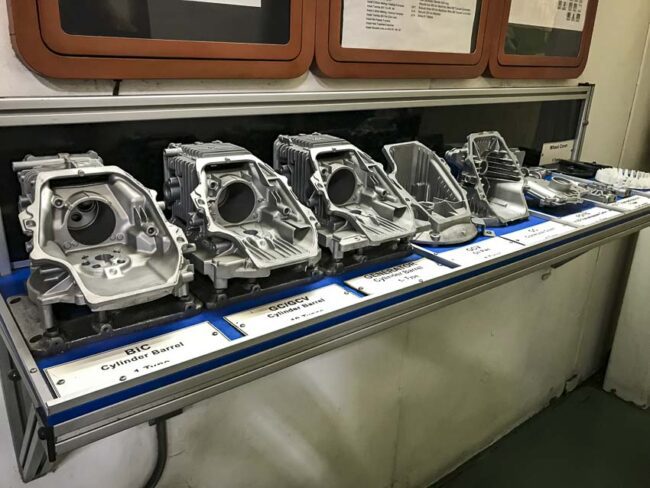 It also features an all-metal transmission, something that's uncommon for this class of lawn mower. Because Honda manufacturers both the engine and the transmission, it's a perfectly designed fit. Other options often pair an engine and transmission from different manufacturers that they have to make fit.
It's still a residential engine, just a more powerful one. It still fits the same footprint from the GCV 160, allowing it to mate to the same equipment. Here are a few of the smaller changes that make a difference:
60% larger diameter fuel spout for easier refueling
Oil fill moved higher and closer to the crankcase
Tool-free air filter access
Easy access to the spark plug on the upper front of the engine
Easier to assemble carb stud bolts
One-way strip down that doesn't require removing the entire engine to access and replace the crank
Improvement in the auto-choke system
CycloFlow – a compact combustion chamber with a longer stroke and stable combustion across a wider operating range
Exhaust noise tuned to a lower frequency that isn't as irritating
Honda GCV170 Specifications
Engine Type: Air-cooled, 4-stroke
Displacement: 167 cc
Choke System: Automatic and manual
Oil Capacity: 0.4 L
Fuel Capacity: 0.9 L
Fuel: Automotive grade unleaded
Efficiency: 1.4 L/hr at 3600 RPM
Dry Weight: 22.3 pounds
Dimensions: 16.34″ x 12.99″ x 14.14″
Honda HRN216 Performance Features
The Honda HRN216 series comes with Honda's twin-blade design, making it more effective at mulching. When you bag, the clippings are smaller and you get more grass in the bag so you're stopping to empty less often.
They also increased the chute diameter, making it tougher to clog. In Honda's internal testing, the new design made a fast 5" cut 131′ – more than double the distance the HRR 216 made before clogging (62′).
We were all set to do some high-quality cutting in Honda Power Equipment's backyard when a thunderstorm interrupted us. I did get to cut for about 15 minutes and it's pretty impressive in wet grass on a regular maintenance cut. We'll do some more thorough testing, including in taller grass when it arrives at our world headquarters.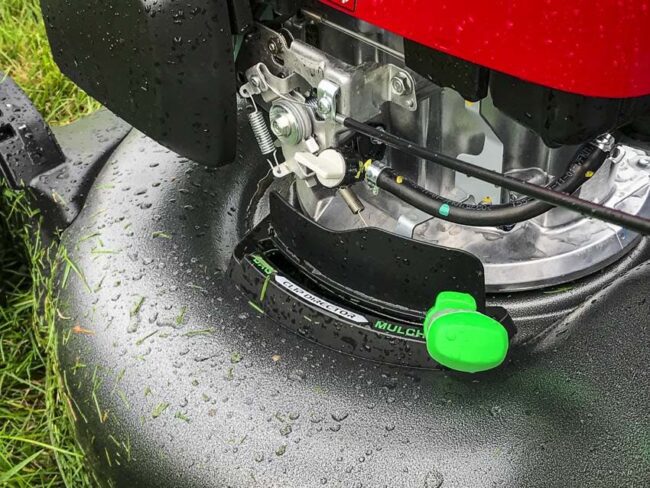 If you're familiar with Honda's HRX mowers on the commercial side, the 3-in-1 Clip Director makes its way over to the new line. This is a lever that closes off exit airflow for mulching. If you want to bag or use the rear discharge, flip it over to the bag setting and roll. There's no plug to worry about.
Here are a few minor fixes compared to the HRR216
Optimized the deck dome for better grass movement when mulching
Closed off a couple of small grass escape points
Eliminated a bagging obstacle in the rear deck
Other Features
Sleeker Design
A side-by-side look at the HRR and the HRN216 shows that Honda is going after a sleeker, sexier design is an improvement over the previous utilitarian look.
The design team goes with a 2-point height adjustment system – one lever on the front axle and a second on the rear. Using a rivet to connect the solid rod to the wheels, it creates a rigid construction that resists the torsion you often see from a 2-point or 1-point design.
As an added bonus, you can tilt the front end up a notch and bag more effectively than when all 4 wheels are level.
Combined with its heavy-duty 21" steel deck, it's a solid, durable machine.
Rise and Drive
There are 7 height adjustment levels covering 1" to 4" cutting heights (1.06″ to 3.93″). Conveniently, each height marking corresponds to the height and it's a high-contrast white on black so you can see it easier.
For the self-propelled models, there's a big change in the drive operation. The Smart Drive push bar under the main handle lets you feather your speed from 0 – 4 MPH. It's broad enough to easily use with your thumbs so your other fingers can keep the presence bar engaged.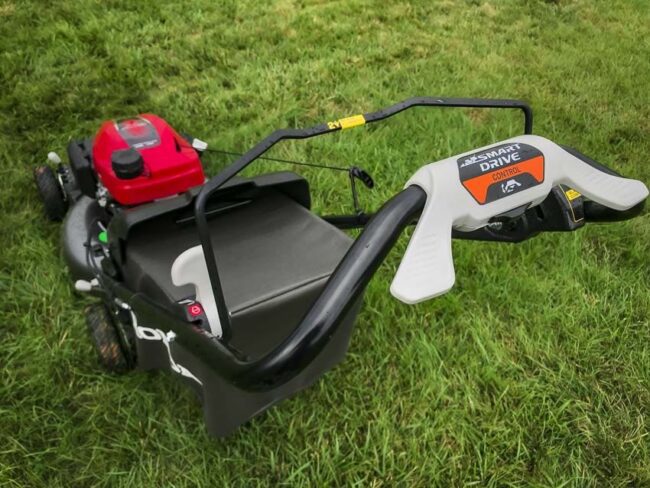 A slide in the middle of the thumb bar allows you to adjust it into 5 positions moving up the bar. Chances are, you'll find a comfortable position to settle on. Once you do, adjusting your speed comes very naturally as you work your way around the yard.
The goal was to reduce thumb fatigue with better ergonomics. In the short period of time that I got to use it, it seems to work. We'll test it for a longer period once we get one in for a full review.
One upgrade that was immediately apparent was the 2-way ratchet system on the drive. When you release the drive bar, a key in the drive allows the rear wheels to freewheel in forward and reverse. The HRR only had forward freewheeling. When you're working around landscaping or corners where you need to pivot frequently, it's really noticeable.
Additional Features
2-position handle height
All adjustments and fuel spout are on the left side of the mower, keeping everything on one side except the oil spout
Born in the USA
I'd be remiss if I didn't point out Honda's USA-based manufacturing. While not every component comes from the US, most of the engine and mower parts are manufactured in the Swepsonville, NC facility we visited. The entire mower is assembled at that plant and it was the same facility that the product team conceived and designed it.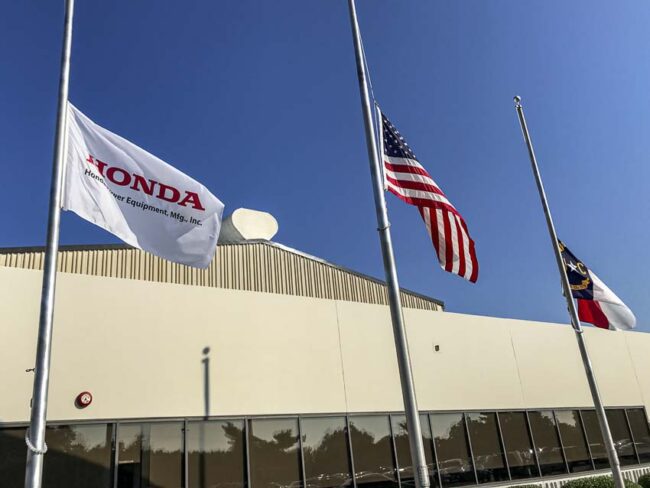 Looking more broadly at Honda's American facilities, there's an impressive commitment to manufacturing in the US and North America in general. Many of the cars and products they make have more USA in their DNA than American companies that source a lot of the work elsewhere.
Expect the Honda HRN216 line to see limited distribution starting in September 2019, with a bigger push to retailers this winter.
Honda HRN 216 Lawn Mower Models
Shared Specifications
Completely redesigned Honda GCV170 engine (167 cc)
Auto choke system
0.237-gallon fuel tank (0.9L)
8″ tires
21″ Steel/resin deck
7-position, 2-point deck height adjustment
1.06″ to 3.93″ cutting height range
Mulch/bag/rear discharge with Chip Director
17-gallon bag
2 handle positions
Twin blade cutting system
Honda HRN216 PKA
To get the benefits of the HRN216's redesign without the self-propelled drive, go with the PKA version.
Honda HRN216VKA
The VKA version is the most basic of the self-propelled versions. It uses a recoil start with the rear-wheel drive Smart Drive system.
Honda HRN216VLA
The VLA has a keyed electric start that is mounted on the handle where you see many self-propelled speed adjusters on other mowers. Like we expect, there's a recoil backup if the battery dies.
Honda HRN216VYA
The VYA is the top of the Honda HRN216 line. It includes Roto-Stop—a feature we see on the HRX that lets stops the blades without stopping the engine. It's helpful for times that you need to move a stick out of the way, empty the bag, or prod a stubborn alligator back into the lake. The big deal is it saves you from having to restart the mower after every interruption.
Price
Pricing on these mowers ranges from $419 to $537 depending upon the model you buy. Pick them up at either Acme Tools or The Home Depot.
Code Embed: Cannot use CODE1 as a global code as it is being used to store 1860 unique pieces of code in 3365 posts