Jens Anso is back with a new design realized in the Kershaw Fraxion. This one goes beyond physical design and material selection to look at weight. The Fraxion name comes from this knife being a fraction of the weight of most folders this size. Let's take a closer look at how Jens puts this design on a diet.
Blade Material and Design
The blade is always the biggest point of consideration since it's the literal cutting edge of the tool. The Kershaw Fraxion starts with the common mid-grade 8Cr13MoV steel. This steel gets high marks for its ease of sharpening and takes a fine edge. It doesn't hold its edge as long as the premium steels and corrosion can be a slight issue, but it's got a lot of bang for the buck when it comes to price.
Anso gets away from ever popular modified drop point and moves to a clip point blade style. This gives it a nice piercing tip that trades off some belly so it's not as effective when it comes to slicing. It also gets a blackwash treatment over a straight black oxide finish.
Deployment
The Kershaw Fraxion is on the value side of the lineup and doesn't feature any deployment assistance. For a knife that lacks a bearing system or spring assist, the length and weight of the blade help it deploy easily with the finger flipper. Still, you'll notice the difference compared to your assisted knives.
Handle Material and Design
The handle is where the Kershaw Fraxion drops so much weight. The only major metal component is the inset liner lock while the majority is G10. Jens adds a carbon fiber overlay to give the knife a sleek, modern look.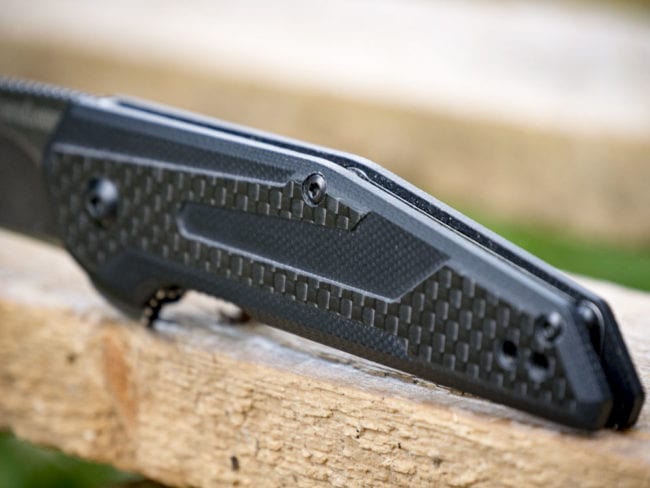 The result is a knife that weighs just 1.9 ounces. When I first picked the Fraxion up, it felt like a child's toy or just a cheap knife. If you didn't know what the material choices were, you might think it's a plastic handle. Giving the handle a firm squeeze reveals the strength of the G10 that doesn't give nearly as much as a standard plastic does. While there is some give, a middle stud offers some additional rigidity in the build.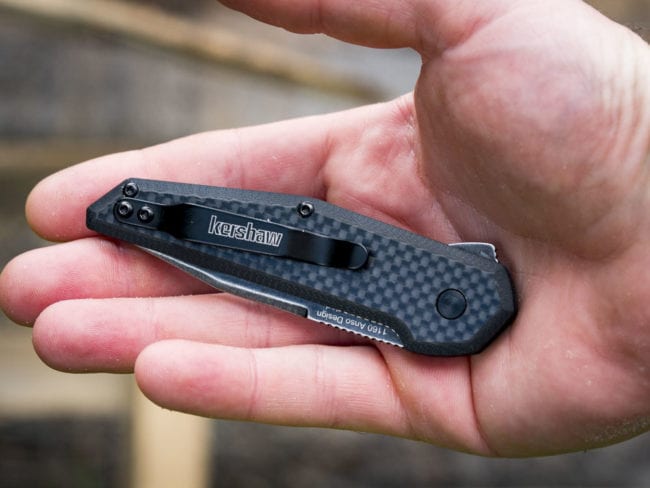 Clip
The clip is Kershaw's standard design with good holding strength that isn't too tight. That allows it to clip well on a variety of clothing thicknesses. Two screws hold the clip in place and you can switch it for left or right carry. You'll only be able to carry tip up, though.
Grip
As a smaller knife, the Kershaw Fraxion doesn't completely fill your hand. The curve over the back helps eliminate pressure points with a standard grip position. The carbon fiber overlay is a little slick, but a solid inch of jimping on the blade spine helps secure it in your hand.
The Bottom Line
The Kershaw Fraxion drops a lot of weight compared to most folders at the risk of feeling cheap. But after carrying it for a few weeks, I'm really enjoying having a lightweight folder for most of my daily tasks. I'd still rather have something like my ZT 0220 for EDC situations where I know I'll be in more heavy-duty scenarios. But the material selection here is good for the price point and the G10 offers enough strength to offset any build quality concerns.
It's nice to have the clip point blade as an option to carry rather than just a drawer full of drop point styles. There are plenty of times when piercing is a higher priority than slicing. With online prices running $32.99, it's not a huge investment to see if a lightweight folder is right for you.
Kershaw Fraxion Specifications
Model: Kershaw 1160
Blade Material: 8Cr13MoV
Blade Style: Clip point, blackwash finish
Handle Material
Blade Length: 2.75″
Open Length: 6.75″
Closed Length: 4″
Deployment Mechanism: Manual flipper
Locking Mechanism: Liner lock
Weight: 1.9 oz.
Price: $49.95 $24.69
Shop Amazon