Ever since I first set eyes on the Kyocera Rugged Smartphone line happily playing video beneath a steady stream of water, I've been impressed with its ability to thrive on the jobsite. For a while, these phones have lagged a little behind their more delicate counterparts, but have still been more than adequate for most users. The new Kyocera DuraForce Pro is the new flagship, bringing additional features to light.
Much of the foundational design remains with a commitment first to durability and second to performance. Performance is where most of the upgrades happen with the Pro model and that's where we'll spend most of our focus.
Durability
Before we jump into the latest hardware and software, a recap of the Kyocera DuraForce Pro durability features is absolutely in order. It starts with a sealed housing set to military 810G certification and is drop, dust, and waterproof. The waterproofing takes the phone down to 2 meters for up to 30 minutes, whether it's an accidental immersion or you're taking underwater pictures on vacation.
A rubberized coating covers most of the phone helps to soften the blow of a drop. It also adds a nice feel when holding the phone.
The screen is Kyocera's Sapphire Shield like we see on the Brigadier and it's a tough material. Sadly, my DuraForce XD didn't come with the Sapphire Shield and had an unfortunate face-to-face meeting with the asphalt one day.
The tradeoff to outstanding durability comes in the form of bulkiness. The phone is just a hair over a 1/2-inch thick and weighs just over 8 ounces. I personally don't mind the size and weight at all, but users coming from the world of Apple and Samsung will notice the difference.
Camera
By far the most exciting new feature comes on the camera side of things. The Kyocera DuraForce Pro moves up to the standard 13-megapixel main camera and 5-megapixel front-facing lens. They go a step further by incorporating a 135-degree wide-angle action camera mode.  You're able to shoot in 1080p to get true HD video. With the appropriate mounts, there's no need to go out and by a GoPro. Or is there?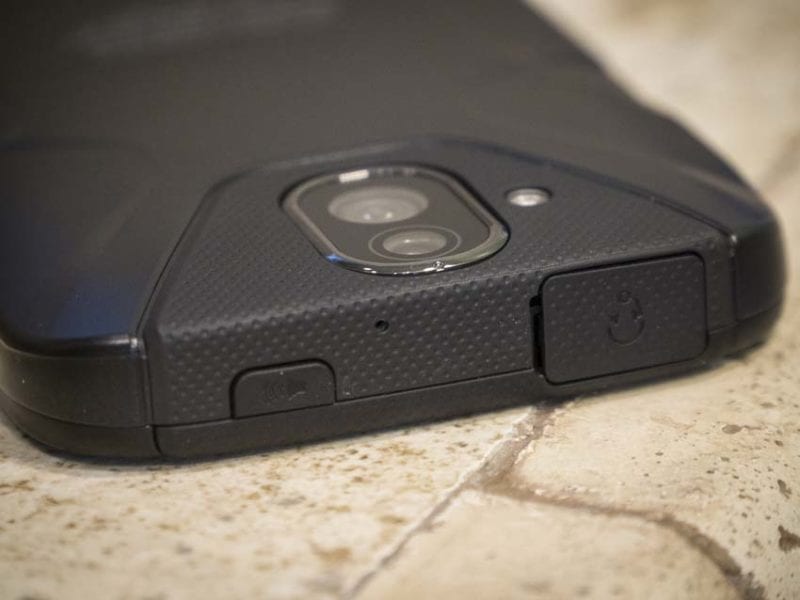 There are some features available on the GoPro Hero 5 that we use like 4K video and 10M waterproofing, but the Kyocera captures the majority of users' needs with their action mode.
I also really like that Kyocera includes a slow-motion camera mode. We've been using it a lot to slow down what tools are doing during reviews and it reveals a lot. Slow-motion is relative from camera to camera, and the DuraForce Pro slows things down to 1/4 speed.
Kyocera DuraForce Pro Camera Modes
Wide Angle Action
Slow Motion
Underwater
Continuous Shooting
Panorama
Scene Selection (manual or auto)
Color Effects
Time Lapse
Standard 1080p @ 30fps video
With the photos and video I've taken so far, the camera is clearly a pretty big upgrade for this line.
Hardware
Kyocera goes with a 1.5 GHz x 4/1.2GHz x 4 Octa Core CPU from Qualcomm. Without going into all the geek-tails of what goes into that, let's just stick with the fact that's it's a good middle-of-the-road choice. It's not going to be in the highest performing smartphones, but it's not going to disappoint you, either.
With video capture drawing the greatest attention, Kyocera gives us a major boost in memory capacity. You get 32 GB standard and can add up to 256 GB via a microSDXC memory card.
2 GB of RAM is the minimum I run with and 4 GB is a nice luxury to have. Kyocera straddles the two with 3 GB of RAM to keep things running smoothly.
Buttons
Kyocera loves buttons and they're all around this model. Your power button is on the top right-hand side. For those of you who like the convenience of a fingerprint scanner to unlock your phone, Kyocera cleverly hid one on the power button. Moving clockwise is a dedicated camera button to open the app and take a picture/start-stop video.
Around the 6 o'clock position on the front, you'll find three standard screen control buttons. On the center-left is a programmable button and above it is your volume control. Back up to the top left is a speaker key that lets you quickly turn on or off speakerphone during a call.
Audio and Video Playback
The Kyocera DuraForce Pro uses a 1920 x 1080 pixel screen that's pretty solid on video playback. There's some motion blur on sports and other fast-moving videos, but I find streaming Netflix on the phone to be an acceptable substitute when away from my TV.
The audio does get pretty loud. It's your typically rough sound from phone speakers, but even more so at the highest level. If you need to clearly hear a conversation on speakerphone, it's absolutely passable. With music and movies, you'll want to leave it as a last option and default to the headphones or earbuds of your choosing.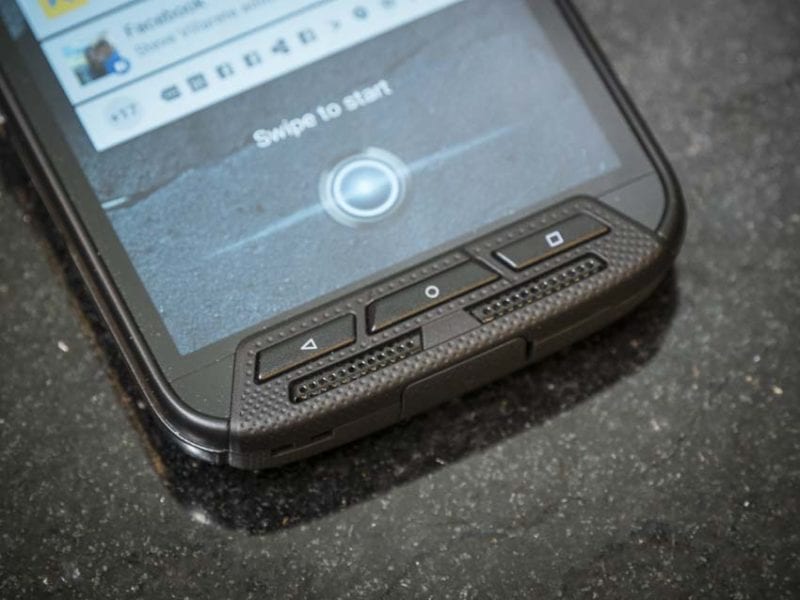 I have been using my first audio port-free phone and I HATE it! Bluetooth headsets aren't always charged and I can't plug into my whole-home audio system to listen to apps that don't wirelessly connect to it. I'm glad to see that Kyocera still has an aux port on the DuraForce Pro.
Battery
Smartphones are fairly power-hungry creatures, especially with that beautiful display on. At this stage of the game, you really want to be looking at 3000+ mAh if you want to use your phone all day for work without recharging. Kyocera includes a 3240 mAh pack – smaller than the 3800 mAh in the XD model, but still viable for all-day use. Still, if you're a heavy user with productivity apps, games, or photo/video capture, keep your charger or an auxiliary power source handy.
You can expect to get up to 19 days of standby time with this pack and 20 hours of talk time. Of course, you'll maximize that with the wifi, Bluetooth, and GPS off, but who really does that?
Kyocera chooses to completely seal the battery compartment on this model. I usually like the option to get in there in case something goes bad with the pack, but I have to balance that with the fact that I've never had a battery fail on me. On the bonus side of things, this model is wireless charging compatible.
The Bottom Line
The Kyocera DuraForce Pro doesn't quite spec out at the top of the line for rugged smartphones, but it's getting closer. On the positive side of things, it's solid in the processor, internal storage, RAM, expandable memory, and screen departments. The battery is acceptable but could be better and while waterproof to 2 meters, has competitors that can go deeper and longer.
Where the Pro model sets itself apart is in the camera department. The main and front-facing cameras are standard at 13 MP and 5 MP, respectively. However, the 135-degree action camera mode begs users to avoid buying a GoPro unless they absolutely have to have 4K video or dive deeper than 2 meters. Rumor has it there's a case in the works that will connect to mounting accessories as well.
A durable build that includes a sapphire screen only adds to the idea that you can have a jobsite tough phone and action cam for less than you'd typically pay for just a phone. The price range for the major carriers runs about $200 less than the top rugged phone out there and doesn't sacrifice much in the performance department to be there. You can pay upwards of $1000 for a phone and action camera or about $425 for both with a few minor tradeoffs.
Kyocera DuraForce Pro Manufacturer's Key Features
Three camera options – 13MP main camera, 5 MP front-facing camera, wide-view action mode
Can be mounted on handlebars, helmets, and other mounting accessories
Military Standard 810G certification
Drop, dust, and waterproof
Waterproof up to 2 meters for 30 minutes
Underwater mode for all camera options
Glove and Wet Touchscreen Operation
Loud, dual front speakers enable clear sound in the loudest places
Fingerprint sensor on power button
Kyocera DuraForce Pro Specifications
Model: Kyocera DuraForce Pro (Sprint model tested)
Battery: 3240 mAh, non-removable
Talk Time: 20 hours
Standby Time: 19 days
Display: 5″ FHD, TFT, impact resistant, 1920 x 1080 pixels
Operating System: Android 6 (Marshmallow)
Camera: 13 MP main, 5 MP front
Chipset: Qualcomm Snapdragon MSM8952, 1.5 GHz x 4/1.2GHz x 4 OctaCore CPU
Memory: 32GB ROM, 3 GB RAM
Memory Card Slot: Up to 256 GB microSDXC
SIM Card: Nana/4FF
Dimensions: 5.89″ tall, 2.89″ wide, 0.51″ deep
Weight: 8.1 ounces
Price: $432 (Sprint), $418.99 (AT&T), $408 (Verizon)