Clint and Tim came back from Makita's Dallas media event telling me all about the new Makita 10″ cordless miter saw – the XSL06. Now that I've had it in my hands for a few weeks and built a pergola for my backyard fire pit, it's time to share what I discovered about this saw along the way.
It's possible to write a book on just about any new miter saw between all the functions, adjustments, calibrations, and use. For the sake of time, I'm just going to tackle what's unique about this saw and look at the most important features. You're welcome to read the full feature list at the bottom of the page.
Makita 10-inch Cordless Miter Saw Top Features
Slide Mechanism
The Makita 10″ cordless miter saw uses two steel rails offset just off of vertical from each other to keep the slide action stable. The combination of ball bearings and factory grease makes the operation very smooth.
The design's single action slide leaves the back of the saw immobile – meaning you can back it up against a wall and not lose any of your slide function.
The slide lock is a simple knob on the left side. Pull it out and turn it 90 degrees in either direction to unlock it.
Laser
The Makita 10″ cordless miter saw takes advantage of a laser to mark your cutline or adjust for blade-left/blade-right cutting. You can turn it on or off using the power switch on the top of the handle. But pay attention – you have to turn it back off to avoid draining the battery while it's not in use. Granted, that will take quite a while with a pair of 5.0AH batteries.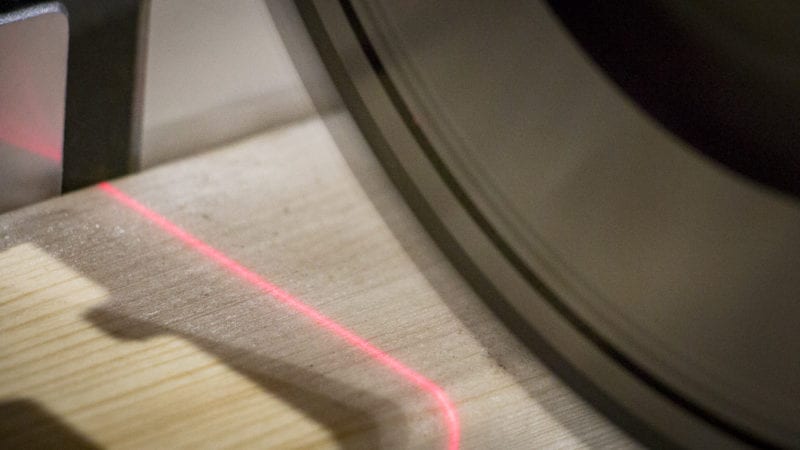 Personally, I'm a bigger fan of shadow cut line indicators. However, I find Makita's laser system to be agreeably accurate so far.
Direct Drive Motor
Makita's BL brushless motor gets its power from a pair of 18V LXT battery packs. The serial connection between them inside the tool creates a 36V saw with the power to drive a 10″ blade effectively.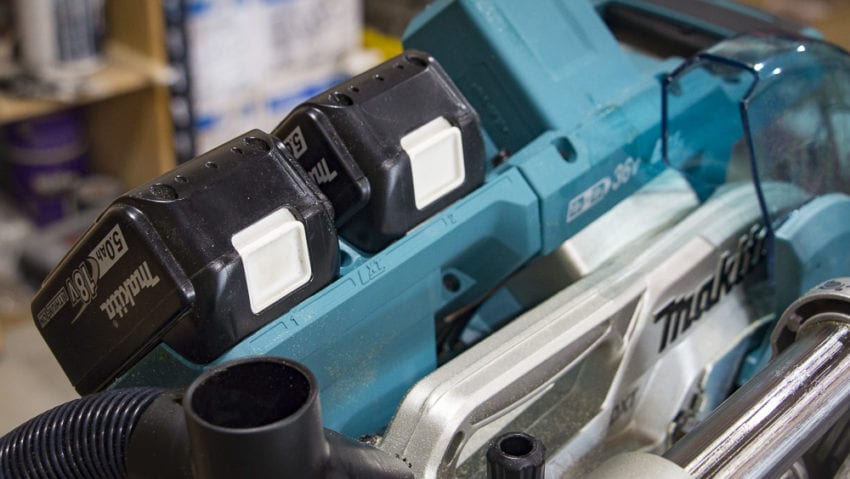 Most miter saws use a belt system to drive the blade, but Makita goes with a direct drive system. It's a difference you can feel when you cut side by side with a belt drive saw. Cuts are more confident and smoother. The difference is much more noticeable over the long haul when belts begin to stretch slightly and cutting becomes more sluggish. Makita's direct drive is just as tight two years from now as it is when you take it out of the box for the first time.
Locks and Adjustments
Mitering
There's not a lot that's unique in the miter adjustment department for the Makita 10″ cordless miter saw. You get excellent capacity with 60° mitering to both the left and right.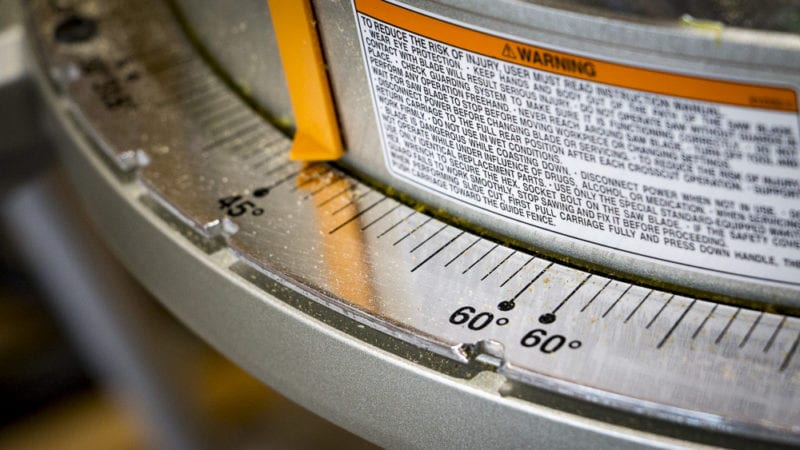 You'll find detents at all the typical locations. Some saws do a better job than other of really locking down into the detents. I've used some that you can easily slide right over them without trying too hard. The Makita XSL06 does falter a bit with a softer aluminum detent plate that strips out too easily, resulting in a loss of accuracy over time.
Beveling
There's more to talk about on the beveling side of things. The bevel lock is up front in the form of a knob to twist. You'll hear the clicking of the lock tightening or loosening as you twist it. A half twist will loosen the bevel enough to move, but a full twist or more will get it to a point where the movement is much smoother.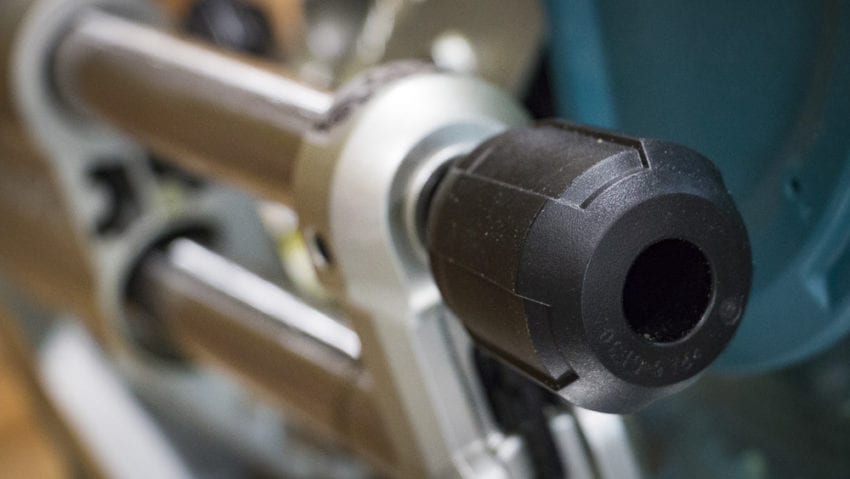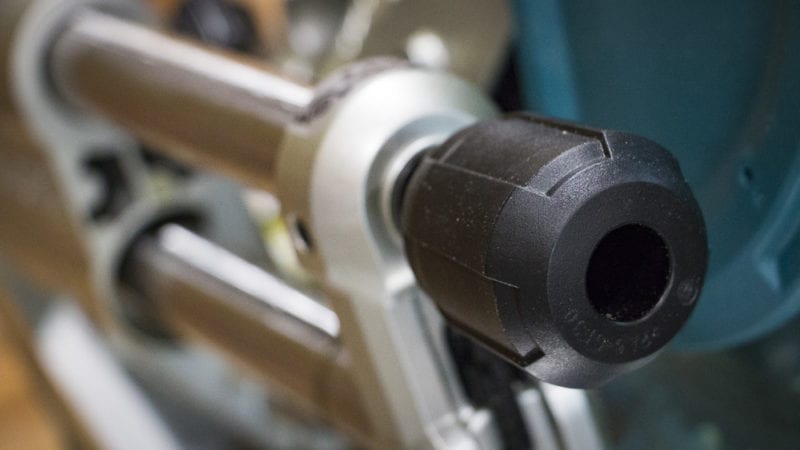 It's nice to not have to reach around the saw for sure, but it's not perfect. Some of your adjustments are still toward the back. There's a lever to pull if you would like to move to the 48° position in either direction. Also, if you want to bevel to the right, you'll need to reach back and hit the release button.
The bevel slips into its stops well, but the release isn't quite as intuitive as the rest of the stops and locks on this model. On the right-hand side toward the back, you'll find a lever that you need to override the stops. Turn it to the up position and you'll override the stops, turn it to the right to use them. When you're ready to release it from the stop, pull that level forward.
Makita 10-inch Cordless Miter Saw Performance
Cutting
The very first cut I made with the Makita 10″ cordless miter saw was a 45° miter in pressure treated 4×4 pine. I've made this kind of cut many times with both corded and cordless saws, but I couldn't believe how smooth it was! I looked at the wood, wondering if there was something different about it because the cut was so good. Seeing that it was just fine, I moved on.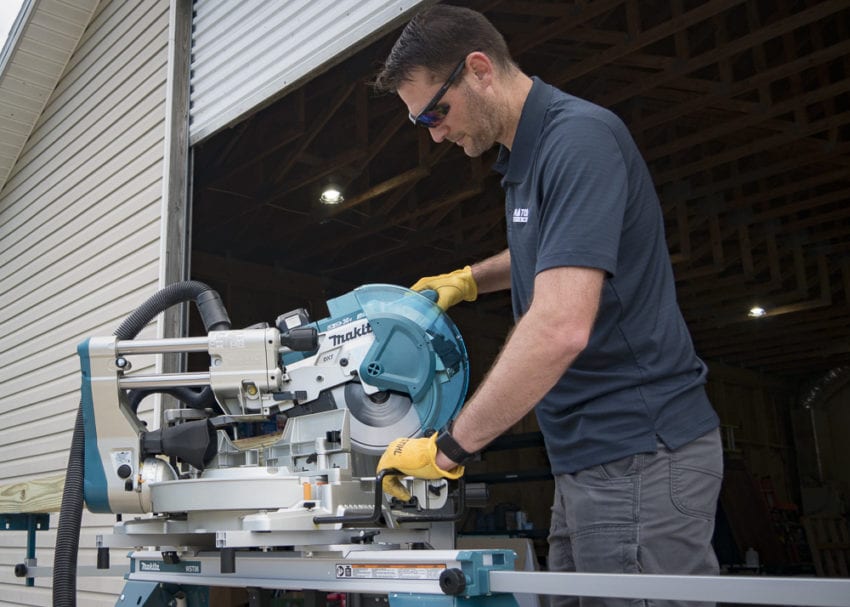 Along with 4×4 PT, I also had cuts to make in 4×6 PT at both 90° and 45°. My first impressions were only confirmed as I made each successive cut. It doesn't have infinite power, though. I did manage to stall the saw on one 4×6, 45° cut that I had to back out and finish. But other than that, the motor drove Makita's blade through very easily.
One issue you'll run into when cutting 4x material of various widths is that the arbor guard will get in the way and you'll have to ride it up to the top of your workpiece. Once you've dealt with it a few times, you'll know what to expect. You'll still be able to make a complete cut, even in wider 4x dimensional lumber.
Dust Extraction
Makita definitely played around with traditional dust extraction design on this saw. There's a combination of a wide mouth behind the blade and extraction through the blade guard housing. It's an interesting concept. In practice, I wasn't terribly impressed with the collection rate. It's possible that the suction is just being spread too thin to be as effective as it could be – even with 150 CFM available.
Makita 10-inch Cordless Miter Saw Accuracy
Realistically, if you calibrate your miter saw correctly, you shouldn't have any accuracy issues. However, blade wobble, slightly imperfect arbors, and cutline indicators that don't line up properly can give you some issues.
One of the advantages of using a 10″ blade over a 12″ is that blade wobble is less of an issue. And with proper calibration, the Makita XSL06 is just about as accurate as I can hope for and it's holding that accuracy well.
The Bottom Line
If you're shopping for a cordless miter saw, it's time to stop searching. The Makita XSL06 is the best by a pretty fair margin. It's the combination of cutting power and accuracy that sets it apart from what Milwaukee and DeWalt are offering. Either of those other saws will get the job done, but you'll forget that the Makita 10″ cordless miter saw doesn't have a cord when you're using it. And that makes all the difference.
With premium performance and build quality comes a premium price tag. The kit with a pair of 5.0AH battery packs will set you back $779. but compare that to the other full-size cordless miter saws out there that run $599 (Milwaukee) and $649 (FlexVolt kit), and it's really a pretty attractive price for what you get.
So while I can recommend other models as good cordless miters saws, I highly recommend Makita's 10″ 18V X2 LXT Brushless Miter Saw as a flat-out excellent miter saw – corded or cordless.
Makita 10″ Cordless Miter Saw Key Features
Powered by two LXT batteries; X2 LXT technology delivers more power, speed and run time without the hassles of a cord
Positive miter stops at: 0°, 15°, 22.5°, 31.6°, 45°, and 60° left or right
Integrated 4-3/4″ tall fence system for increased rigidity and more precise miter and bevel cuts
Built-in laser clearly indicates line-of-cut whether blade is turning or not; on-off switch and micro-adjustments for precise "left-of-blade" or "right-of-blade" cutting
Linear ball bearing system engineered to deliver accurate cuts
Large-sized aluminum base improves stability of material for efficient cutting
Electric brake for maximum productivity
Direct drive gearbox for increased cutting efficiency and reduced maintenance
Soft start suppresses start-up reaction for smooth start-ups and longer gear life
In-front bevel lock for convenient operation
Easy one-touch slide lock for convenience
Makita built electronically controlled BL motor delivers 4,400 RPM for fast and smooth cutting
Simple 90 degree turn-of-the-knob miter angle lock/unlock mechanism
Excellent dust extraction performance with included dust bag
Rubberized soft grip handle provides increased comfort on the job
The BL Brushless Motor eliminates carbon brushes, enabling the BL motor to run cooler and more efficiently for longer life
Automatic speed change technology adjusts cutting speed and torque during cut for optimum performance
X2 LXT technology delivers up to 334 cuts per charge in 2×4 SPF and up to 192 cuts per charge in 2×12 SPF lumber using two 5.0Ah batteries
Largest crown molding cutting capacity in its 10″ miter saw class, cutting up to 6-5/8″ vertically nested
Large dimensional lumber cutting capacity: 2-13/16″ x 12″ at 90° and 2-13/16″ x 8-1/2″ at 45°
Unique 2-steel rail sliding system design offers single slide-glide operation; reducing saw's footprint and allowing for operation flush against a wall
Makita 10″ Cordless Miter Saw Specifications
Model: Makita XSL06PT
Battery: 2X 18V LXT Lithium-Ion
No Load Speed: 4,400 RPM
Blade Diameter: 10″
Arbor : 5/8″
Max. Cutting Capacity (miter 90°): 2-13/16″ x 12″
Max. Cutting Capacity (miter 45°, L/R): 2-13/16″ x 8-1/2″
Dimensions (LxWxH): 31-3/4″ x 25-3/8″ x 26″
Net Weight (with battery): 60.2 lbs.
Shipping Weight : 80.483 lbs
Includes: (2) 18V LXT Lithium-Ion 5.0Ah Battery, Dual Port Charger, Vertical Vise,Dust Bag, Triangular Rule, Hex Wrench, 10″ x 5/8″ 40T Micro-Polished Miter Saw Blade
Warranty: 3 years limited
Price: $779