Makita's 18V LXT platform gets most of the love around here. With Sub-Compact tackling the 12V size, standard 18V tools, and 18V X2 bringing you up to 36V all on one battery, it's one of the most compelling and complete platforms out there. But 12V isn't going by the wayside. Tools like the Makita 12V CXT Jig Saw still get all the power and runtime they need for smaller jobs and enjoy the lighter weight of a 12V battery.
All that to say that I'm pretty jazzed about the Makita VJ05 and the fact that it's not on the 18V LXT platform doesn't bother me in the slightest.
Noteworthy Features
Barrel Grip Design: People tell me barrel grips are more popular in Europe, but I love the feel and control of this style over a top handle.
Power and Lock Buttons: You power up the tool with the simple press of a button. It's convenient and avoids holding a trigger down for awkward or extended cuts. There's a safety issue that comes along with that and Makita deals with it by using a separate lock button. You'll need to press to it unlock the tool before you press the power button. You can reactivate the tool without unlocking it again until the LED lights go off.
Variable Speed Dial: With no trigger to hold down or feather, you'll vary your speed with a dial. Even though it's marked at speeds 1 – 5, there are not stops meaning you can dial in speed in between what's marked.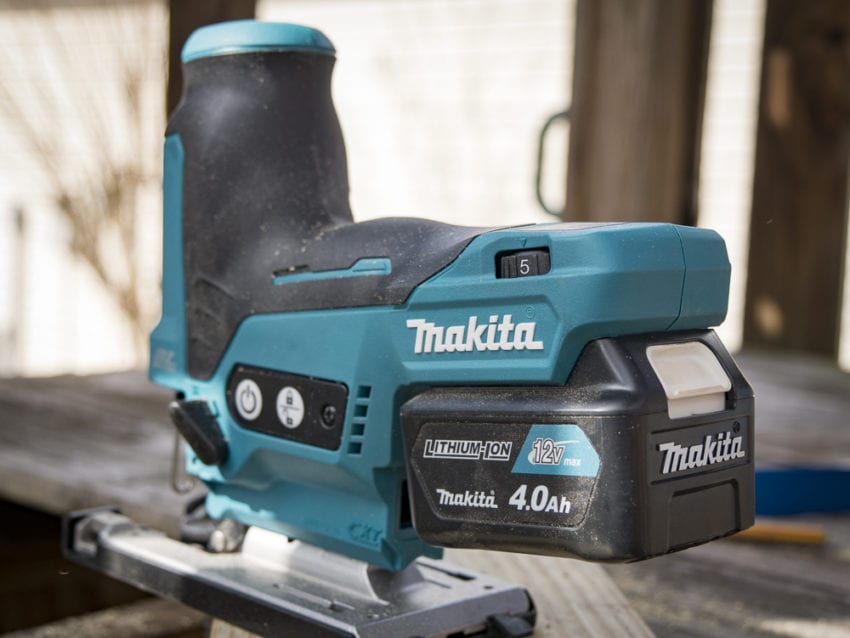 Orbital Action: There are plenty of documented advantages to orbital action cutting in wood. Makita gives you three levels to make cutting increasingly aggressive, plus a straight cutting (non-orbital) mode.
Brushless Motor: From a practical standpoint, you get more power and runtime out of a brushless motor. Makita does well to include it on the VJ05.
LED Work Light: LED work lights can be hit or miss. However, the Makita 12V CXT Jig Saw has a pair that light up your cutline beautifully.
Tool Free Blade Changes: The Makita VJ05 has one of the best blade change mechanisms I've seen. Twist the shaft lock and it will eject the blade while locking in the open position. Inserting a new blade snaps the lock back in place.
Dust Blower: Every woodcutting tool needs a way to keep you cutline visible as you create sawdust. Most use a blower and that's what Makita turns to with this model.
Performance
Sometimes the goal is to cut as fast as possible. That's not usually the case with jig saws. Here, it's more about a combination of fast cutting action with accuracy. Makita does a very nice job balancing the two.
The stroke speed ranges from 800 SPM on the low side to 3000 SPM on the high side with a 7/8″ stroke length (both are class leaders). You may notice that the saw seems to start up slower than that. There are two reasons for it. One, you get a slight soft start when you first power the saw up. The benefits there are pretty obvious with better beginning cut accuracy topping the list.
What you may also notice is that the saw seems to speed up once you enter the cut. This is also intentional. Makita calls it "no-load speed reduction" that reduces the speed when there's no pressure on the blade to again, help you make more accurate starts to your cut.
That's all fine and dandy, but what about actually using the Makita 12V CXT Jig Saw?
It's a pleasure. The barrel grip design gives you plenty of one- and two-handed grip options along with excellent control. The speed on high can work through 2x PT for finishing awkward cuts on construction projects and you have a wide range to dial in as you change material thickness and density. That said, this is a 12V tool and you can definitely reach the limits of its power where an 18V model will keep going.
Price and Value
As a bare tool, the Makita CXT Jig Saw runs $129.99 or you can snag the kit with a pair of 2.0 Ah batteries for $204.99. If you prefer the top handle style (model VJ06), the prices are the same. There's not a lot of competition out there in the 12V class, especially if you're looking for a pretty recent model. That said, the pricing is a little higher than the competition. Bosch comes in at $109 and Milwaukee's somewhat older model is $99 – both as bare tools.
The Bottom Line
If you're in the market for a cordless jig saw and are willing to trade off some power for comfort and compact size, the Makita 12V CXT Jig Saw is one of the nicest models you can get your hands on. It's got a great feature set to go along with an excellent design that lends itself to easy use.
Makita 12V CXT Jig Saw Specifications
Model: Makita VJ05
Power Source: Makita 12V CXT battery (slide pack)
Stroke Length: 7/8″
Stroke Speed: 800 – 3000 SPM
Weight: 3lbs., 6 oz. (bare), 4lbs., 3 oz. (with 4.0 Ah battery)
Length: 9-3/8″
Warranty: 3 years
Price: $129.99 (bare), $204.99 (kit)
Shop Amazon