Lightweight Makita Cordless Auger Moves A Lot of Earth
Makita recently announced one of the newest additions to its line of battery-powered outdoor power equipment. The Makita Cordless Earth Auger delivers 36V of high-performance digging. With the ability to dig even and consistent holes, the XGD01 should make the ideal tool for many landscaping, construction, and soil sampling applications.
10-Second Summary
Model: Makita XGD01
36V brushless motor delivers equivalent of 36cc gas engine
8″ wide and 41″ deep drilling capacity
Two speed options: 0-350 rpm and 0-1,400 rpm
Automatic Speed Change
Metal gear housing
XPT tech
Includes reverse switch, torque limiter, and LED light
4″, 6″, and 8″ drill bits and extension bars sold seperately
Price: $599 (bare), $719 (kit)
Makita XGD01 Offers Convenient Post Hole Drilling
The Makita Cordless Earth Auger features a 36V brushless motor that delivers the equivalent power of a 36cc gas-powered earth auger. It offers two different speed options: 0–350 and 0–1,400 RPM. You can drill holes up to 8-inches wide and 41-inches deep.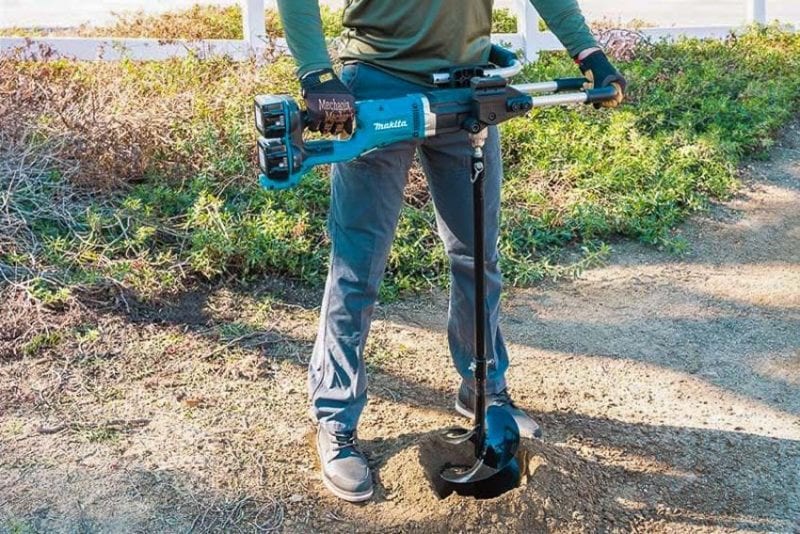 But, while the Makita Earth Auger may bring the power of a gas engine, it doesn't bring the weight. Even with two 18V 5.0Ah batteries attached, the XGD01 only weighs 17.9 lbs. That's half the weight of many 43cc models from the likes of Southland, Powermate, and Sportsman.
Design and Features
In addition to reducing the weight, the Makita Cordless Earth Auger gains the other benefits we've come to know and love from battery power. You can drill holes with no emissions. You don't need to worry about adding oil or gas—which also means less maintenance. Finally, you also get instant startup and significantly less noise.
The Makita XGD01 Earth Auger includes Automatic Speed Change technology. This senses resistance and adjusts the auger's speed and torque to match the task at hand. This auger also features a reverse gear, torque limiter, and LED work light.
Notably, Makita designed their cordless earth auger with a durable metal gear housing. It also features the brand's Extreme Protection technology, which channels water and dust away from vital components to give the tool some protection against the elements.
Our Thoughts
We love the idea of a powerful cordless earth auger from Makita. About the only thing we question is the design. Rather than going with a more standardized form factor, Makita looks to have opted for using their XAD03 X2 platform. That results in a really wide tool. Since you can trust the electronics to handle bind-ups, we'd probably prefer the more compact handles most Pros are used to with these tools.
Once we get one in for testing, I'm certain we'll have additional thoughts regarding the performance.
Pricing and Availability
SO far, it looks like the Makita 36V Earth Auger sells for around $599 as a bare tool and $719 as a kit. The kit will include two 5.0Ah batteries and a dual-port rapid charger.
Makita also has 4″, 6″, and 8″ auger drill bits and an extension bar available for deeper holes. All of these are sold separately. Currently, we're seeing the 8-inch auger bit selling for around $179.99 on its own. You may pay less if you buy bits with the tool at the time of purchase.
These accessories include replaceable blades, and they use a pin for quickly attaching the bits to the Makita 18V X2 earth auger.
Makita Cordless Earth Auger Specs
Model: Makita XGD01
Voltage: 36V (18V x 2)
Motor: Brushless
No Load Speed: 0–350 / 0–1,400 SRPM
Max Hole Diameter: 8 in.
Max Hole Depth: 41 in.
Overall Length: 33 in.
Weight: 17.9 lbs. with battery (2 x 5.0Ah)
Price: $599 (tool-only)