Last Updated on August 16, 2022
Makita XBU03 18V LXT Blower Stakes its Claim as the Lightest, Most Powerful Blower in its Class
The big news coming out of La Miranda, California has to do with the new Makita XBU03 blower. It's an 18V LXT member of Makita's OPE line, making a name for itself with class-leading weight and power.
Pros
Strongest 18V blower we've tested to date
Lighter than high-voltage cordless blowers
Cruise control
Quiet operation, even for a battery-powered blower
Cons
Low runtime compared to other blowers
Makita XBU03 Cordless Blower Design
Before we start throwing numbers around, let's look at some context first. This Makita cordless blower is in the 18V class, so it's not competing directly with 40V, 60V, 80V, and whatever other voltage you might be thinking of right now.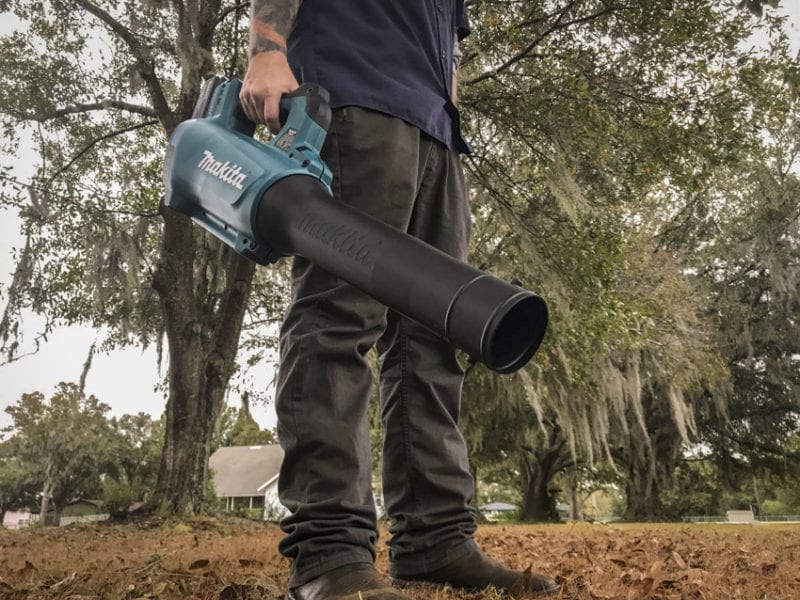 Sitting in the 18V LXT line rather than the 18V X2 helps Makita keep the weight down. With a 4.0Ah battery, it weighs just 6.5 pounds. On our scale, it measured 4.8 pounds bare and 6.2 with a 5.0Ah battery.
For comparison, Milwaukee's M18 Fuel blower (2724) with a 4.0Ah battery weighs about 6.6 pounds, but they actually kit it with a heavier 9.0Ah battery.
Additional Features
Cruise control (new!) – set a constant speed while still being able to use the trigger for higher performance
In-line fan design – improves balance and ergonomics
Pipe extender – gets the nozzle closer to the ground
Rubberized soft grip – better comfort
Keyhole – hangs up easier
Extreme Protection Technology (XPT) – channels dust and water away to extend motor life
Makita XBU03 Battery-Powered Blower Performance
On the power side, Makita boasts 459 CFM and 116 MPH. That's very close to Milwaukee's 450 CFM and 120 MPH specs. But those numbers don't actually tell the whole story on their own and there's no simple equation to work them into one easily comparable number.
When Makita talks about having the most powerful 18V blower, they're really talking about Newton force. It measures how much force is coming out of the blower tube. And for the Makita XBU03, they're measuring higher Newton force than any other blower in this class.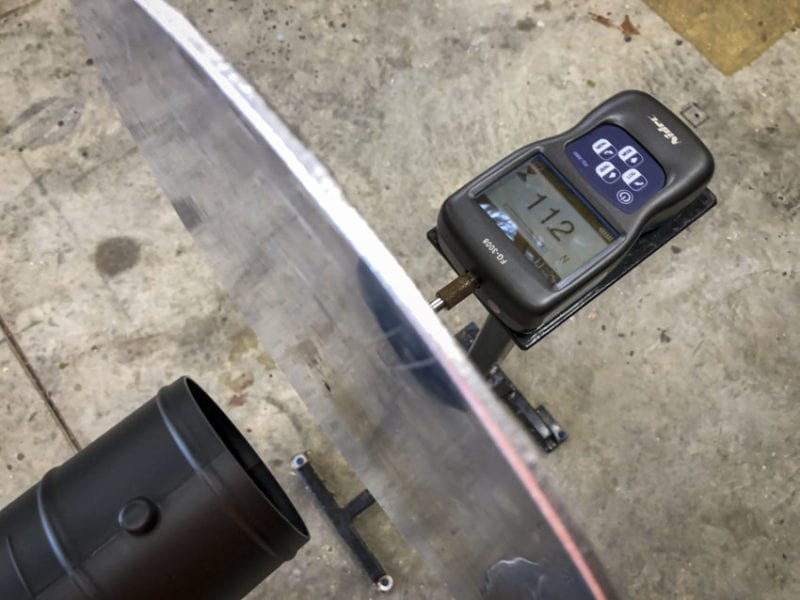 We hooked up our force meter and this Makita cordless blower hit 11.3 Newtons at its peak with an average settling in right around 11 N. Milwaukee's Gen 1 blower only hit 8.6 N and we measured the Gen 2 at 11.2 N for its max.
So yes, our numbers back up Makita's claim that they have the most powerful 18V blower.
Makita XBU03 Cordless Blower Runtime
We got the bare tool and have mainly 5.0Ah batteries running around the shop, so that's what we tested this Makita blower with. On high, it ran for 10 minutes, 25 seconds of runtime. Doing a little math, expect roughly 8 minutes on high with the 4.0Ah battery that comes in the kit.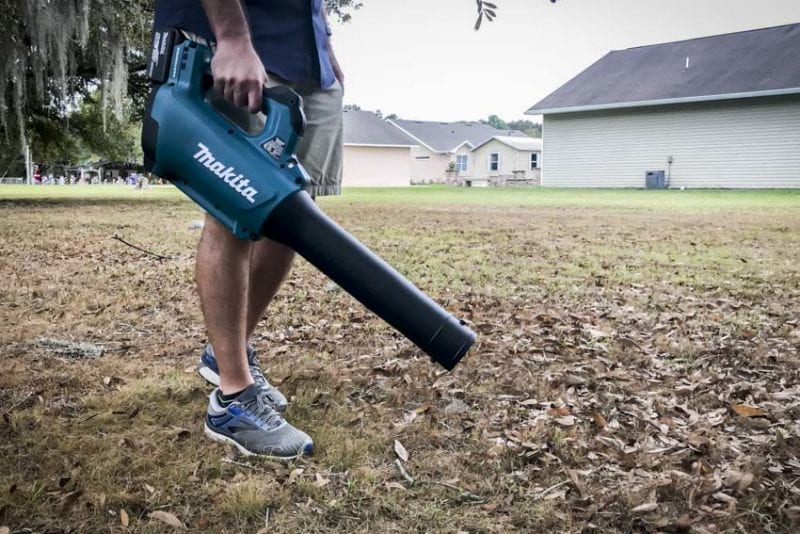 That might not seem like a lot, but it's actually only a minute shorter than we tested the XBU02 with two 5.0Ah batteries. When you're talking about blowing off your driveway and sidewalks or the area of the jobsite you're working on, it's plenty in most cases.
Noise Level
Makita rates the XBU03 at 63 dB(A). Presumably, that's at its lowest speed. We cranked it all the way up in an open field and read 83 dB(A) at my ear (~39 inches from the motor).
There are a couple of takeaways worth noting there. First, it falls under OSHA's 85-decibel limit requiring ear protection. You can wear it if the noise annoys you, but it's not at a level that we expect to cause even the most minor hearing damage.
The other point is that 83 decibels are pretty quiet for a cordless blower at its peak power. Looking back at our shootout, the range was from 81 decibels at the low end to 95 decibels at the top.
Makita XBU03 Battery-Powered Blower Price
As a bare tool, you're looking at $129 for the Makita XBU03. If you want the Makita cordless blower kit, it's $199.
It's worth noting that Makita is kitting this blower with a single 4.0Ah battery and standard charger. You'll get a bit less runtime than with a 5.0Ah battery and it won't charge as fast, but that should help keep the price a little lower. As a lightweight blower for quick cleanup, we're good with that call.
Makita XBU03SM1 Blower Kit Includes
Blower
4.0Ah battery
Standard charger
The Bottom Line
As an 18V blower, this blower does its best work for quick cleanup on hard surfaces. Clearing up jobsites, shop/garage floors, and getting grass clippings off of your driveway and sidewalks are all great applications. You can expect to move around dry broadleaves pretty handily, but don't expect this to compete with the power of their 18V X2 blower or gas handhelds.
Makita 18V LXT Cordless Blower Specifications