The Makita 18V X2 Brushless Rear-Handle Circular Saw (XSR01) may not be a worm drive, but it operates like one. Affectionately known around certain circles as the Makita Cordless Not a Worm Drive, it really isn't.
But it isn't a sidewinder, either. A helical design brings the gears together at a 45-degree angle rather than the 90 of a true worm drive. Whatever you want to call it, the hype has been all about the power. So aside from the classic worm drive's rear handle and left side blade orientation, what else is there?
That's exactly what we're here to help you discover!
Check out our Best Cordless Circular Saw review.
Pros
Best cordless rear handle value
Perfect guard movement
Perfect notch accuracy at 45º and 90º
Lowest shoe friction
Lightest weight of the cordless rear handle group (12.6 pounds with batteries)
Deepest 7 1/4-inch rear handle cutting capacity (2 9/16 inches at 90º)
Excellent tracking
Perfect score for dust and chip clearing (without a vac)
Massive group of compatible tools using the same batteries
Cons
Slowest Time Trial of the cordless rear handle group
No vacuum attachment available
Makita Rear Handle Circular Saw Ergonomics
Like I already mentioned, the rear handle design and left blade orientation is obvious, so let's get beyond that for a moment and look at the other features the Makita 18V X2 Brushless Rear-Handle Circular Saw includes that make a difference.
The first thing you'll notice (and really should expect with this design) is the weight. It comes in at 12.67 pounds with two 5.0 amp hour batteries. That's quite a bit more than most cordless circular saws. But of course, this isn't a typical cordless saw. Compared to standard worm drives, this is a lighter option. We have a mix of magnesium (the shoe and bottom half of the blade guard) and aluminum (the top half of the blade guard and motor housing) components to thank for that.
The combination of lighter weight and cordless convenience is hard to ignore. At the end of the day, you need a circular saw to be heavy enough to be stable in the cutting material and still glide across it easily. Makita accomplishes this balance well.
Pro Tip: Worm drives are best used for longer rip cuts thanks to the extra torque while sidewinders are best for cross cuts with their lighter weight. Comparing the Makita 18V X2 Brushless Rear-Handle Circular Saw to sidewinders is possible, but this is a ripping machine.
Makita's handle doesn't have the contour of their drills and impact drivers. That can go either way depending on your perspective. Instead, Makita rounds over the handle in a more traditional way with rubber overmold.
The trigger is a single-finger design and I haven't had any issues with discomfort using the saw at all.
Makita XSR01 Blade Adjustments
For the most part, blade height and bevel adjustments on a circular saw are best when they are seen but not heard. In other words, they should lock tightly and adjust effortlessly. Any hindrance here is something you'll notice every time you use the saw. Makita does well with adjustments and locks that perform beautifully. But they added a feature that stands out – positive stops for the bevel angle.
By flipping a dial, you can have the bevel angle stop at 22.5 or 45 degrees before you lock it in. We've seen a similar concept of detents on these points, but this is the first set of positive stops we've encountered. If you do much cutting on a bevel, this is a nice feature to have.
Makita Rear-Handle Circular Saw Cut Capacity
Cut capacity is about a high as we've seen at 2-9/16 inches on a 90-degree cut. While most people don't use 3x material, it is enough to make the cut in one pass. We have other saws with the same capacity in the 7-1/4-inch class, but some are slightly lower. And of course, this is much better than the 6-1/2 inch models.
At 45 degrees, you get 1-3/4 inches and 1-1/2 inches at its maximum 53-degree bevel.
Rafter Hook
I have a thing for rafter hooks on my saws. I just don't like setting them on the ground or keeping one hand on it when I'm working at height. The Makita XSR01 has an extra-wide hook that gives you a lot of options for the size of material you can hang it on. It has two stops at 90 and 180 degrees from its starting position.
As a little bit of a quirk, the rafter hook is in the way of your batteries. You'll need to flip it to get them out or install them. It's not a negative from my perspective, just something worth noting.
Battery Gauge
Even though Makita's newer batteries have a gauge on them, there's also an onboard indicator on the saw. This is pretty handy since one button shows you the battery level of both batteries with a quick glance.
A Couple of Ommissions
The only glaring omissions in the feature department aren't deal-breakers. First up is the lack of an LED light on the Makita 18V X2 Brushless Rear-Handle Circular Saw. That's not an issue at all from many users. I prefer to have one when I'm working inside, especially in our shop. Most of the light is coming from overhead and the saw casts a shadow. It's not nearly as big of a deal outside or where you have plenty of natural light coming in through windows and doors.
The other missing feature might be a little more of an issue, and it's also related to vision. There's no cut line blower. The saw creates a lot of sawdust, especially on deep cuts. It can be an issue on longer, deeper cuts.
Performance and Power
The Obvious Comparison
I realize this is the section that most people want to know about. After all, the power is what all the hype is surrounding. The good news is that you're not going to be disappointed by the power you get from this cordless saw. It really can make a full depth rip cut confidently. But is it in a class by itself?
Actually, no. In our testing, we found that the DeWalt FlexVolt Circular Saw can keep up, so there are really two cordless circular saws that have set themselves apart. How closely can DeWalt compete?
That's a question we're going to tackle with a head to head comparison so we have quantifiable data to offer a conclusive answer. For now, what I can say is that both are very fast and seem to have similar torque to push through tough material. But I can't say that one outperforms the other… yet.
Compared to the Rest of the Field
There's not really a comparison to make against "normal" cordless circular saws in the 18V/20V Max class. The Makita 18V X2 Brushless Rear-Handle Circular Saw leaves them all in the sawdust. What's great is that Makita pulls class-leading power and cutting speed together with class-leading capacity, so there's really no tradeoffs in performance by moving away from your sidewinder.
Update 1/15/2018
We put the Makita Rear-Handle Saw up against our corded Skilsaw SPT77WM-22 worm drive to see what happens in a full-depth 8′ rip cut in 4×4 pressure-treated pine. Our worm drive performed exactly as we expected it to – powerful and confident through the length of the cut (although it did pop our breaker in one test). It took 27.96 seconds to make the cut and didn't stall.
Makita? 18.64 seconds, shattering our corded model's time with an undeniable advantage.
The Bottom Line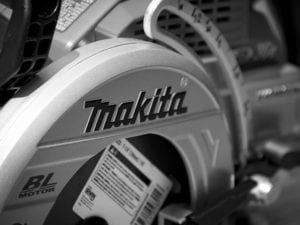 When we first saw the Makita 18V X2 Brushless Rear-Handle Circular Saw, it was clear it's in another league than almost every other cordless circular saw available. Almost. It's got some competition from DeWalt's FlexVolt that we're still sorting out before saying either one has the most cutting power. What's clear is that it absolutely outperforms a corded worm drive.
The feature set is solid, highlighted by magnesium and aluminum components that bring the weight down and bevel stops at 22.5 and 45 degrees. The lack of an LED light and cut line blower may get in the way for some users but are going to be minor omissions for most applications.
At $359 for the kit with a pair of 5.0 amp hour batteries, this is a cornerstone product if you're looking to get into the Makita 18V LXT platform and unlock the deep lineup of cordless tools it offers. That's in the ballpark for its closest competition, which is only one other cordless saw. If you're already on the Makita platform, you're looking at a $199 investment.
The Makita XSR01 is without a doubt a Pro level tool and users looking for the most power in a cordless circular saw or a corded worm drive replacement for rip cuts should give this some serious consideration.
Makita 18V X2 Brushless Rear-Handle Circular Saw Manufacturer's Key Features
Powered by two LXT batteries; X2 LXT technology delivers more power, speed and run time without the hassles of a cord
Makita built electronically controlled BL Motor delivers 5,100 RPM for maximum performance and 50% longer run time per charge
The BL Brushless Motor eliminates carbon brushes, enabling the BL Motor to run cooler and more efficiently for longer life
Automatic Speed Change technology adjusts cutting speed and torque during cut for optimum performance
X2 LXT technology delivers up to 558 cross-cuts per charge in 2×4 SPF lumber and up to 291 cross-cuts per charge in 2×10 SPF lumber using the two 5.0Ah batteries
Large 2-9/16" cutting capacity at 90°; cuts 3X material in a single pass
Electric brake for maximum productivity
0°- 53° bevel capacity with positive stops at 22.5°, 45°, and 53°
Die-cast magnesium base and blade guard along with a die-cast aluminum blade cover and motor housing provide a lightweight, durable design
Compact and ergonomic design at only 17-1/2″ long
Weighs only 12.4 lbs. with batteries for reduced operator fatigue
Retractable, extra-wide tool hook secures the tool when not in use
Built-in tether notch (tether sold separately)
Rubberized soft grip handle provides increased comfort on the job
3-stage L.E.D. gauges on the tool indicate battery charge levels
Dual Port Rapid Optimum Charger charges two batteries at the same time
Two 18V LXT Lithium-Ion Batteries deliver the power and performance of a corded saw without leaving the 18V LXT platform
Makita 18V X2 Brushless Rear-Handle Circular Saw Specifications
Model number: Makita XSR01Z (Bare), Makita XSR01PT (Kit)
Power Source: (2) Makita 18V LXT battery packs
Max Cutting Depth: 2-9/16-inch cutting capacity at 90 degrees
Bevel Capacity: 0 to 53-degree bevel with positive stops at 22.5 and 45 degrees
Magnesium base and blade guard
Electric brake
Built-in tether notch
Rafter Hook
No Load Speed: 5100 RPM