Masterforce Cordless Hammer Drill Gets a Big Boost in Performance From New Tech
The Masterforce Boost cordless hammer drill joins the ranks of advanced cordless tools with its Boost technology. Merging better battery and motor tech together, we tested it against the previous FlexPower brushless model to see what kind of difference you should expect.
Pros
Brushless motor
Big performance upgrade from the previous model
More compact and lighter than the previous model
Impulse mode
Separate clutch and mode collars
Metal chuck
Excellent value
Cons
Masterforce Boost Hammer Drill Performance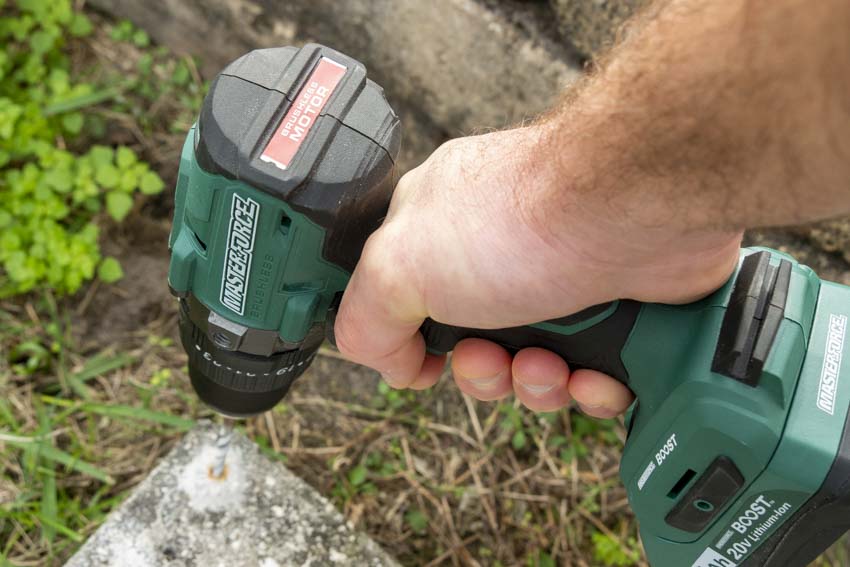 As you can see from the chart below, the Masterforce Boost hammer drill gets a pretty significant performance upgrade thanks to the updated technology. Even drilling our first few test holes, we could feel the difference.
Masterforce Boost Vs Masterforce Brushless Hammer Drill
20V FlexPower
(241-0464)
20V Boost
(241-0472)
Speeds
500/1,850 RPM
550/2,000 RPM
Max Torque
700 in-lbs
800 in-lbs
Hammer Rate
6,500/24,050 BPM
8,000/32,000 BPM
The performance of the previous model wasn't bad at all. The speed and torque were on par with other top Prosumer models and it outperformed pure DIY options.
However, the landscape began changing with advanced battery and motor technology. Premium brands took advantage first and now Masterforce and other Prosumers brands have. That's the Boost difference.
Now, the performance reaches where mid-range professional models are and significantly boosts your productivity. Feel free to use your full range of twist bits, spade bits, and auger bits. Even self-feed bits up to 2 9/16 inches and hole saws up to 3 inches are well within its capabilities.
Impulse Mode
In addition to the 2-speed gearbox on top of the housing, Masterforce also includes an impulse mode you can select on the foot. This mode creates a pulsing action by cycling the motor on and off. It's nowhere near the rate of an impact driver, pulsing about 100 times per minute.
This mode works in high or low gear and is useful to encourage stubborn fasteners or to get a more accurate start on smooth material surfaces.
Battery Compatibility
Like many advanced cordless tools, you get the best performance when you pair this hammer drill with an advanced Boost battery. However, you can still use your Masterforce FlexPower 20V batteries. You'll just notice a drop in performance.
Masterforce Boost Hammer Drill Design Notes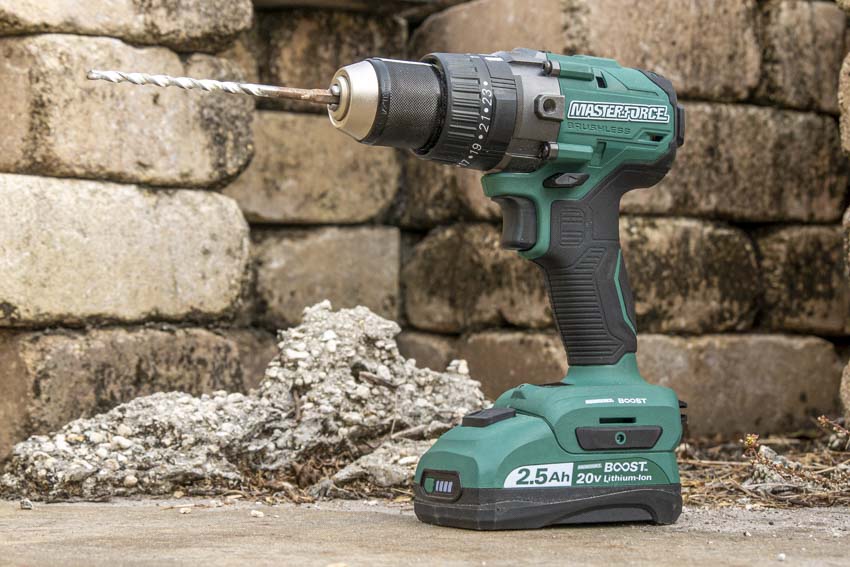 The overall design is about a 1/2-inch shorter and a couple of ounces lighter than the previous model. The drill driver version drops another 1/2-inch off of that and is impressively compact for its performance level.
It's on the hefty side at 3.1 pounds bare. Stick the with 2.5Ah battery to keep the overall weight to a manageable 4.2 pounds.
The handle is agreeably curvy and comfortable for a wide range of hand sizes.
Feature Set
Metal chuck
Foot-mounted LED light
Auxiliary handle included
Belt clip
Integrated bit holder
Masterforce Boost Cordless Hammer Drill Price
You can find Masterforce's latest cordless hammer drill at Menards for $167.97 with a 2.5Ah battery and charger. We've seen it under $150.00 with a mail-in rebate offer. Considering its performance, that's a pretty attractive price tag.
If you don't need the concrete drilling capabilities of a hammer drill, the drill driver kit is $144.89.
The Bottom Line
With the Masterforce Boost cordless hammer drill, we find an impressive blend of performance and value. It's a drill that legitimately performs at a professional level with a price that's well within reach of serious DIYers. If getting a lot of bang for your buck is a big deal for you, Masterforce Boost cordless tools should be on your shortlist.
Specifications
Model: Masterforce 241-0472
Power Source: Masterforce 20V Boost or FlexPower batteries
Chuck Size: 1/2-inch
No-Load Speed:0 – 550 / 0 – 2,000 RPM
Maximum Torque: 800 in-lbs
Blow Rate: 0 – 8,000 / 0 – 32,000 BPM
Clutch Settings: 24+1+1
Length: 7.4 inches
Weight: 3.1 pounds bare, 4.2 pounds with battery
Warranty: 3 years
Price: $167.97 kit with 2.5Ah battery