Metabo HPT MultiVolt Reciprocating Saw Challenges Milwaukee's Cordless Dominance
In the final results of our cordless reciprocating saw head-to-head review, the Metabo HPT MultiVolt reciprocating saw finished less than a point behind Milwaukee's cordless Super Sawzall before leaving the rest of the field in their wake. It's an impressive result for Metabo HPT that shows us the MultiVolt is serious.
Just a quick note—we refer to this model as part of the cordless "super saw" class. That group has higher power than standard saws in the 18V/20V Max class, usually powered by advanced batteries.
Pros
Excellent cutting speed in wood, metal, and mixed materials
Top vibration control rating in its class
Uses MultiVolt batteries or an AC adapter for power
MultiVolt batteries are backward compatible with 18V tools
Slim handle design is more comfortable to use
Cons
How Fast Does the Metabo HPT MultiVolt Reciprocating Saw Cut?
Metabo HPT gave the MultiVolt a 3000 SPM stroke rate with a 1-1/4″ stroke length. It's a combination that works well in our tests. Overall, the Metabo HPT CR36DA has excellent cutting speeds, second only to Milwaukee's M18 Fuel Super Sawzall. It's better in some materials than others, though.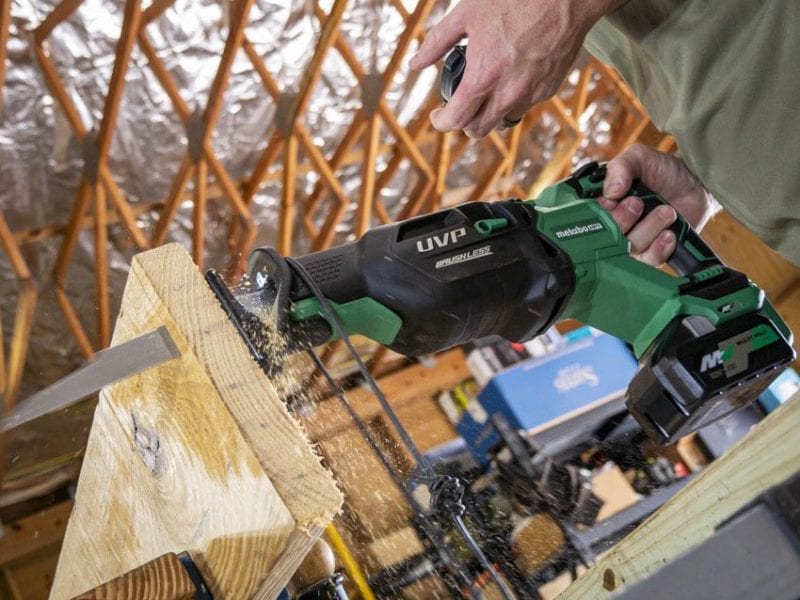 In our nail-embedded wood test, its 7.60-second average was only beaten by Milwaukee's average time of 6.67 seconds. The rest of the cordless super saws posted averages of 10 seconds or more, though a handful of the standard 18V/20V Max models were under 10.
Shifting to medium metal cutting, Metabo HPT took over the top position. On 2″ EMT, its average time was a blazing fast 3.58 seconds with Hilti (3.75 seconds) hot on its heels.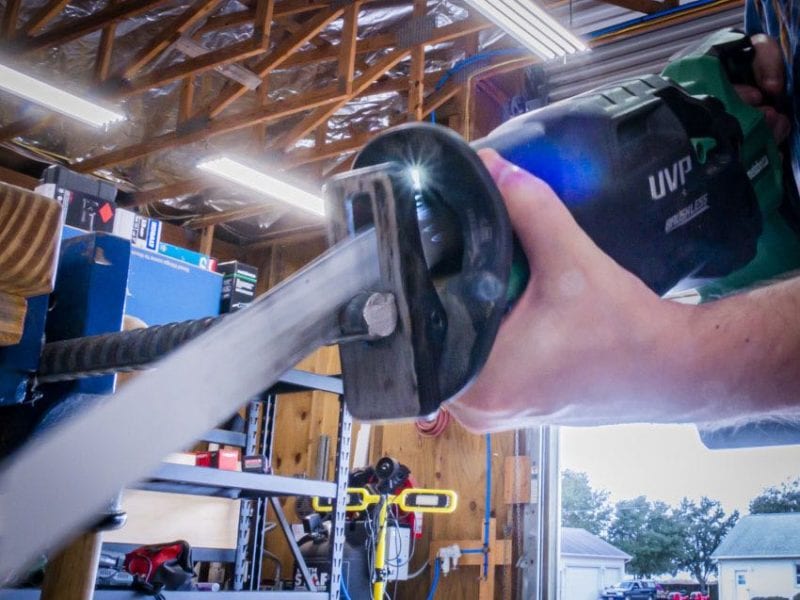 Using #5 rebar as our thick metal muse, Metabo HPT's performance dropped to the lowest level we saw. With an 8.91-second average Milwaukee (5.89 seconds) and Hilti (6.23 seconds) posted better times. As far as "lowest performance" goes, it's still well ahead of the DeWalt FlexVolt at the bottom with 11.87 seconds.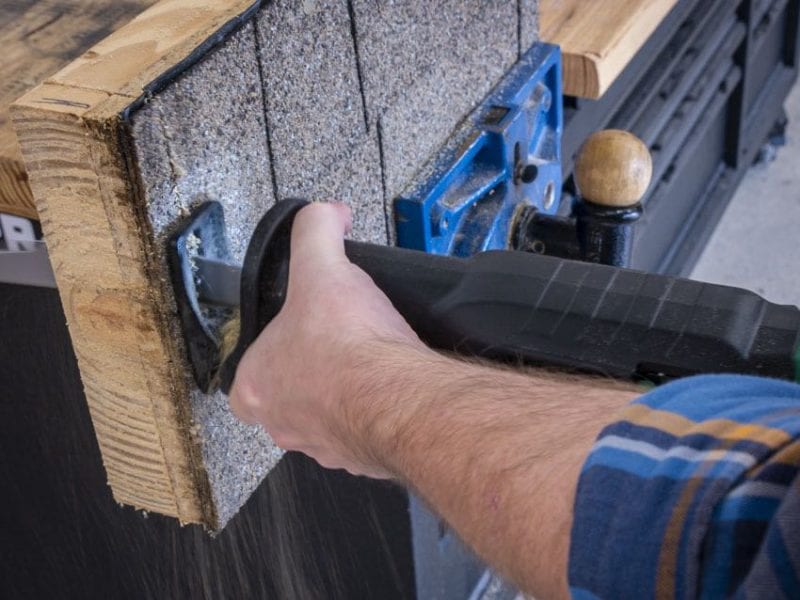 The final test we put this Metabo HPT 36V reciprocating saw through was a roofing sandwich. This tough multi-material cut exposed weaknesses in several models, but Metabo HPT took it all in a stride. With a 16.10-second average, it was second to Milwaukee (12.20 seconds) comfortably in front of Hilti (22.14 seconds) at the bottom.
The takeaway from all of this is that the Metabo HPT MultiVolt reciprocating saw is an excellent choice when your demo work calls for cutting a variety of materials. Between wood, metal, and mixed materials, we're not disappointed by its cutting speed in any of them.
How Much Vibration Does it Have While Cutting?
Solid cutting performance sometimes sacrifices vibration control to achieve it. That's not the case for Metabo HPT. Our testing team independently spent time working with each saw. When we tallied the results, Metabo HPT had the lowest vibration of the entire cordless super saw class.
The blend of solid overall cutting speed and low vibration is a one-two punch that vaults it into serious contention.
How Big is it?
Size is relative when you start talking about reciprocating saws at the top of the food chain. We expect them to be larger and heavier. As bare tool, Metabo HPT weighs 8.6 pounds—just 0.2 pounds less than the heaviest (Milwaukee).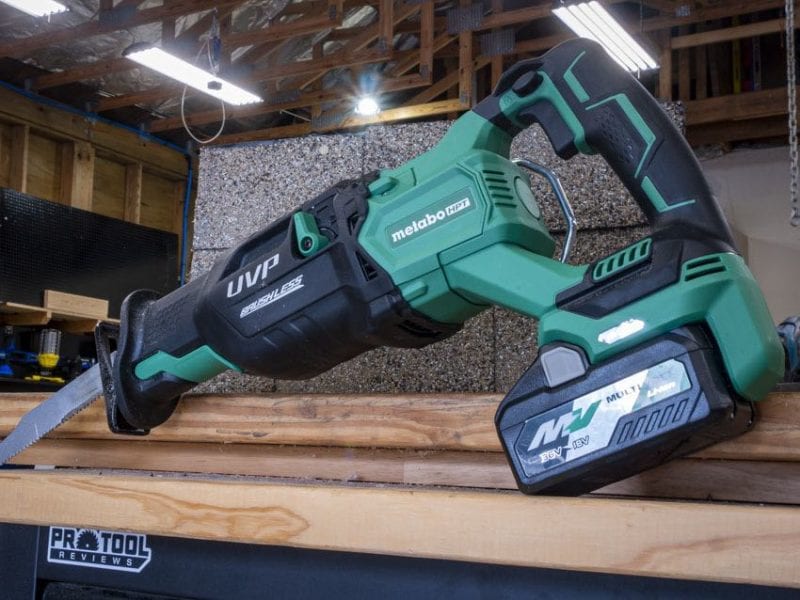 However, the 4.0Ah MultiVolt battery isn't as bulky as some of the others and its full weight is a more reasonable 10.7 pounds. You can still go lighter if you like. Makita's 18V X2 model (9.9 pounds) and DeWalt's FlexVolt (9.8 pounds) are both under 10 pounds.
When it comes to size, Metabo HPT scores higher. The entire group ranges from 17.7″ to 19.2″ long and the MultiVolt's 18.0″ length is pretty close to DeWalt's lead.
Metabo HPT designed the front housing to be thinner than a lot of the competition. Our team feels that it offers a more comfortable grip when you're cutting.
What Else Should I Know About?
The Metabo HPT MultiVolt reciprocating saw is a feature-rich model that has a lot of bonuses over and above its cutting performance.
Battery or AC Power
One of the defining features of the entire MultiVolt line is the ability to use the tool with either a battery or an AC adapter. For a heavy-duty reciprocating saw like this one, it's really helpful.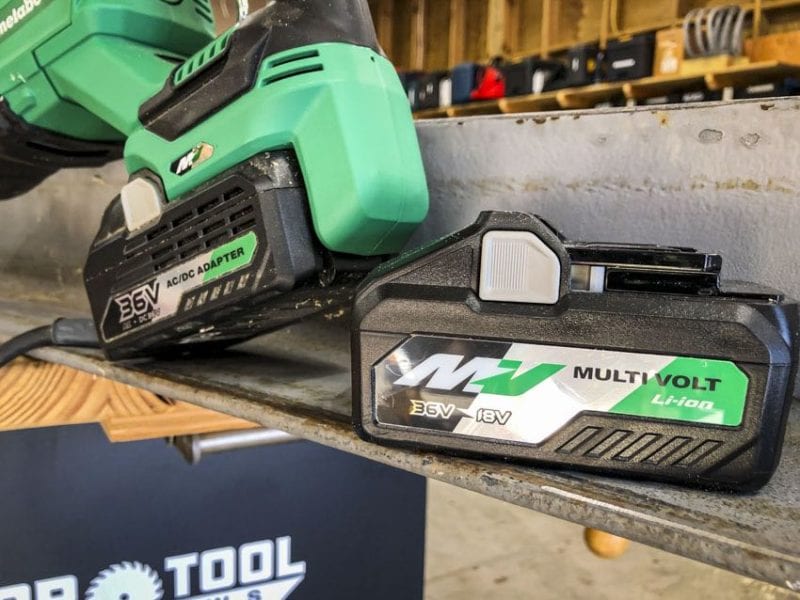 You can use the AC adapter for an unending power supply when you're on the ground and it's convenient. When you're working at height or a long way from a power source, switch over to battery power.
MultiVolt Battery for Multiple Voltages
When you grab a MultiVolt battery, you're holding a power source that works for Metabo HPT 36V and 18V cordless tools. It also works in any 18V cordless tools you have with the Hitachi name on them.
In MultiVolt tools, the battery runs as a 36V, 4.0Ah battery. When you pop it on an 18V tool, it switches to 18V with 8Ah capacity. Check out this article for more details.
Additional Features
Variable speed dial
Tool-free adjustable, pivoting shoe
Rafter hook
LED light
Missing Features
Lever blade release
Spring blade ejection
Smart controls
How Much Does it Cost?
As a bare tool, you can snag the Metabo HPT CR36DA for $199. It's not currently offered as a kit, so you need to plan on another $199 for a battery/charger starter kit or $119 for an AC adapter if you're not on the platform already.
Keep your eye open for promotions, though. We've seen deals where you can get a free AC adapter or battery (no charger) with your purchase and other promos pop up from time to time.
Metabo HPT has a lifetime warranty on their lithium-ion tools.
The Bottom Line
The Metabo HPT MultiVolt reciprocating saw is the only model we've seen seriously challenge Milwaukee in the cordless super saw class. Though it comes in a close second, we're really impressed with its design and cutting performance, and its class-leading vibration control is a welcome relief to our arms.
Buy it if you're looking for a cordless reciprocating saw with top-tier performance and vibration control, or want the convenience of battery and AC power on one tool. Pass if you're willing to give up some performance to save $100 or more.
Metabo HPT Reciprocating Saw Specs
Model Number: Metabo HPT CR36DA
Power Source: Metabo HPT MultiVolt battery or AC adapter
Strokes Per Minute: 3000
Blade Stroke Length: 1.25″
Orbital Action: Yes
Adjustable Shoe: Yes
Weight: 8.4 lbs
Variable Speed: Yes
Warranty: Lifetime tool warranty; 2-year battery warranty
Price: $199 (bare tool)