The Milwaukee M18 FUEL Compact Dual-Trigger Band Saw takes the same safety feature found in the Milwaukee 2729S-22 Deep Cut bandsaw and brings it to a more compact design. In case you don't understand the application, the dual-trigger function requires the user to place both hands on the bandsaw before it will cut. This not only helps avoid losing control of the saw while cutting, but it also stops the saw if your hand slips off the handle after a cut.
Bottom Line
If safety, portability, cutting speed, and run-time top your list, the new Milwaukee M18 FUEL Compact Dual-Trigger Band Saw should top your list. Electricians and plumbers, in particular, should find this tool an improvement over the bulkier 2729S-22 while offering the same dual-trigger safety mechanism.
Milwaukee 2829S-22 Compact Dual-Trigger Band Saw Features
We've already mentioned the dual trigger action on the Milwaukee 2829S-22 Compact Dual-Trigger Band Saw. We found using that feature to be almost effortless. So much so, in fact, that we find it hard to justify the $50 savings for the 2829-20 single trigger model. Pull the main trigger and the saw starts as soon as you grasp the front handle. Let off either, and the blade stops.
When you work at height, having the tool shut down when your hand leaves the front handle seems like a non-negotiable feature once you've experienced it.
In addition to that handy safety feature, the saw feels well-balanced and cuts very quickly. We measured the blade speed at 546.8 FPM under no load. That's actually higher than Milwaukee specs it on the tool (540 FPM). It provides quick cutting for most applications and barely slows when cutting. In fact, we sliced through angle iron, 2-inch EMT, and several large bolts for good measure.
Milwaukee puts their Powerstate brushless motor into this saw. It lets the battery and brushless motor supply more power when needed, so the speed doesn't drop far when put under load. The result is clean, even cuts in all materials.
Protection on the Outside
We liked the addition of Jobsite Armor Technology to the Milwaukee Compact Dual-Trigger Band Saw. Originating with the 2729S-20 Deep cut bandsaw, Milwaukee uses replaceable composite blade covers that handle a lot of the shock when dropped or banged up. You can replace them for around $54, which is far better than sending in a tool for repair.
A variable speed trigger makes cutting all sorts of materials easy. It also lets you ramp up the tool to avoid jumping or skipping around when starting a cut.
The tool-free locking adjustable shoe works really well, and you can retract it quickly when flush-cutting against a wall.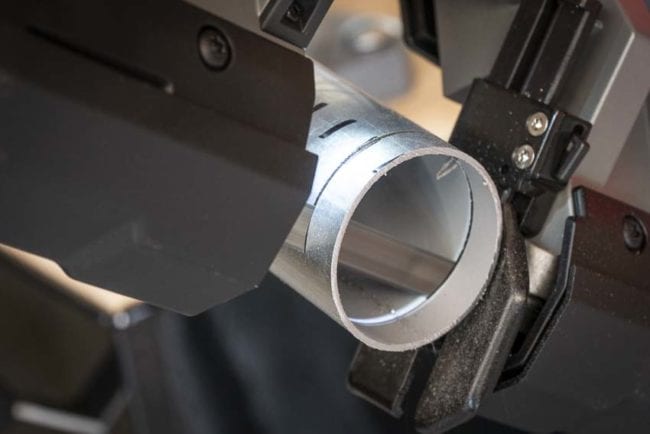 The integrated LED work light is nothing new, but it continues to be handy when starting your cuts. Finally, an integrated rafter hook—first present in the 2729S-22—lets you hang the tool in-between cuts.
Available Accessories for the Milwaukee M18 FUEL Compact Bandsaw
If you're an electrician, you definitely want to pick up the optional pipe reamer attachment (49-90-2029). It attaches to the back of the bandsaw and lets you ream pipe right after you make a cut.
Milwaukee pairs their new Compact Band Saw kits (2829S-22 and 2829-22) with a pair of M18 CP3.0 High Output batteries as well as an M18/M12 Rapid Charger. You also get a set of composite blade covers and an 8/10 TPI Extreme metal cutting band saw blade.
Comparing Milwaukee M18 FUEL Bandsaws
To get an idea of where this new bandsaw fits in the line, take a look at this comparison chart for some of the existing Milwaukee Tool band saws:
| | | | | |
| --- | --- | --- | --- | --- |
| | 2829S-22 | 2729S-22 | 2629-22 | 6242-6 |
| Cut capacity | 3-1/4 in. | 5 in. | 3-1/4 in. | 3-1/4 in. |
| Dual-trigger safety | Yes | Yes | No | No |
| Brushless motor | Yes | Yes | No | No |
| Jobsite armor | Yes | Yes | No | No |
| Weight (tool) | 7.7 lbs. | 13.8 lbs. | 10.3 lbs. | 9.5 lbs. |
| Shoe | Tool-free locking | Locking tool-free | Tool-free locking | Tool-free locking |
| Reamer attachment | Optional | N/A | none | none |
| Rafter hook | Yes | Yes | No | No |
| Price | $499 | $649 | $399 | $229 |
While I didn't include every model in the chart above, you can get an idea of just how compact this tool is. The new Milwaukee 2829S shaves two pounds off even the corded 6242-6 compact bandsaw. It drops 2.6 pounds from the 2629-22 (around 25%). Compared to their only other dual trigger saw, the full-size 2729S-22, you save even more—an impressive 6.1 pounds! While you do lose some capacity, those needing to tackle material up to 3-inches in diameter or so will find it hard not to opt for the weight savings.
Milwaukee 2829S-22 and 2829-22 Features & Specs
Dual-trigger safety (2829S model)
Powerstate brushless motor
Cut capacity: 3-1/4 x 3-1/4 in.
Blade: 35.375-inch 8/10 TPI extreme thick metal cutting blade
Speed: 540 FPM
Optional conduit reamer attachment
Constant Power Technology maintains cut speed under load
Jobsite Armor Technology composite cover protection
Variable speed trigger
LED light
Redlink Plus Intelligence
All-metal direct drive
Tool-free locking adjustable shoe
SKUs:
Shop Acme Tools
Conclusion
In our opinion, Pros will want to grab either the Milwaukee 2829S-22 or 2829-22 depending upon whether they desire the extra safety trigger. In either case, the excellent speed, smoothness, and power of this saw will not leave you disappointed. The quick shoe, removable protective covers, and ease of use make this a great bandsaw. The fact that it cuts just as fast (or faster) than a corded saw goes without saying, but the real attraction for us has to do with the flexibility of this tool. It only adds a pound to the Milwaukee one-handed M12 band saw but doubles the capacity!
Now, you get a more powerful, capable tool, but with a significant weight reduction over Milwaukee's first-gen model. Like other Milwaukee band saws we've used, this tool works just as well for left- or right-handed users. If you cut a lot of metal tubing, channel, or threaded rod and have an existing Milwaukee band saw, keep it…then pick up the 2829S-22 to expand your arsenal.