Milwaukee's first-generation battery-powered blower came out at the same time as their core line of tools designed to supplement a Pro's gas equipment. It was also one of the first to get an update. The second-generation Milwaukee M18 Fuel blower features (unsurprisingly) more power.
Pros
Improved blowing force over the previous model
Lighter than some of the higher voltage competitors
Inline design
Comfortable grip with generous handle and trigger sizes
Compatible with a deep line of other Milwaukee M18 and M18 Fuel products
Cons
Not as strong as the latest battery-powered blowers
Milwaukee M18 Fuel Blower Design
Still The Same
Milwaukee starts with the same inline, rear-intake design. It gives the air column a straight shot through the blower without losing energy to curves that it has to push through. The variable speed trigger is still there as well, pushing the same air volume as the original at 450 CFM.
Ch-Ch-Ch-Changes
The Milwaukee M18 Fuel blower is noticeably smaller and more streamlined than its older brother. It's roughly an inch smaller across each dimension—length, width, and height. Weighing in at 4.9 pounds, it's also lighter by a little less than a pound.
Instead of cruise control, we now have a hi/low dual-speed selection and lock-on button. What's curious is that you have to release the lock-on button and trigger before you can switch modes. If you're cruising along in low with the lock-on engaged, you can't just press the button and get the highest power. Even with that quirk, it's nice to have the low-speed option when we're trying to control clean-up in the shop and high for wide-open spaces.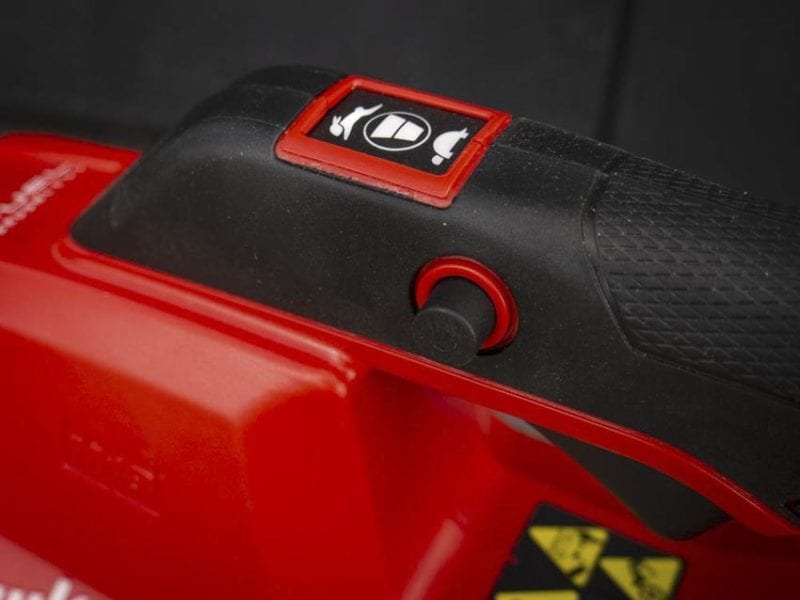 The combination of a larger impeller and narrow tube gives us an airspeed improvement, moving up to 120 MPH from 100 MPH on the original.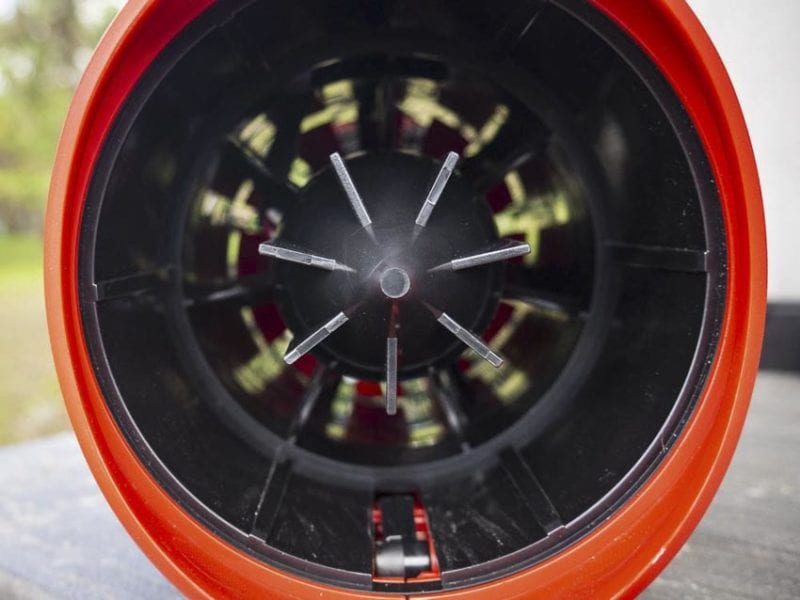 Get A Grip
As an M18 Fuel product, you can use any M18 battery with the Milwaukee M18 Fuel blower. Originally kitted with a 9.0Ah High Demand battery (and the battery we used in our review), the 2724-21HD kit comes with an 8.0Ah High Output pack. The larger pack helps with keeping the runtime higher and it's pretty well-balanced with it.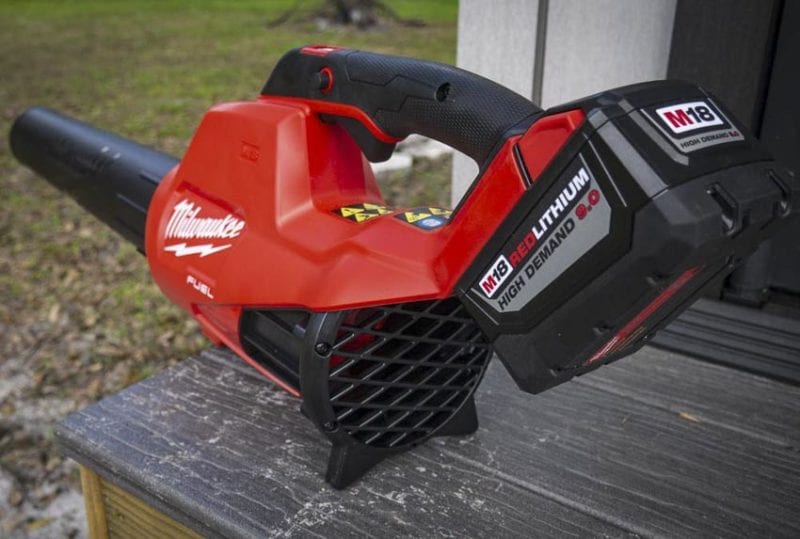 We used the blower with smaller batteries and there wasn't a ton of practical difference in clearing power. It was mainly just a reduction in runtime.
The rubber over-molded handle is comfortable with about 5-1/4 inches of grip space. The trigger is generously-sized as well. The lock-on button is just above the trigger on the left side of the handle. Even so, both right- and left-handers can use it easily.
Milwaukee M18 Fuel Blower Performance
We used the blower for typical post-mowing cleanup and to control some of the leaves that fell. We have more oak leaves than broad leaves, and those little turkey buzzards are tough for most handheld blowers to move effectively. One of our testers also tried using it as a replacement for dusting in his living room, but a fit of sneezing and a dirty look from his wife was enough to know that's not what it was designed for.
Noise Level
Out at the shop, we found the decibel levels of the Gen II Milwaukee M18 Fuel Leaf Blower were in line with Gen I. It delivered 81 decibels at my ear at Wide Open Throttle (WOT) and a handful less in low.
ANSI standards state you need to test from 50 feet away and It registered 67 decibels from that distance. Keep in mind that Gen II is pushing air 20 percent faster for the same amount of noise—not too shabby.
Vibration
Milwaukee dialed in the harmonics of the moving parts really well. We felt next to no vibration at WOT and only a slight vibration in low. But we weren't specifically looking for it, none of our testers had reason to give it a second thought.
Blowing Force
That's all well and good, but we wanted to see how this Milwaukee blower compared to the first version and to the group overall. We use a force meter to tell us how the CFM and airspeed combine into work. The Gen I blower hit just 9 Newtons and was second from the bottom of the blowers we've tested. The update picked things up to 11.2 Newtons—a nice improvement. The electronics also get the brushless motor to reach that power in less than a second.
Note that when we ran this test, Milwaukee's High Output batteries weren't out yet. Using the 8.0Ah or even 12.0Ah HO packs will likely bump that up close to 12 Newtons.
Either way you go, those are effective numbers for clearing hard surfaces and helping you move broad leaves in the fall. It's quite a bit shy of the best battery-powered blowers that are starting to exceed 20 Newtons now.
Milwaukee M18 Fuel Blower Price
On its own, Milwaukee's Gen II blower runs $149. With an 8.0Ah High Output battery and rapid charger, it's $279. There's also a fall cleanup bundle that includes the blower and 18-inch chainsaw as bare tools for $458.
The Bottom Line
Milwaukee's upgrade to a second-generation M18 Fuel blower might not seem huge, but the Newton force change we saw really does make a difference. While there are stronger battery-powered blowers out there, this gets the job done as a gas supplement for lawn care crews and homeowners. It's also a nice upgrade to typically lower-powered jobsite blowers on construction sites.
Feature Set
Power to clear from 15 feet
Full throttle in under 1 second
Up to 4 pounds lighter than high-voltage competitive products
High/Low speed settings
Lock-on button
Milwaukee M18 Fuel Gen II Leaf Blower Specifications
Power Source: Milwaukee M18 battery
Air Speed: 120 MPH
Air Volume: 450 CFM
Dimensions: 33.8 x 5.87 x 9.7 inches
Warranty: 5 years
Price: $149 bare, $279 kit