By now, there's a good chance you've at least heard that the Milwaukee Tick Tool and Equipment Tracker has been announced. We wanted to take a little time to really consider the significance of this innovation and what it means for the industry as a whole moving forward.
When Milwaukee One-Key technology was first introduced, we immediately started considering the potential for tool tracking. This would solve one of the key issues faced by contractors and tradesmen—jobsite tool theft. Indeed, options seemed fairly limited, and most serious systems were pretty bulky. The latest tech fell a little short of what we'd hoped for.
As of 2017, smarter tools have been around for a little while. The Hilti On!Track Asset Management tool came to market last year as an RFID system. We witnessed some tracking capability with DeWalt Bluetooth batteries. The Milwaukee One-Key system continues to get more exposure on the jobsite. So what exactly does the new Milwaukee Tick Tool & Equipment Tracker offer?
What is the Milwaukee Tick?
As you might have guessed, it connects via the One-Key app. Since the infrastructure and user base already exists, that makes a lot of sense. Like their One-Key inventory system, the Milwaukee Tick can be utilized with other manufacturers' tools. You can glue, screw, rivet, or strap it to any piece of equipment you like. It has a low profile design that easily hides away on large tools and equipment. At 1/2 an inch tall and just over 2 inches long, it won't easily fit on smaller hand-held tools.
The Milwaukee Tick embraces the #NBHD culture with a weather and dust proof (IP67) enclosure. Milwaukee also made the housing from UV and impact-resistant plastic so it can handle falls (IK08) and vibration.
The Milwaukee Tick connects via Bluetooth just like other One-Key enabled tools. The system will pick up the Tick within at least 100 feet, but could extend further. The internal 3V CR2032 battery has a 1-year run time. Users can also easily replace the battery—even after installing the Tick tracker. Once paired with your One-Key app, you can assign it to any item from your inventory. There's no guesswork as to which serial numbered Tick goes with which tool.
What They Said
"Tool loss, and the time spent looking for missing tools, contributes significantly to a company's bottom line. A single lost or damaged tool on a jobsite can increase the time spent completing a task by over 30%. This, multiplied across the length of a large project, can add up to tens of thousands of dollars in wasted labor, and cause significant overruns on the project schedule. The goal of ONE-KEY™' is to simplify the process of managing tools, removing costly or cumbersome methods used today.

The ability to quickly identify a tool's location can save time and money if a tool goes down or is needed on short notice. By harnessing the same Integrated Tool Tracking technology found within ONE-KEY™* enabled tools, we're giving users a way to track any tool, simply by attaching the TICK™. For professionals everywhere, their tools and equipment are key to their livelihood – the TICK™ ensures they have eyes on everything to better manage their investment."

Steve Matson, Senior Product Manager
Setup
Setting up a Milwaukee Tick on a tool is pretty straightforward. Download the One-Key App if you don't already have it. Select that you want to add inventory and the Tick has a tab all to itself. You'll insert the battery (or remove the tab on it) and the app will detect it. The instructions are very easy to follow.
Once paired, you'll have several pieces of information you add for the tool you're assigning the Tick to, some of which are required. Here's the breakdown:
Manufacturer
Description
Model Number
Serial Number
Tool Number
Category
Person
Trade
Location
Status (Available, Missing, Damaged, or Retired)
Service Reminder
Purchase Information
Tick Identification (auto-filled by the app)
Once you hit save, you'll be able to see most of that information on the screen when you select the Tick. If you put it on a Milwaukee product, the app will load a picture of the tool. Two of the coolest features are the ability to see where One-Key last detected your Tick and the battery level remaining in it. Seeing the battery level is a huge advantage to staying on top of replacement batteries.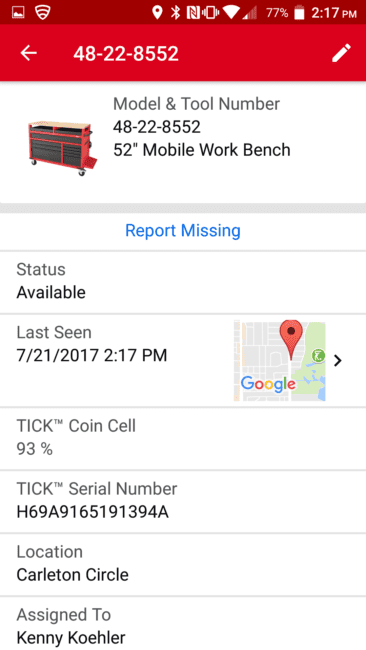 Why Can't They Just Use GPS?
Effective tool tracking may not be the Holy Grail of the professional tool industry, but it might just put people on the path. The ultimate in tool tracking is probably still some sort of GPS system. It could pick up a signal from anywhere rather than limiting detection to Bluetooth distances.
The problem is, GPS is power hungry and relatively expensive. My Garmin Vivoactive HR+ goes from a 5-day battery life down to 10 hours with GPS enabled. Dedicated GPS systems for your car start at $100 and move up in a hurry from there. Our point? GPS may not be ready from an efficiency or value standpoint (Is anyone really ready for a $50-100 jump in price on everything?).
The Milwaukee Tick lets you put tool tracking on your most valuable assets and find them by getting somewhere in the neighborhood of 100 feet. While not perfect for security, it does utilize the mesh network to locate tools. Generator walks off when you head out to the truck? As long as it's in range of a device with the Milwaukee One-Key app, you can track it down. Even if you don't know it's missing, coming across the signal will wake up a sleeping or backgrounded app and alert you to its presence.
Confused? You're Not Alone
When the Tick was first announced, a lot of people figured it was finally a full solution to track down lost or stolen tools, but it doesn't work that way. You've got to be within roughly 100 feet of the Tick for the app – yours or someone else's – to pick it up.
Let's talk realistically here. If your tool leaves the jobsite with someone else, your chance of getting it back is slim – unless it was an accident and they bring it back. If you're missing a tool and want to use the Tick to track it down, there are a few possibilities. First, it's just out of sight and the Tick sees that you left in the room next to you.
Second, you left it at a job earlier in the day and drive by to see if it pops up. Perhaps you're on a large jobsite and you walk or drive around to other areas you were working on.
If it's been stolen, you can take your phone into pawn shops or meet shady characters posting on Craigslist, but your realistic best chance to get it back is if someone else's app picks it up.
So the Milwaukee Tick isn't so much about recovering stolen tools as it is allowing you to backtrack and find misplaced ones. It's going to take a GPS solution to get full-time global tracking, and we're just not there yet.
Milwaukee Tick Package Options
48-21-2000: Single Pack ($6.95)
48-21-2004: 4-Pack ($8.94)
48-21-2010: 10-Pack ($27.49)
48-21-2050: 50-Pack ($73.99)
Milwaukee Tick Tool and Equipment Tracker Key Features
Attach with glue, screw, rivet, or strap
Survives everything with weather, water, dust, and protection
1-year run time with replaceable CR2032 battery
Tracking powered by the One-Key App
Over 100′ signal strength
Location signal wakes up sleeping or backgrounded app
Milwaukee Tick Tool and Equipment Tracker Specifications
Power Source: 3V CR2032 Lithium-ion coin cell
Tracking System: Milwaukee One-Key
Weight: 0.05 pounds
Length: 2.13 inches
Height: 0.49 inches
Width: 1.88 inches
Run Time: 1-year
Warranty: 1 year
Signal Range: Greater than 100 feet
Conclusions… in Progress
The industry has a lot of room to grow in the area of tool tracking, but the Milwaukee Tick Tool & Equipment Tracker marks a significant step forward. As more and more manufacturers seek to expand their tool tracking capabilities, integrating tools from other manufactures remains key. Then you have to look at inventory management. The Milwaukee Tick helps here, too. Any way you slice it, a partial solution doesn't cut it. True tracking requires whole site integration. We have a sneaking suspicion Milwaukee isn't done with the Tick yet—and already it appears to solve some important problems.