If you've done any concrete work or renovation, you'll be very aware of the inherent problems associated with dust and debris thrown by power tools during concrete cutting, chipping and drilling applications. According to OSHA, silica
exposure continues to be a serious threat to nearly 2 million U.S. workers. Contractors who breathe in crystalline silica dust are susceptible to silicosis, an incurable respiratory disease that, frankly, you don't want to have anything to do with. DeWalt just released a new suite of DeWalt Dust Systems for Hammers and Grinders designed to virtually eliminate dust and particle contaminates to make the tradesman's job easier, not to mention more safe. The new system includes three hammer shrouds, two grinder shrouds and a vacuum connector system.
DeWalt Hammer Shrouds
The new DeWalt hammer shrouds help reduce airborne dust created by hammer drilling, chipping and demolition of concrete. There are three primary models. The Hole Drilling and Cleaning Hammer Shroud (DWH050K) offers two interchangeable drilling heads – one for holes up to 1-1/2″ and one for holes up to 2″. The shrouds allow the tools to extract the dust created from drilling that would otherwise pile up and be ejected into the air. The product is equipped with a tough rubber seal that adheres to most masonry surfaces when activated by a vacuum suction. The DWH050K also includes 5/16-inch and 9/16-inch hole cleaning tubes used to extract the dust from holes prior to applying epoxy for chemical anchoring. This kit is compatible with all DeWalt hammers and hammer drills.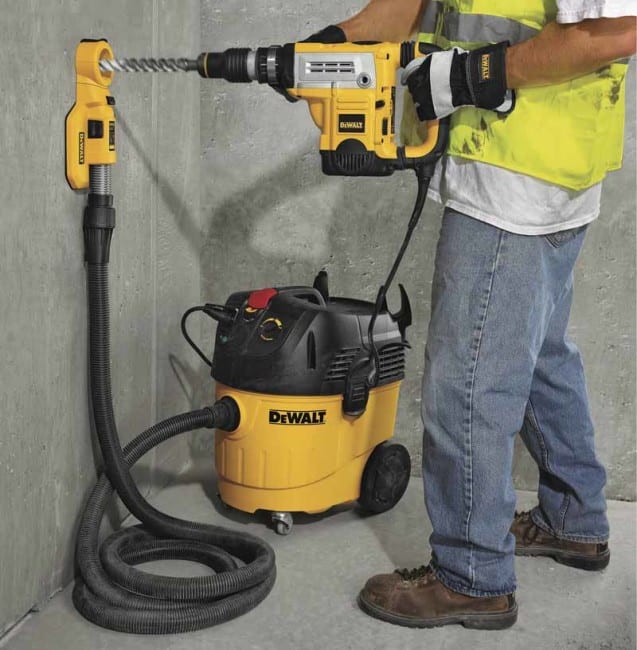 The DeWalt Demolition Hammer Shroud (DWH052K) is used with DeWalt demolition hammers and pavement breakers to help extract particles and dust created in heavy demolition applications. The shroud is compatible with the D25980 and D25960 hammers and can be used with pointed as well as flat chisels up to 1-1/4 inches.
The DeWalt Chipping Hammer Shroud (DWH053K) is compatible with all DeWalt SDS MAX hammers and the D25553K, D25651K, D25831K spline drive hammers. It is used to collect dust particles created in chipping applications and includes three different sized end nozzles to allow the user to match the chisel length to the nozzle length, providing the maximum amount of dust extraction.
Available through independent distributors, the DeWalt hammer dust shrouds are expected to retail for $99 (DWH050K), $89 (DWH052K) and $109 (DWH053K).
DeWalt Grinder Shrouds
While rotary and demo hammer applications certainly create lots of dust, concrete and masonry removal, cutting and polishing/grinding are some of the heaviest dust creating applications for pros. Addressing this concern, DeWalt introduced both a surfacing shroud and a cutting/tuck pointing shroud.
The 5-inch Surfacing Shroud (DWE46150) is ideal for contractors specializing in remodeling, restoration, painting, flooring, and concrete forming and finishing. The shroud has a tool-free shroud adjustment and wheel removal when using the backing flange, as well as a rotating edge door allowing for flush edge grinding. The 5-inch Surfacing Shroud will be sold independently (DWE46150) or as a kit containing the shroud, a small angle grinder, 5-inch diamond turbo cup wheel and universal vacuum hose connector (DWE46151).
The 6-inch Cutting/Tuck Pointing Shroud (DWE46100) is ideal for restoration contractors, brick masons, water proofers, tuck pointers and general contractors. The product features a tool-free tool clamp allowing for adjustments without a wrench or screwdriver, as well as a 1.7-inch depth of cut for a wide range of uses. The DWE46100 uses up to a 6-inch blade and has a cornering feature, which captures a high volume of dust particles while still performing difficult inside corner cuts. The 6-inch Cutting/Tuck Pointing Shroud will be sold independently (DWE46100) or as a kit containing the shroud, a high performance grinder, diamond wheel and universal vacuum connector (DWE46101).
All products will be available in July 2012. Expected retail values are as follows: $69.00 (DWE46150), $199.00 (DWE46151), $129.00 (DWE46100) and $249.00 (DWE46101).
DeWalt Universal Connector System
DeWalt's new universal connector system, which complements the new shrouds, features nine individual adapters that work with all grinding, drilling, chipping and demolition tools currently on the market, regardless of brand. A quick connect hose attachment (DWV9000), which provides a positive lock and allows the hose to swivel, replaces the existing hose connection on grinding and hammer shrouds. The DWV9000 will be available in June 2012 and retail for approximately $19.99.
DeWalt's new dust collection system will join the company's existing line of dust extraction tools, including a Dust Extraction for L-Shape SDS Hammer (D25300DH), 36 Volt SDS Rotary Hammer Kit and Dust Extraction System (DC233KLDH), Dust Extraction System for 36 Volt SDS Rotary Hammer (D25302DH) and a Dust Extractor Telescope with Hose for SDS Rotary Hammer (D25301D). DeWalt also currently has several vacuums including a 10 Gallon Dust Extractor Vacuum (D27095H), 10 Gallon Dust Extractor with HEPA Filter (D27095H) and a 12 Gallon Dust Extractor with Automatic Filter Clean (D27904).
"We recognize that we have a role in helping to make jobsites as safe and productive as possible. Dust and crystalline silica exposure is a serious issue facing many contractors today. Our new dust collection system, along with our current dust extraction products, will help to protect users and allow them to feel confident in the tools they require to earn a living."
– Jeff Beck, product manager, DeWalt
All of the DeWalt Dust Systems for Hammers and Grinders outlined above come with a three-year limited warranty, one-year service contract and 90-day money-back guarantee.
For more information, visit the dewalt.com website.