We got a great tour of the Festool Neidlingen Production plant in Germany. In 1952 the plant was built and developed specifically to make Festool's orbital sander. In 2020 they estimate that twice as many employees will work in the plant as when the factory was built. Getting to visit a plant where they manufacture and assemble tools is exciting. We got to hear a lot about how Festool deals with tolerances, for example. It's not uncommon to hear that a bearing tolerance needs to be within 20 nanometers or 1/50 the width of a human hair. For orbital sanders, vertical movement is restricted to similarly controlled tolerances to restrict movement to horizontal action only. These may seem like insignificant details, but they affect both motor life and the way the tool feels and works when you use it.
Before we went to the factory floor, we talked about precision and what it means to make a tool in the way that Festool specifies. An example was given for drop tests and other areas where a tool needs to perform to a specific level. You can't really strive for even 99% accuracy—it isn't enough. Put into another context, 99% accuracy would mean that for every 4 cases of beer, one would be broken or bad. In most cultures that would be pretty unacceptable. Or imagine watching movie where you had to sit through 1 minute of dead audio (or a one second dropout every minute!) 99% doesn't cut it. Festool has a 100% expectation on parts, suppliers, and their tool tolerances. This equates to thousands of technical details on 7000 different parts. It's a great goal—but how do you achieve it?
Festool Neidlingen Factory Tour
First and foremost, the Festool Neidlingen plant is very busy. I thought PTR got a lot of deliveries, but Festool gets a delivery every hour. Because everything is on wheels and organized, Festool can reconfigure an area for manufacturing of a different product in just half a shift. Festool has an advantage in that they make the precision parts here on site. If you want to control the quality of your tools, that's the way to do it.
A large Kanban board helps Festool always know what part is needed in terms of reordering. This makes it very transparent and understandable to control what they need and, Festool feels, is much better than a purely IT or computer-based system. It is a more or less manual form of managing just-in-time manufacturing inventory and parts. Just looking at the board was impressive.
It takes 25-48 hours from order placement to bring a product to a local Germany client's hands. To get a product to the United States takes a bit longer—about 6 weeks due to shipping. All motors are produced at this factory except for 1-2% of their tools…and there were rows and rows of motors—but more on that later.
Machines and More Machines
Rows of milling CNC machines were lined up in the Festool Neidlingen factory, a view that was made even more impressive by the fact that most were scheduled to be updated soon with the latest models. That's a lot of investment.
We saw some German employees finalizing some products and even packing up finished Systainer kits for shipment to customers. They worked in what's known as a U-shaped "cell" or work area. As soon as one job was finished, the employee would perform an about face to another station and immediately jump onto another assembly activity for the same tool. The human precision was impressive, and it was great to see young German workers getting experience and participating in the process of manufacturing.
Motors and Assembly
One fun aspect of tool assembly is that Festool labels their electric motors with animals (sharks, peacocks, rabbits, alligators, etc) to avoid mix ups and ensure easy picking of the right part. The American-destined "rabbit" logo happened to be Disney's Thumper, which I found quite humorous (another was a bumblebee).
Continuing our examination of motor assemblies, we got to see a machine that presses plastic around what appeared to be an EC or brushless motor armature. I believe the machine weighed well over a ton and consisted of a rotating platter which held the motor and form while a separate part heated the plastic in a microwave and pressed it into place.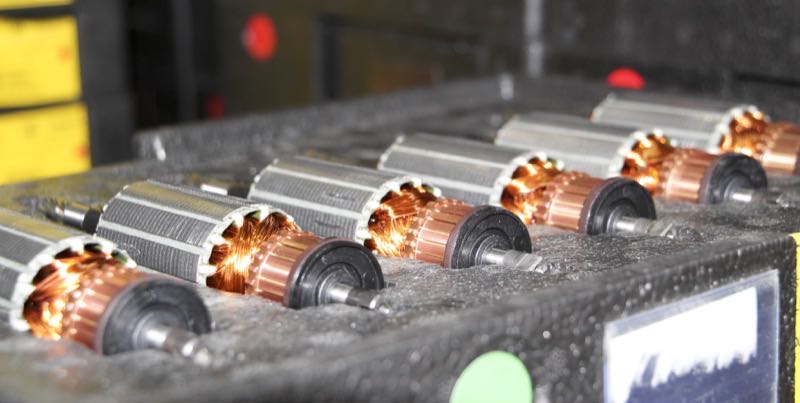 In another U-shape manufacturing cell we got to see some more employees assemble a Festool Conturo edge bander. According to Festool (and the employees we talked to) it takes employees about 2-3 weeks to learn how to assemble and pack a new tool. Their precision and speed was impressive. Each station was clearly marked overhead with a sign bearing the image or images of the tools which could be assembled and packed within. Most cells handled more than one product, but the cell with the Festool TS 55 track saw takes up the entire cell (mostly due to demand). It was also the most staffed cell we saw (I counted 7 employees working hard).
Seeing the Festool Neidlingen factory and touring the facility gave me a real sense of what goes into making a Festool product. Their commitment to precision and efficiency was clear—as was their dedication to the three year support and warranty service that stands behind each tool. It's because of their confidence in their manufacturing that they offer these types of service warranties. I'm looking forward to seeing what's next for the company.
Festool Germany 2015 Media Event Articles