What's not to love about metal cut off machines? They're like miter saws for metal and they make sparks! I realize that might not be the most professional viewpoint around, but sparks make most warm blooded males excited. We're in the middle of a series on metal cutting chop saws in preparation for a super-secret project we have going on at the shop right now. We'll be looking at a few different blade options, too. As the first high-speed abrasive saw, we've decided to look look at the Ridgid 14-inch Abrasive Cut Off Machine.
For the most part, metal cut off saws aren't the sexiest tools in the shop and the feature tends to be pretty limited. After all, it's got one of the toughest jobs to do and you don't need a tool that's worried about chipping its nails when doing it. Ridgid built their saw around a 15-amp motor, which should be what you're looking for in this class of tool.
Ridgid 14-inch Abrasive Cut Off Machine Features
The machine sits on a steel base which moves away from the last generation's bench top shop role and shifts toward the contractor. On one hand, you need a benchtop tool like this to sit tight when cutting. At the same time, Ridgid wanted this model to be mobile, so they dropped more than half the weight from their previous model that had a cast iron base. We didn't notice any lack of stability in our testing and we appreciated the ability to move it around the shop.
Solid rubber feet on the base absorb vibration and kept the machine from walking on us. A carry handle definitely makes transportation easier.
The included fence allows for 45 degree miter cuts both left and right. You can make those adjustments tool free. It's not the smoothest on the market. In fact it's a bit on the stiff side, making super accurate measurements tough to dial in.
To hold material securely, you have a vise clamp equipped with a quick release lever. It's not the thickest material available for the vise, but it held each of the materials we cut without incident. The quick release lever is a nice feature to help get your material set quickly before tightening it down with the clamp.
There's a solid blade guard in place that will help protect against any accidental brushes with the blade. It did its job by keeping most of the sparks from landing on us during use. One feature I'd like Ridgid to add on here is something to hold the blade guard up during blade changes. Needing two hands for the tools means you'll need to employ the "Ball Cap Third Hand" method or find something to jam up in there to hold the guard open.
Ridgid added on an oversize spark deflector to direct the sparks downward that really did angle most of the sparks down and away. The wheel locks in place for transportation with a chain. I like the simplicity here – if the chain ever breaks, I can just buy a new length. There's no safety switch around the trigger to defeat. Some people won't mind that while others may consider it a deal-breaker.
Ridgid 14-inch Abrasive Cut Off Machine Specifications
Model: Ridgid R4142
Motor: 15 amp
No Load Speed: 3900 RPM
Wheel Diameter: 14″
Arbor: 1″
Miter Range: 45 degrees left and right
Steed Stud Cut Capacity: Full Bundle
Pipe Cut Capacity: 5″ (outside diameter)
Bar Stock Cut Capacity: 2″
Price: $179
Warranty: Lifetime Service Agreement
Performance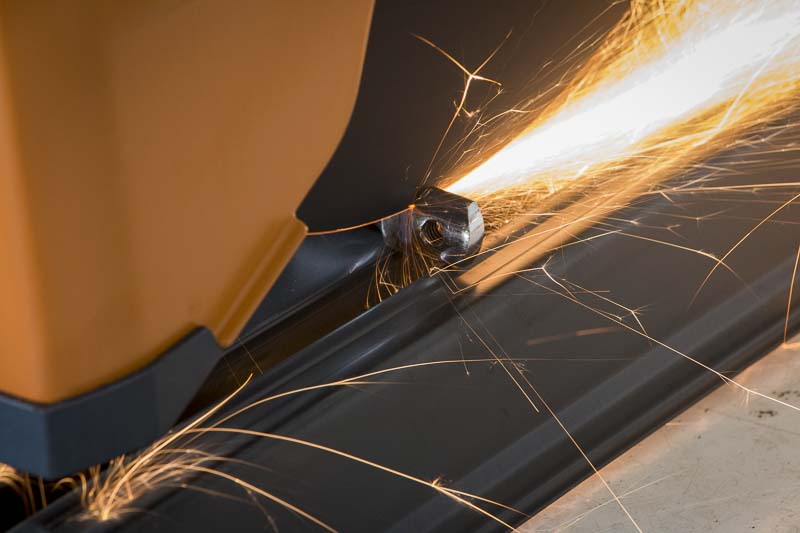 Clint DeBoer and Tim Johnson made a few cuts on some steel stock to "make sure the saw was in good condition." I may not be the brightest crayon in the box, but I'm pretty sure they really just wanted to make some sparks…especially since they then went on to cut some tool steel (just because they could). Regardless, the first impressions were good with straight cuts and a chip deflector that seems to be very effective.
As we moved on to cutting angle iron, steel tubing, and even some rebar, it became clear that the Ridgid 14-inch Abrasive Cut Off Machine is absolutely at home in the shop. It's consistent cutting power was only limited by how quickly the abrasive wheel could work through the material.
Speaking of that stock abrasive wheel, it did an admirable job of cutting as far as abrasive wheels go. It also got smaller as we cut and started leaning toward more of a 13-inch wheel and then a 12-inch wheel and… well, you get it. We gave the saw a new perspective with Milwaukee's Steelhead Diamond Cut Off Blade. That simple – but pricey at $150 – upgrade gave the tool even better performance.
Armed with a premium diamond blade, we made cuts much faster without the diameter reduction of an abrasive disk. Promising to last as long as 75 abrasives, the blade should pay for itself over time.
To be perfectly fair, we've read plenty of user reviews that talk about the motor burning up and inaccurate cuts. As I used the saw, I looked specifically for indications of both problems. Aside from the miter fence being a challenge to work with, I couldn't find any inherent accuracy issues with the motor head itself. I also didn't have any reason to think the motor was being overtaxed or overheated to a point that an early death might be awaiting it.
Pro Tip: Extend the life of your cut off machine by letting the blade do the cutting and the motor dictate how much pressure you can put on it. When you hear the blade speed drop, back off some. Even though the motor can push through it, you'll let it run cooler by taking your time.
Conclusion
Overall, the Ridgid 14-Inch Abrasive Cut Off Machine is a simple, well-built tool for cutting metal. It's performance both in the previous and current generations along with its good value keeps people coming back. You can really increase your productivity by upgrading to a diamond blade without getting into the dry cut saw prices for the combination.
There are two things I'd like to see improved with this model when the time comes to revisit it. There needs to be some kind of catch for the blade guard to get it out of the way for blade changes. It would also be helpful to give the miter fence a little help so it's not quite so stiff to move.
For a basic metal cutting saw with the portability to move around jobsites or the shop, the Ridgid R4142 is a sure contender. General users will get everything they need from it. While the performance, build quality, and value are certainly on point, production shop users may be frustrated by the blade changes and miter fence.