Updated Ridgid Brushless Circular Saw Leaves Octane In The Dust
For years, Ridgid has been a reliable option for Pros who need quality tools that go hard on the job and easy on the wallet. An update to the Ridgid 18V Brushless 7 1/4-Inch Circular Saw aims to maintain this reputation while improving performance. We're eager to know how it compares to the older Octane model and if the changes produce better results.
Pros
Faster cutting speed and better power
Lighter than Octane
Improved guard action
Vacuum-ready
Excellent blade sightline
Cons
We prefer the more aggressive rubber overmold grip on the Octane saw
We prefer a metal blade guard instead of plastic
Using The Ridgid 18V Brushless 7 1/4-Inch Circular Saw
Moving On From Octane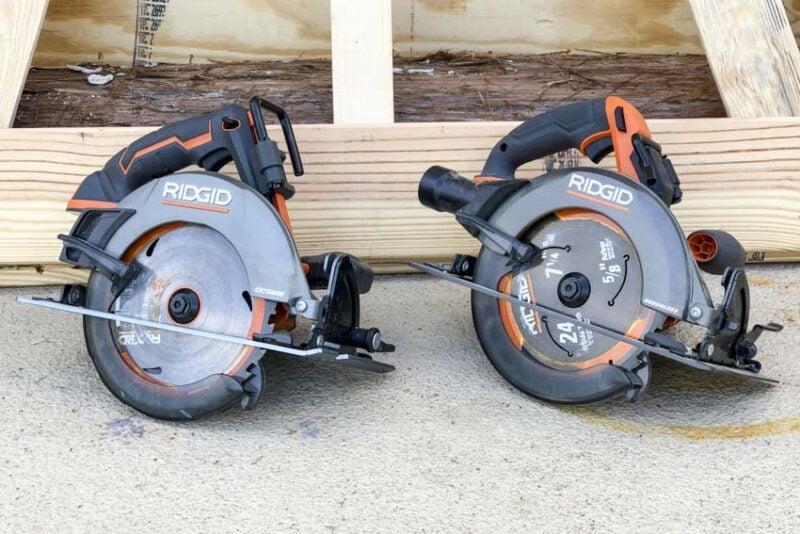 We grabbed the Octane R8654 to see how it compares to the updated Ridgid R8657 in real life. As a quick history lesson, Octane was Ridgid's first "smart" tool line, combining advanced brushless motors with upgraded batteries that gave them access to higher total watts than the previous brushless lines. They were also pretty bulky in size and weight.
Side by side these two saws are not too much different aside from some light aesthetic touches. When we started making cuts, it was easy to tell the difference, though. The improved Ridgid 18V Brushless 7 1/4-Inch Circular Saw made pass after pass in 2×10 lumber with noticeably more confidence than Octane. We did manage to stall the motor but that was only when pushing the saw faster than we would typically cut.
Tough Cuts
After successfully completing a series of cross, miter, bevel, and compound cuts, we upped the ante and broke out the triple-stacked OSB sub-floor for some rip cuts. This is a challenging cut for any circular saw, especially a sidewinder, but since it was cutting with so much more confidence than the Octane model, we really wanted to give it a shot.
It managed to get through a few passes but it was very apparent that we were pushing the upper limits of this tool. We stalled out a few different times throughout which led us to the conclusion that yes, it will do the job but there are more qualified circular saws for that particular type of cut, specifically, a rear-handle worm drive saw.
Spoiler Alert: Ridgid has a cordless rear-handle circular saw coming soon!
Weight Loss
On our scale, the tool without the battery weighs 8.8 pounds—about 0.7 pounds less than Octane. With the 6.0Ah Max Output battery we used for testing, the total weight is 10.5 pounds.
Where it Fits
Perhaps most importantly, we discovered several things. Ridgid's updated brushless circular saw isn't reaching the same power levels as Milwaukee's M18 Fuel 2732 and others in that performance tier. On the other hand, the power level is much better than Octane's and is more than capable of meeting the performance expectations of professional work. For those of you making the switch from corded models, this has the power to replace a 15-amp circular saw.
Ridgid 18V Brushless 7 1/4-Inch Circular Saw Additional Highlights
Improved cutting speed over the previous Octane R8654 despite having lower RPMs (5400 RPM vs 5600 RPM)
Cutting depth of 2 9/16 inches allows you to complete cross cuts in 3x
Electric brake stops rotation in a matter of seconds
Positive detent stops at common cut depths and bevel positions with a max bevel of 56°
Heavy-duty aluminum shoe easily glides across the cutting surface
LED light works in tandem with the integrated dust blower to keep your line clean and visible
Removable vacuum hose attachment accepts 1-1/4 inch and 1-3/4 inch hoses
Compatible with all Ridgid 18V batteries and gets the best performance from Max Output packs
Rubber overmold grips are very comfortable, though we prefer Octane's more aggressive overmold texturing
Brushless Vs Octane
| | | |
| --- | --- | --- |
| | Ridgid R8657 | Ridgid Octane R8654 |
| Blade Diameter | 7-1/4 in. | 7-1/4 in. |
| Cutting Depth at 0° | 2-9/16 in. | 2-11/16 in. |
| No-load Speed | 5,400 RPM | 5,600 RPM |
| Bare Weight | 8.8 lbs. | 9.5 lbs. |
| Max Bevel | 56° | 56° |
Ridgid 18V Brushless 7 1/4-Inch Circular Saw Price
This Ridgid 18V brushless 7 1/4-inch circular saw retails for $179 as a bare tool and $249 as a kit with a 4.0Ah Max Output battery and charger. Rigid backs this saw with a 3-year limited warranty as well as their lifetime service agreement when you register.
There are still some Octane saws at The Home Depot that they're clearing out for $99 as a bare tool. If your needs are more on the serious DIYer/Prosumer end of the scale, go for it. For professional use, we think the difference in performance is worth spending more to get.
The Bottom Line
After putting the Ridgid R8657 up against its Octane predecessor, it's clear to us that the changes go far beyond looks. Despite having a slightly shallower cut depth and lower RPMs, the updated model powered through tough cuts much easier than the Octane version. It's a capable option with a full feature set that pushes performance forward while maintaining a budget-friendly price tag.
To check out the full Ridgid lineup, click here.
Ridgid 18V Brushless 7-1/4-Inch Circular Saw Specifications
Model: Ridgid R8657
Power Source: Ridgid 18V battery (Max Output recommended)
No-Load Speed: 5,400 RPM
Blade position: right
Max cut depth: 2 9/16 in.
Max cut depth at 45°: 1 3/4 in.
Motor type: brushless
Max bevel: 56°
Dimensions (L x W x H): 13in. x 8in. x 11in.
Weight: 8.81 lbs (bare), 10.5 lbs (with Max Output 6.0Ah battery)
Warranty: 3-year limited
Price: $179 (bare), $249 (kit)