Cordless has come a long way since the early days of lithium-ion power. Where circular saws were initially struggling for adequate performance (and even a 7 1/4-inch blade), they now exceed the performance of 15-amp corded models. We decided to test the waters and pulled our expert team together to discover who makes the best cordless circular saw from an elite top tier of advanced models.
We're primarily focused on sidewinder-style models in this article. If rear-handle or worm-drive designs are more your style, check out our Best Cordless Rear-Handle Circular Saw recommendations.
Table of Contents
Considering corded and cordless? Check out our Best Circular Saw main page!
Best Cordless Circular Saw Overall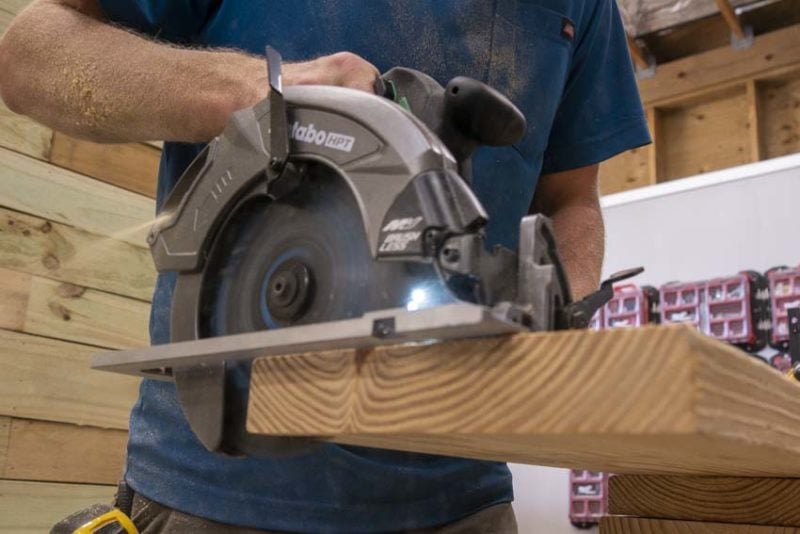 When the analyzed the final results, Metabo HPT's MultiVolt circular saw edged out the Milwaukee M18 Fuel as the best cordless circular overall. It earned perfect scores in our cutting performance and accuracy sections and high scores in most of the others. It was also the strongest sidewinder we tested and is the only option in the group that can use an AC adapter for unlimited runtime. Sweetening the deal, Metabo HPT has a lifetime warranty on the tool.
Price: $189.00 bare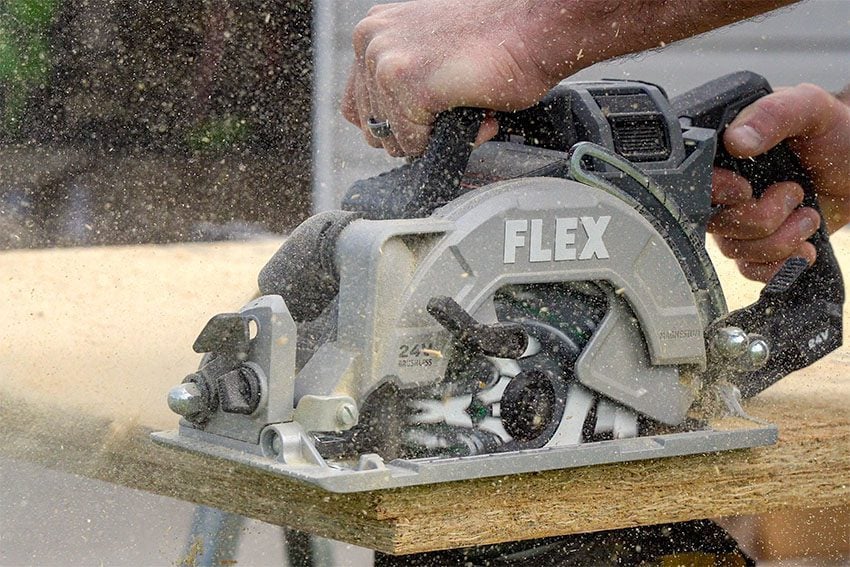 After testing Flex's rear-handle saw against the top competitors, we were left with no doubt it's the best cordless rear-handle circular saw currently available. Its design is solid and its features are thoughtful. What sets it apart is that it's stronger and faster than any other model we tested, and it has the advantage of Stacked Lithium pouch-style batteries. Plus, there's a lifetime warranty if you register your purchase by 12/31/2023.
Price: $249.00 bare, $399.00 kit with a 10.0Ah Stacked Lithium battery and a charger
Best Compact Cordless Circular Saw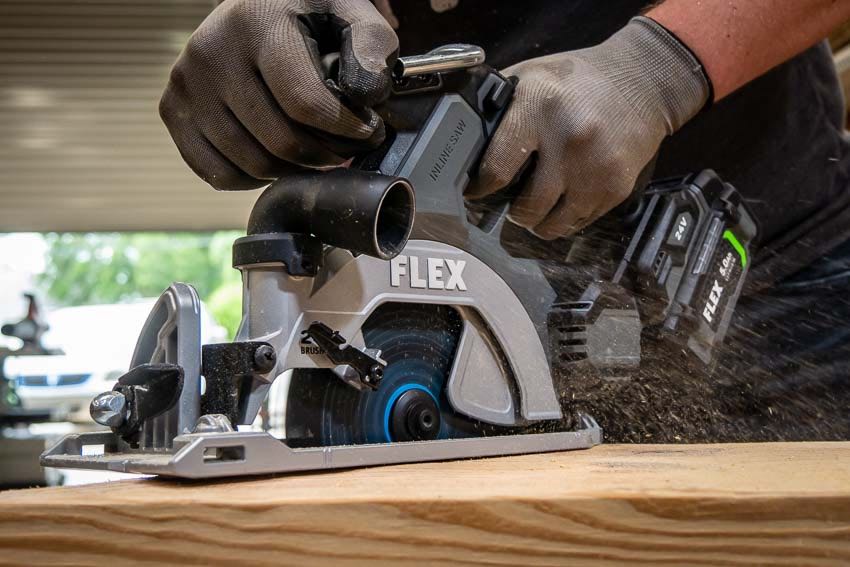 Flex's cordless incline circular saw is our pick as the best cordless compact circular saw in the high-performance class. At 7.1 pounds bare, it's only 9.1 pounds once you add a 5.0Ah battery. Not only is it the lightest, but the belt drive design allows this 6 1/2-inch saw to cut with the same capacity as other 7 1/4-inch saws. Plus, its cutting power is excellent.
Flex offers a lifetime warranty on this saw if you register your purchase by 12/31/2023.
Price: $249.00 with a 5.0Ah battery and a charger
Best Cordless Mini Circular Saw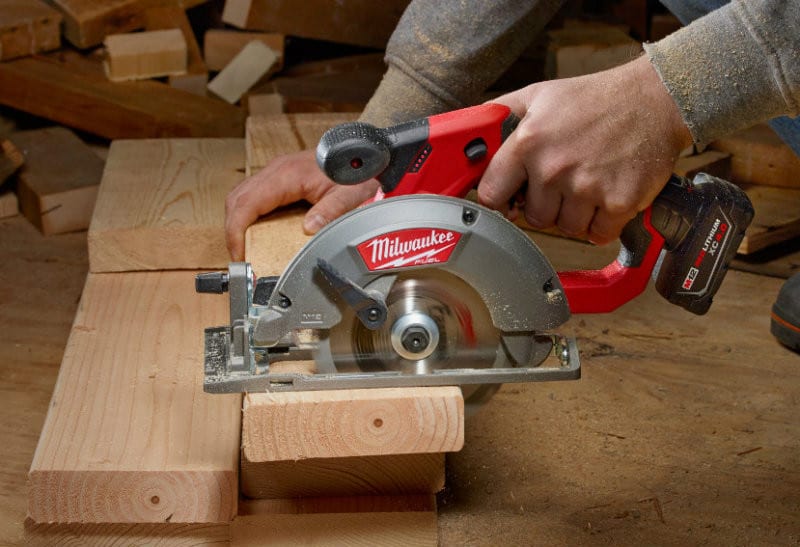 When it comes to the best cordless mini circular saw, there are a couple of ways to go. One is a resurging trend of inline 4 1/2-inch models from brands such as DeWalt and Skil. We still prefer the ergonomics and control of a traditional design and Milwaukee's M12 Fuel 5 3/8-inch circular saw is our top pick.
Its brushless motor makes the most of the 12V battery supply and it's capable of cutting 2x material in one pass. Its small size also makes for a lighter tool, weighing a little more than 6 pounds including a 4.0Ah battery.
Price: $159.00 bare, $249.00 kit with a 4.0Ah battery and charger
Best Cordless Circular Saw for Metal Cutting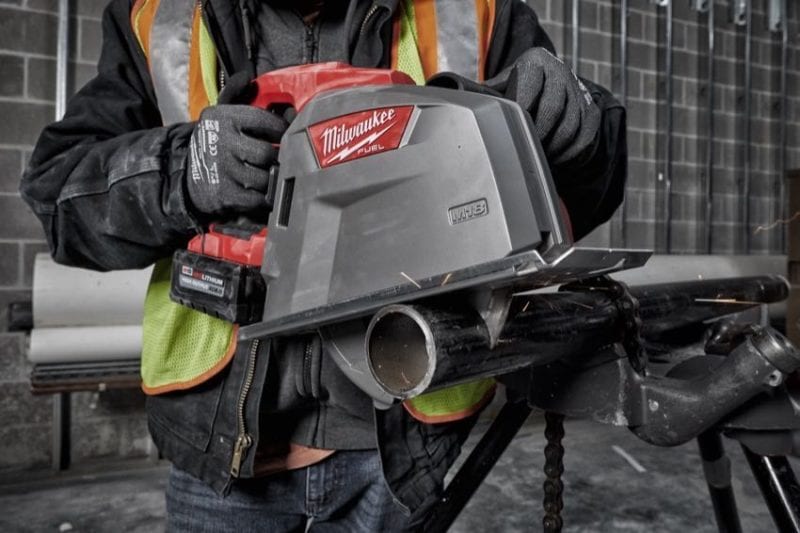 There's a lot of temptation to simply swap blades and make a standard circular saw cut metal. However, there are cordless circular saws out there specifically designed with the torque and features to cut metal well. Our favorite is Milwaukee's M18 Fuel 8-inch metal cutting circular saw. Successfully making the transition from its outstanding corded model to cordless, it has the muscle to cut a 1-inch thick steel plate! Add in chip collection with an M18 High Output battery for the power source and there's no better cordless option in our opinion.
Price: $429.00 bare, $549.00 with an 8.0Ah High Output battery and charger
Best Cordless Circular Saw for the Money
Keeping the price down without having disappointing performance or build is at the heart of finding the best cordless circular saw value. Both Ryobi and Skil excel in this category and Skil's PWRCore 20 XP 7 1/4-inch circular saw gives you the best bang for your buck.
It has a brushless motor with excellent mid-tier cutting performance to go along with a host of Pro-style features. The shoe is even compatible with Skil's guide track. Solidifying its win for value, the kit is well under $200.
Price: $169.00 kit with a 4.0Ah battery and charger (launches March 2023)
Best Cordless Circular Saw Blade
There are a lot of quality blades on the market right now and you can get a quality framing blade for $10 – $15 or a demo blade for $15 – $20. Of course, there are also discounts for bulk purchases. Of the blades we use, the Crescent Nail Slicer is our top choice. It's a durable blade capable of surviving multiple nail strikes without forcing you into a more expensive demo blade. In a torture test, we even managed to cut through #5 rebar multiple times.
Price: $9.99
Best Cordless Circular Saw: More Options from Brands We Trust
Bosch made a big step forward in its cordless circular saw performance with the launch of the ProFactor models a couple of years ago. The latest generation keeps that high level of performance and quality build while making a couple of changes. Most noticeably, it makes the change to a blade-left orientation (my personal preference) and adds an LED cutline indicator. It also shaves more than 1/2 a pound off the weight. Plus, this model is Connected Ready and there's an option for a track-ready shoe.
Price: $229.00 bare, $389.00 with an 8.0Ah battery and charger
DeWalt's FlexVolt line is the way to go for the brand's best cordless performance. However, it's the FlexVolt Advantage circular saw we recommend for most people. With a 20V Max battery, you get very good performance and it kicks up to a whole new level when you use a FlexVolt battery. You get the benefit of being able to use either battery with a very real advantage when you use FlexVolt packs. While FlexVolt is still the king of the Yellow castle, we love the versatility FlexVolt Advantage offers.
Price: $249.00 bare
Even though we've already talked about a couple of Flex circular saws, there's still the 7 1/4-inch sidewinder style to discuss. Both the performance and build of the saw are solid. Looking at the competition, it absolutely belongs in the top tier alongside DeWalt, Makita, Milwaukee, and others.
Being in the conversation with the best is one thing, but Flex ups the ante with a very compelling value proposition. For $299.00, you get the saw, an 8.0Ah battery, and a charger, plus a lifetime warranty if you register by 12/31/2023.
Price: $199.00 bare, $299.00 with an 8.0Ah battery and charger, or $399.00 with a 10.0Ah Stacked Lithium battery and charger
Running a 24V battery that's also compatible with 24V and 48V lawn care equipment, Greenworks' circular saw sports a brushless motor to drive its full-size 7 1/4-inch blade. One of the nice things is the weight—the bare tool is just 7.39 pounds and either the compact 2.0Ah or 4.0Ah battery keeps the entire package under 10.0 pounds. On its own, it's an excellent choice for DIYers. The deal is even sweeter for folks using Greenworks' 24V/48V outdoor power equipment.
Price: $119.99 bare
If you're a DIYer looking to step up your cutting game to the brushless level, Hart's HPCS25 is a compelling option. You get the higher performance, runtime, and service life a brushless motor offers, and this is also one of the lightest full-size saws you can get your hands on. Bare, it weighs 6.56 pounds and when you add a 4.0Ah battery, it's still under 8.0 pounds! It's a great choice to have around for your projects and to learn with if you're a beginner.
Price: $128.00 bare
When Hilti developed the Nuron cordless power tool system, we knew we were in for higher performance, but we had no idea how much higher its cordless circular saw would fly. Thanks to a new brushless motor, the Hilti SC 30WR-22 now runs twice as long on a charge and cuts some three times faster than its previous cordless models. Plus, it's still doing it on a single 22V battery!
Price: Starts at $329.00 ($10.00 monthly for fleet customers)
Kobalt decided to kick down some doors with the launch of its advanced XTR line of 24V cordless tools. It shows a huge improvement in cutting performance for the circular saw in the line. Cutting at 5500 RPM with its brushless motor and powered by an Ultimate Output battery, it's a very nice upgrade for Kobalt fans who have been using the 6 1/2-inch saw that's been out for a while.
Price: $149.00 bare
Makita's circular saw game runs deep. That's even more so with the 40V XGT line of cordless tools. For most folks, the GSH01 7 1/4-inch model is the way to go. Others might want to go with the GSH02, which is essentially the same saw with a guide rail-compatible shoe. But for those of you with high-capacity needs, it's the GSH04 that takes the cake.
It's a 10 1/4-inch sidewinder-style saw with a monster 3 13/16-inch cutting capacity—enough to cut 4x lumber in one pass. This is also an AWS-ready model, so you can add a chip to get automatic tool activation when you use an AWS vac or take advantage of the AWS wireless adapter for corded vacs. Just in case that's not enough, this is another model that has a guide rail-compatible shoe.
Price: $599.00 bare
There's a lot to love about Metabo's 6 1/2-inch KS 18 LTX 66 BL circular saw. It starts with low weight—just 7.7 pounds bare and 9.9 with a battery. Then it adds a track-compatible shoe. With Metabo or other FS-style tracks, you get outstanding accuracy for cross, rip, and miter cuts without the need for a larger saw. Plus, Metabo tools and batteries are cross-compatible with more than two dozen other brands in the Cordless Alliance System (CAS)! There's even more, so be sure to check out our article by clicking the headline above.
Price: $354.99 bare
Metabo also has an excellent cordless metal-cutting circular saw worth considering!
Milwaukee's 2732 was our overall best cordless circular saw in 2021 for good reason. It set a new standard for performance with its combination of a brushless motor and M18 High Output batteries. Built around that, the design team simply didn't swing and miss at any element of the design. While the saw has slipped into a very close second overall, it's still one of the top-performing and best-designed cordless circular saws available.
Price: $249.00 bare, $449.00 with a 12.0Ah High Output battery and charger
Ridgid's post-Octane brushless line continues to roll out, this time with a circular saw that has 35% more cutting speed and matches the power of a 15-amp corded saw. While the performance gain is the big deal, it also does a nice job of hitting the high points of Pro-level features, such as an electronic brake, vacuum port, and a 2 9/16-inch cutting depth. To get the best performance, be sure to pair this circular saw with a Ridgid Max output battery. As usual, the saw comes with a lifetime service agreement when you register your purchase.
Price: $199.00 bare
The PBLCS300 isn't Ryobi's first brushless circular saw, but the HP Brushless upgrade and High Performance battery certainly make it the best to date. In addition to its stronger, faster cutting performance, it's more durable than some value-focused options thanks to a die-cast upper guard. For a 7 1/4-inch saw, it's one of the lighter options, weighing just 7.0 pounds bare and 8.6 pounds with a 4.0Ah High Performance battery. It's also a very compelling value with a kit price under $200.
Price: $139.00 bare, $199.00 with a 4.0Ah High Performance battery and charger
Best Cordless Circular Saw Buying Guide – What We Look For
Cutting Power
It wasn't that long ago we had to feather cordless circular saws compared to the way we cut with corded models. Today's battery-powered options are much better and many brands easily outperform 15-amp corded saws with their flagship brushless models.
If cutting power is your number one priority, expect to pay for a more expensive saw. However, if you don't mind taking your time, there are some excellent high-value cordless options that can help you get the job done for less.
Tracking
Tracking isn't about having an arbor that's off—that would be a defect and you should return the saw if that's the problem. Sometimes the handle design can encourage you to push to one side or the other, especially with saws that have the front and rear handles close together. Most of the time, you can adjust to the handle design pretty quickly.
Guard Action
The lip of a circular saw guard can catch in some cases. Even when it's smooth on a typical cut, thin, miter, bevel, or compound cuts can expose issues. Make a series of test cuts on scrap material to see if your guard catches on a particular type of cut so you know when to manually lift it without dragging away from your cutline.
Dust and Chip Removal
Many of the best cordless circular saws have vacuum ports and those do a better job of clearing chips and dust away than those without. However, the majority of our team never connects a vac for normal cutting. We prefer a vacuum adapter that's either removable or pivots to direct the chips where we want them.
In general, most circular saws do a good job of clearing dust and chips. As RPMs drop because of a lower top-end speed or bogging down, the clearing suffers. Look for models with at least 4500 RPM (5000 is even better) and a brushless motor to maintain effective clearing.
Handle Ergonomics
Handle comfort is largely an individual choice with the size of your hand driving a lot of what feels best. While rear handles are rarely an issue, our crew is drawn towards front handle designs that aren't too thin, too close to the rear handle, or angled in a direction that becomes uncomfortable. See if you can put your hands on the saw in the store before you take it home. If your hate the grip in the store, it's unlikely to get better once you're cutting.
Weight
Because you nearly always cut on top of your material, the weight comes into play primarily when you're carrying your circular saw from one place to another. However, heavy saws can contribute to "stickier" cutting if the shoe isn't low-friction enough. There's no reason to carry more weight than you have to, though, and it's possible to get a Pro-level saw under 10 pounds with the battery.
Price and Value
We're big on value and love figuring out what the best saw for our budget is. Start with what you know you're willing to spend and build your priorities from there. Here are things we consider as part of our value calculation:
Performance
Design and features
Depth of compatible tools on the same battery system
Service after the sale and warranty
Sidewinder or Rear-Handle?
The spread between sidewinder and rear-handle cordless circular saw styles is largely regional. The West Coast tends to prefer rear-handle while the East Coast generally goes sidewinder.
Most cordless rear-handle saws aren't true worm drives. The exceptions are Skilsaw's 48V cordless worm drives. The rest use a direct drive gearing system and go with a rear-handle design to accommodate the preference for that style.
Like their corded counterparts, cordless rear-handle saws are heavier than the more compact sidewinder style.
Both styles use brushless motors and a direct drive (aside from Skilsaw's worm drive), so there isn't necessarily the same higher torque in the rear-handle style as there is with corded models.
When it comes to these high-end cordless circular saws, it's more a matter of preference.
Voltage
There's some confusion between 18V and 20V cordless circular saws. Many folks believe that 20V is more powerful, but they're actually the same voltage.
More brands are using 6-cell sets instead of the 5-cell sets we see on 18V/20V max tools. Those actually run at a higher voltage. Marked 24V Max or 22V, they run at 21.6V nominal. With 20% more cells, they really do have the potential to produce more power or runtime.
36V/40V Max batteries are one way to get more power. Makita and Skil both have 2-battery systems that take 18V/20V max batteries and combine them in series on the tool to reach a higher voltage. Makita also has a 40V max XGT line and Metabo HPT has a 36V MultiVolt system.
Skilsaw has a couple of options for its 48V TrueHVL system while DeWalt's FlexVolt system runs a 60V max (54V) platform.
However, the advent of advanced batteries using 21700 lithium-ion cells and more recently pouch cell batteries makes it possible to deliver more power to lower voltage systems without the need for bulkier high-voltage battery packs.
Blade Left or Blade Right?
Very few Pros and DIYers we come across don't care what side the blade is on. Nearly everyone has a preference and won't buy a saw with a blade that sits on the "wrong" side. Your best bet is to try both and see which one is easier for you to track your cutline.
As a right-handed user, I prefer a blade-left design. Then again, PTR's Editor-in-Chief, Clint DeBoer, is also a righty and prefers blade-right. Read more about the considerations here.
Features To Look For
Brushless motor: offers better performance, runtime, and longer life
Electronic brake: stops the blade quickly as a safety feature
Rafter hook: great for hanging on a variety of objects instead of setting the saw on the ground
Trigger safety design: some people prefer a push-in style, others a push-down
Dust port: offers a connection to a vacuum for better cleanup
Rail compatibility: gives the saw the ability to attach to a track for highly accurate cuts
LED light: adds light to the visible blade area to help you see your cutline
Cutline blower: uses exhaust airflow to push sawdust away from your cutline
Magnesium components: reduces the weight without sacrificing strength
Why You Can Trust Pro Tool Reviews
Ever check out a "review" site and you can't tell if they actually tested the tools or if they're just "recommending" the Amazon top sellers?
That's not us. We only recommend what we'd actually use, even if we don't earn a commission from it. It's all about giving you a legitimate recommendation and our honest opinion of each product.
We've been in business since 2008 covering tools, writing reviews, and reporting on industry news in the construction, automotive, and lawn care industries. Our Pro reviewers work in the trades and have the skills and experience to know whether tools can perform well in the field.
Each year, we bring in and review more than 250 individual products. Our team will put our hands on hundreds of additional tools at media events and trade shows throughout the year.
We consult with innovators in the technology and design of tools to gain a broader grasp of where these products fit and how they work.
We work with more than two dozen professional contractors around the United States who review products for us on real job sites and consult with us on testing methods, categories, and weighting.