Cordless Rear Handle Circular Saw Competition Gets More Crowded… And That's A Good Thing
What's better than a great cordless circular saw? The best cordless rear handle circular saw! Whether you prefer the ergonomics of the design or the additional torque for ripping sheet goods, having a cordless worm drive-style circular saw can supplement your sidewinder or stand alone as your go-to saw.
Cordless rear handle circular saws meet the needs of Pros looking to cut the cord on worm drives and the field is becoming more crowded this year. We're not disappointed by that, though. These beefy saws put a premium on power and more brands than ever are jumping on board.
Considering corded and cordless? Check out our Best Circular Saw main page!
Best Cordless Rear Handle/Worm Drive Circular Saw Overall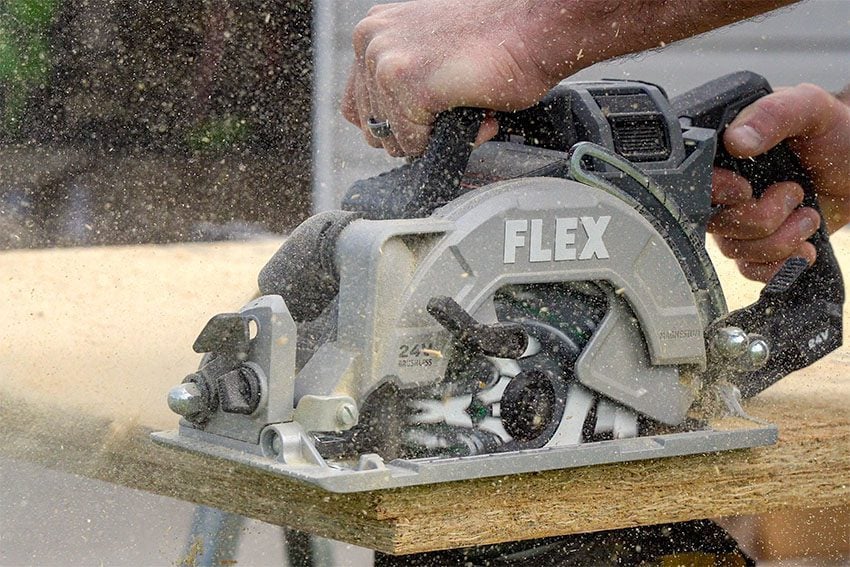 Flex made some bold claims about its cordless rear-handle circular saw. Using a 24V max power source (21.6V nominal) and with a crazy-fast 6200 RPM, it beat out all of our other rear-handle saws in cutting speed and power, including Milwaukee and DeWalt.
From there, the design is thoughtful, checking off all the boxes we look for. Even its weight is in line with Milwaukee, DeWalt, and other models in the top tier of performance.
By the time the sawdust settled, we didn't have any major complaints. If you need another reason to give Flex a closer look, Stacked Lithium pouch-style batteries give the entire lineup an advantage over the traditional powerhouses. The cherry on top is Flex's lifetime warranty you get if you register your purchase by 12/31/2023.
Price: $249.00 bare, $399.00 with a 10.0Ah Stacked Lithium battery and fast charger
Best Lightweight Cordless Rear Handle/Worm Drive Circular Saw
If having the lightest cordless worm drive-style circular saw is high on your priority list, Metabo HPT is your pick. Using a single 36V MultiVolt battery for power, it's in the same cutting performance tier as Makita's 18V X2 and joins it as another lightweight option. In fact, its weight with a battery is more than two pounds lighter than Makita—just 10.6 pounds with a 4.0Ah battery!
Metabo HPT also has the designation of being the only hybrid option in the group. If you have a lot of production cutting to do and don't want to worry about managing batteries, just switch over to the AC adapter and cut 'till you drop. One last thing—Metabo HPT has a lifetime warranty on the tool.
Price: $199.00 bare, $299.00 kit with a 4.0Ah battery and charger
Best Cordless Rear Handle/Worm Drive Circular Saw For The Money
When Skil relaunched a few years back, the target was DIYers. However, the brushless tools were keeping up with Pro-grade models and now, we're seeing Skil's first tools specifically designed for value-minded professionals.
The Skil cordless rear-handle saw is part of an emerging 2 x 20V system with the PWRCore 20 XP designation. Using two batteries to reach a higher 40V max (36V nominal) power level, it cut with performance very similar to Makita's rear-handle saw in our tests. There are trade-offs between the two, of course, but Skil's overall design and feature set are ready to handle everyday jobsite environments.
Knowing it can meet the needs of professional users, the price is very compelling. As a kit with two 5.0Ah batteries and a dual-port PWRJump fast charger, it's just $249.99.
Price: $249.99 with two 5.0Ah batteries and dual-port charger.
Best Cordless Rear-Handle/Worm Drive Circular Saw – More Recommendations From Brands We Trust
DeWalt followed Makita to market with their FlexVolt 60V Max DCS577, making a jump in power over the first-generation FlexVolt sidewinder. The saw's cutting power is clearly in the top tier and it has a more comfortable front handle design than the other models we tested. The only downside we ran into was the shoe has a bit more friction than most, giving it a slightly "sticky" feel at the beginning of our cuts.
Price: $299.00 bare, $449.00 with a 9.0Ah battery and charger
Hilti Nuron 22V Cordless Rear-Handle Circular Saw
Thanks to a new brushless motor and advanced battery design, Hilti's Nuron cordless rear-handle circular saw is getting a big performance makeover. Expect twice the runtime and a total weight under 12 pounds, including a 7.9Ah battery. Thanks to Nuron technology, you'll also get a whole new level of communication from the tool and battery to help you in your maintenance plan.
Price: $369.00 bare ($11.00 monthly for fleet customers)
Makita 40V max XGT Brushless Rear-Handle Circular Saw
Makita was the first to get a rear handle model on the market with their 36-volt XSR01. It's been a solid performer, lighter than most of the competition, and made our best-value list more than once. For the best performance, take a look at Makita's 40V max XGT system and the GSR01.
While the two saws are very similar in design, there's a massive increase in speed, jumping from 5100 RPM to 6400 RPM. Even better, the GSR01 is incredibly smooth during the cut compared to the other models we've tested. Not only do you get a performance boost, but the XGT model also drops more than a pound of weight from the XSR01, coming in at 11.7 pounds including the battery.
At the time we're writing, Acme Tools has the kit for just under $300, which is solid when you consider Makita's quality and what its competitor's prices are running.
Price: $264.00 bare, $299.00 with a 4.0Ah battery and fast charger
Milwaukee's 2830 M18 Fuel rear-handle circular saw debuted in 2019, taking advantage of the M18 line's boost in power from High Output batteries. It's running on 18 volts with an advanced M18 Fuel brushless motor.
For two years, it topped our charts as the best overall cordless rear-handle circular saw until Flex finally managed to squeak ahead in 2022. Still, the power and cutting speed of this saw is impressive, and aside from a traditional skinny front handle, there's not a thing we'd change about the design.
Price: $279.00 bare, $449.00 with a 12.0Ah High Output battery and fast charger
Ridgid fans, your time is here! Ridgid launched its cordless rear-handle saw at Home Depot in late 2022 and it was worth waiting for! The cutting speed and power are both excellent. At the same time, this is another good lightweight option with a bare weight of 10.1 pounds and a working weight of 12.4 pounds using an 8.0Ah Max Output battery.
Value is also part of the story. The bare tool is $219.00 and the kit runs $349.00—a nice break from the $400.00+ price tags some of the premium brands are asking.
Price: $219.00 bare, $349 00 with an 8.0Ah battery and charger
The only true cordless worm drive in our tests is Skilsaw's 48V TrueHVL worm drive. As a matter of interest, it was the first cordless tool under the Skilsaw brand.
While it is heavier than the other contenders, Skilsaw throws its name in for consideration as the best cordless worm drive with a solid overall design and top-tier cutting power. The downside is that there are only two tools that work on this battery system: this saw and the 10 1/4-inch cordless Sawsquatch.
Technically, the 10 1/4-inch version is also a rear-handle design. If you're looking for the best cutting capacity, it's the way to go.
7 1/4-Inch Price: $249.00 bare, $399.00 with a 5.0Ah battery and charger, $599.00 with two 5.0Ah batteries and a charger
Best Cordless Rear Handle/Worm Drive Circular Saw Buying Guide – What We Look For
Cutting Performance
We run a series of cross, miter, bevel, compound, and rip cuts to get an idea of the saw's power, shoe friction, and guard action. We're looking at cutting power and speed first and foremost, but we also want the saw to glide smoothly through the cut and avoid snags from the guard no matter what angle we're cutting.
We also check to see how closely the 0° and 45° cutline indicators are, though can change based on the kerf of the blade you're using. Anytime you switch to a different blade model, make a couple of cuts in scrap material to make sure you know where the cut happens compared to previous blades you've used.
Runtime
We stopped testing runtime a while ago. In a typical working scenario, today's brushless motors extend runtime beyond the amount of time it takes for a full recharge on a second battery. As long as you have an extra set to use, you can work without no more interruption than switching packs.
Tracking
We mark a straight cutline to see how well each saw tracks. It's not about having an arbor that's off – that would be a defect. We're looking to see if the handle design encourages us to push to either side. It's usually not a problem.
Dust and Chip Removal
Most circular saw cutting is done in an area where making a mess isn't a big deal. For those applications, we look at how well each saw removes sawdust and chips from the material. The big thing we want is a clear look at our cutlines.
When you do want to contain the mess, attaching a vacuum is a tremendous help. For the saws that come with one, a pivoting design is helpful so you can direct the chips away when you're not using a vac and leave installed all the time.
Handle Ergonomics
When we put our hands on a circular saw, we want to have a natural feel that offers excellent control. We're looking for an appropriate distance between the handles, how comfortable the grip is, and whether it encourages us to push the saw right or left during a cut.
Weight
Since the majority of circular saw cutting is done on top of the material you're cutting, weight might not be a big deal to some folks. However, it does make a difference when you're carrying it around a jobsite and it can contribute to how much shoe friction you experience.
We weigh each saw bare and with its battery loadout and consider its effects over the course of a workday.
Price and Value
Value is more than just price. It's what you get for the price and how you prioritize performance, design, features, compatible tools on the same battery system, and other factors that vary from person to person. Put the most weight behind what's most important to you and that also fits your budget.
Why You Can Trust Pro Tool Reviews
Ever check out a "review" site and you can't tell if they actually tested the tools or if they're just "recommending" the Amazon top sellers? That's not us. We won't recommend anything unless we'd actually use it ourselves and we don't really care who the primary retailer is. It's all about giving you a legitimate recommendation and our honest opinion of each product.
We've been in business since 2008 covering tools, writing reviews, and reporting on industry news in the construction, automotive, and lawn care industries. Our Pro reviewers work in the trades and have the skills and experience to know whether tools can perform well in the field.
Each year, we bring in and review more than 250 individual products. Our team will put our hands on hundreds of additional tools at media events and trade shows throughout the year.
We consult with innovators in the technology and design of tools to gain a broader grasp of where these products fit and how they work.
We work with more than two dozen professional contractors around the United States who review products for us on real job sites and consult with us on testing methods, categories, and weighting.
We'll provide more than 500 pieces of new content this year absolutely free for our readers—including objective evaluations of individual tools and products.
The end result is information you can trust because of the editorial, scientific, and real-world professional experience we collectively utilize each and every time we pick up and test a tool.