Flex 24V Cordless Rear-Handle Circular Saw Sets New Power Benchmark
If you've seen the Flex Faceoff Round 2 video, you already know the Flex 24V cordless rear-handle circular saw means business. But is it really as good as they made it out to be? We ran it through our series of tests to find out!
Pros
Fast cutting speeds
Strong in tough cuts
Magnesium shoe and guard construction
Pivoting dust port
Stock blade performs well
Better LED light coverage than most
Cons
Flex 24V Cordless Rear-Handle Circular Saw Performance
Flex uses a sensor-free brushless motor to drive the saw and they pair it with Stacked Lithium batteries to get up to 2500 watts of power. Think about that for just a second—a 15-amp saw running at 120 volts can only produce 1800 watts. Flex is getting nearly 40% more watts!
Part of the power turns into speed—6200 RPM worth. When you look at the competition, Makita's XSR01 tops out at 5100 RPM, while DeWalt's DCS577 and Milwaukee's 2830 are closer at 5800 RPM. If Flex has enough torque to keep those RPMs up, it should cut faster considering that means an extra 160 teeth slice through every second compared to DeWalt and Milwaukee.
In our testing, Flex was noticeably faster, including in tougher cuts with stacked OSB. Head-to-head against Milwaukee, we were able to push Flex noticeably harder before it stalled. It's hard to imagine many scenarios where you would want to cut faster than this saw allows you to.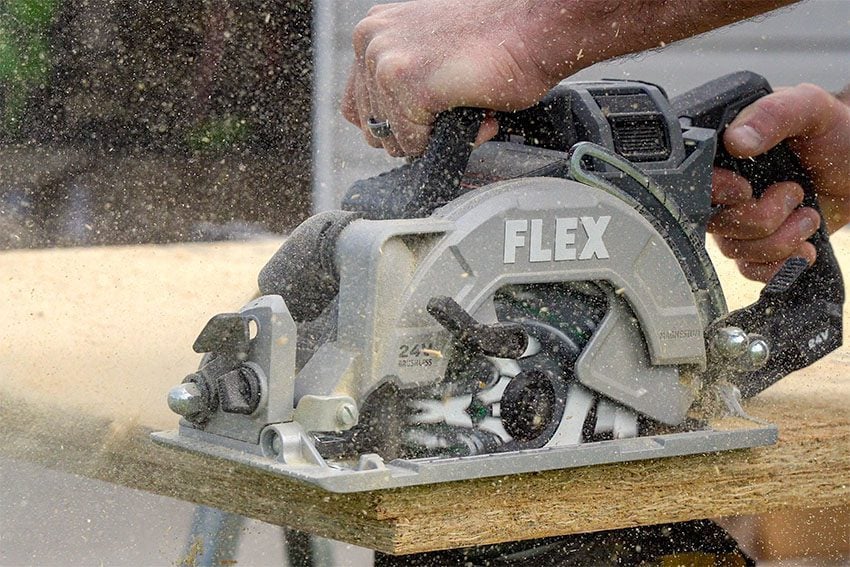 That's great, but what about the saw's other cutting characteristics?
Tracking is excellent and the high blade speed helps keep the saw moving forward as you make micro-adjustments to stay on your line.
The guard action is excellent, smoothly lifting out of the way on the vast majority of your cuts. It's possible it needs a little help if you're making shave cuts or getting started on a thin compound cut, but that's such a small percentage of the time, we're not bothered by it at all.
Flex 24V Cordless Rear-Handle Circular Saw Design Notes
Weight
Flex uses magnesium for the footplate and guards, helping to keep the overall weight down without sacrificing strength. Without a battery, the saw is a very reasonable 10.1 pounds. Adding the 10.0Ah Stacked Lithium battery for the best performance, it's 13.6 pounds.
While that might sound heavy for a circular saw, it's right in line with Milwaukee and DeWalt.
Height and Bevel Adjustments
The height and bevel adjustments are almost typical. They use a lever-action clamp lock and there's nothing fancy about the height adjustment. It is worth mentioning that it offers a 2 5/8-inch cutting capacity at 90° though.
The bevel adjustment is similarly normal, save for how you engage the positive stops. To adjust for 22.5°, 45°, or 56°, you push in the stop and turn it to the angle you need, allowing it to slip into the correct detent. Thanks to metal construction, it doesn't feel chincy or weak.
Dust Port
Flex uses a dust port that directs ships away opposite the blade. A lot in it prevents you from blowing debris back at the motor housing and forcing them either forward or down. When you're not using a vacuum, we suggest pointing the dust port down.
LED Light
LED lights are typically a ho-hum feature these days. However, Flex uses a broader light that does a better job of lighting up your sightlines from both sides of the blade.
Additional Highlights
Ergonomic, contoured main handle
Window to view battery indicator
Single finger trigger
Rafter hook
Onboard blade wrench storage
Flat motor housing makes a more stable platform for blade changes
Flex 24V Cordless Rear-Handle Circular Saw Price
Expect the bare tool to retail for $249 and the kit with a 10.0Ah Stacked Lithium battery and charger to run $399.
Flex backs this saw with a 5-year warranty. However, if you register by December 31, 2022, Flex will upgrade you to the Flex Founders lifetime warranty.
The Bottom Line
After testing the Flex 24V cordless rear-handle circular saw head-to-head against the best competition, there's no question in our minds that it's the top-performance saw in its class. Add in a solid design with thoughtful features, and overall, there's no better cordless rear-handle saw in our opinion.
Specifications
Model: Flex FX2141R
Power Source: Flex 24V battery
Blade Diameter: 7 1/4 in.
No-Load Speed: 6200 RPM
Cut Capacity: 2 5/8 in. at 90°
Bevel: 0 – 56°
Weight: 10.1 lbs bare, 13.6 lbs with battery