There was a time when choosing the best circular saw simply meant picking your favorite or most-trusted brand. Now there are so many choices it can make your head spin. Corded or cordless? Sidewinder or worm drive? Left blade or right blade?
Whether you're looking for the best professional circular saw or budget-friendly options, not to worry – we have your back!
No matter which circular saw you decide on, try swapping out the stock blade for a Spyder circular saw blade. It's packed with premium features and a nickel-cobalt carbide blend that lasts up to 6 times longer than standard carbide.
Best Circular Saw: Cordless
Metabo HPT MultiVolt Circular Saw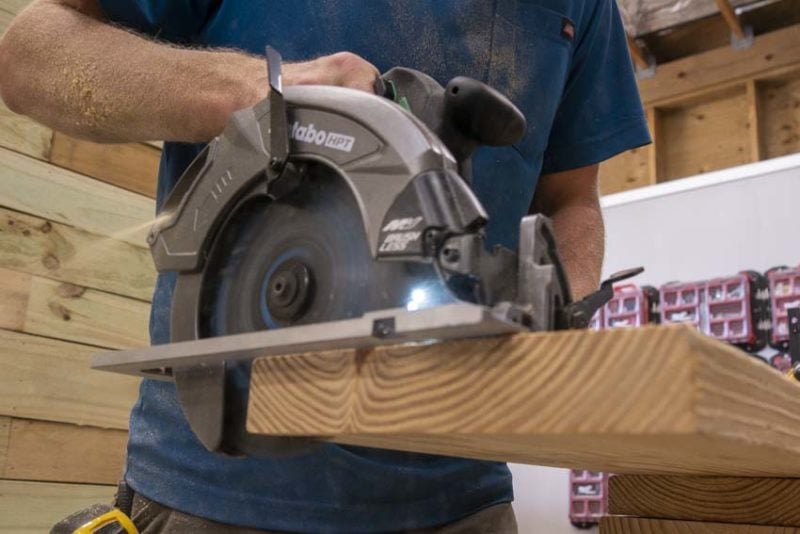 There's no denying the incredible convenience of a cordless circular saw. With today's higher-capacity batteries, it's not unusual to get a full day's worth of cuts without having to stop and recharge.
The Metabo HPT MultiVolt circular saw rises above the rest of the competition as our pick for the best cordless circular saw you can get your hands on.
It has remarkable power and accuracy, even among other advanced cordless competition. We also like its lighter weight and AC adapter option.
This one is only available as a bare tool and runs a reasonable $179. A MultiVolt battery/charger starter kit is $169 and it's the same price for an AC adapter.
Also Consider
Milwaukee M18 Fuel Circular Saw 2732
It's a close competition, though, and Milwaukee's M18 Fuel 2732 is hot on its heels as another outstanding option. It has better handle ergonomics and less shoe friction to make it the favorite for several of our testing team members.
For the bare tool, it's $249 or you can get it with a 12.0Ah High Output battery and charger for $449.
Be sure to also read about our best cordless circular saw recommendations.
Best Circular Saw: Corded
Metabo HPT C7UR/C7URM RipMax Pro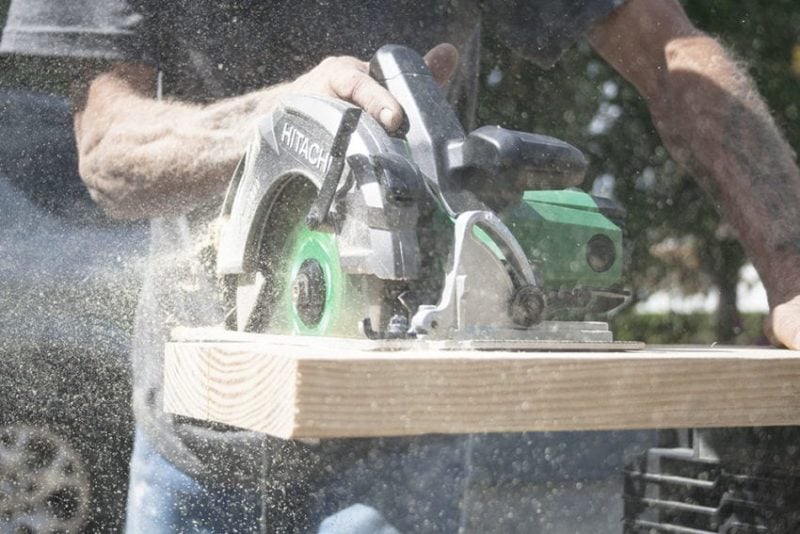 The RipMax line of circular saws launched before Hitachi changed its name to Metabo HPT. The C7UR and C7URM hit the market hard, bringing some of the best cutting speeds our Pro's have seen in the field.
At 6800 RPM, it passed our field testing with flying colors with our framing crew raving about its cutting speed.
If you're tighter on your budget, the C7UR is $121.99. You can get a lighter weight option with the same cutting performance using the C7URM. With magnesium reducing its weight, it runs $149.99.
Check out more corded circular saw recommendations here.
Best Compact Circular Saw: 18V/20V Max
Makita 18V LXT Brushless 6 1/2-inch Circular Saw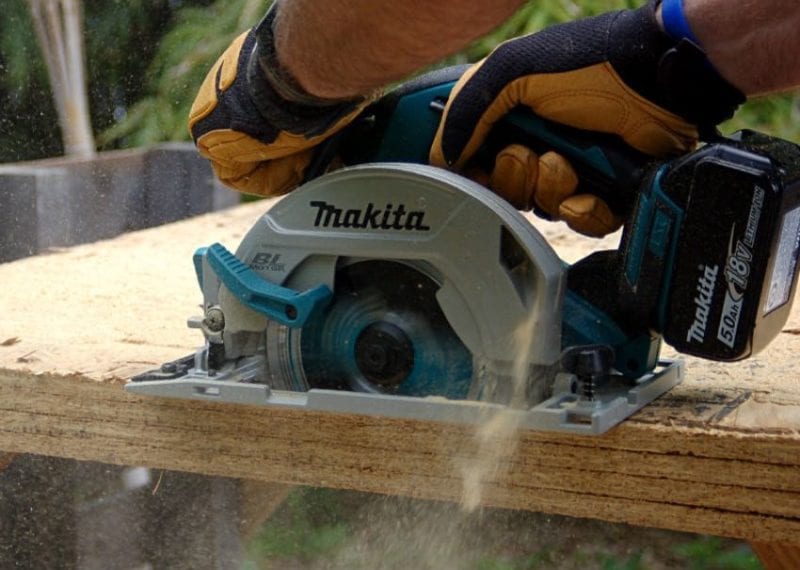 When you're looking for the best small circular saw, there are several ways to go. We couldn't agree between 12V and 18V/20V Max, so we picked one of each.
Makita's XSH03 has been around for several years and it's a perennial favorite in our shop. Its 6 1/2-inch blade has more than enough capacity to cut 2x material.
At just 7.3 pounds, it's easy to grab and go. Its handle design is friendly to one-hand cutting and it's those one-off cuts that we frequently turn to it for.
With its brushless motor ramping up to 5,000 RPM and running a Makita Max Efficiency blade, you can easily switch out your 7 1/4-inch saw for the majority of your cross and sheet cutting needs.
Best Compact Circular Saw: 12V
Milwaukee M12 Fuel 2530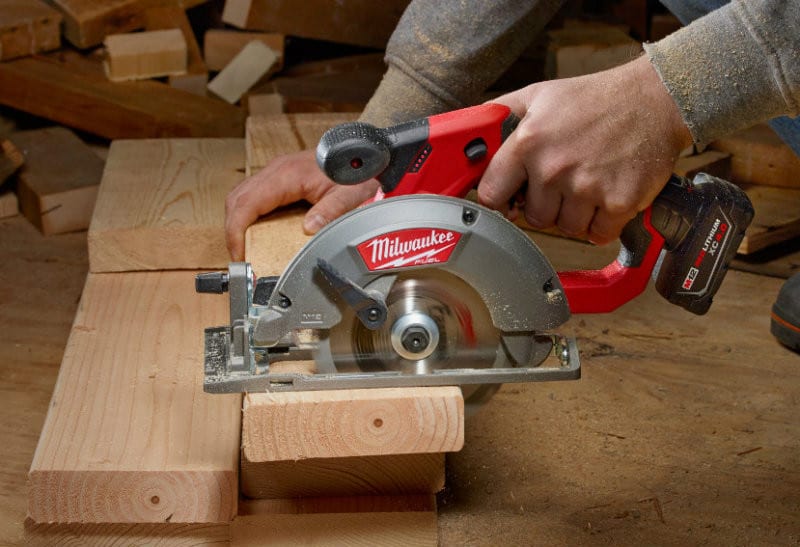 On the professional side, consider the Milwaukee M12 Fuel 2530 for the best compact circular saw on a 12V platform. Its 5 3/8-inch blade has the capacity to cut 2x and the compact design is perfect when you need to make one-handed cuts.
Its 6.25-pound weight with a 6.0Ah battery makes it an excellent choice for professionals that don't need deeper capacity.
Pick it up for $149 as bare tool or $249 with a 4.0Ah battery and charger.
If you like the idea but want something more on the DIY side, check out Skil's PWRCore 12 Brushless Circular Saw. It has a similar design and runs $79 as a bare tool or $139 as a kit.
Best Budget Circular Saw for Professionals
Corded: Skilsaw Magnesium Sidewinder Circular Saw SPT67WM-22
If you want the most bang for your buck on the professional side, there are plenty of corded models well under $150 and even some under $100. Skilsaw has an $89 magnesium sidewinder that's a great bet.
Cordless: Makita 18V X2 (36V) Brushless Circular Saw XSH06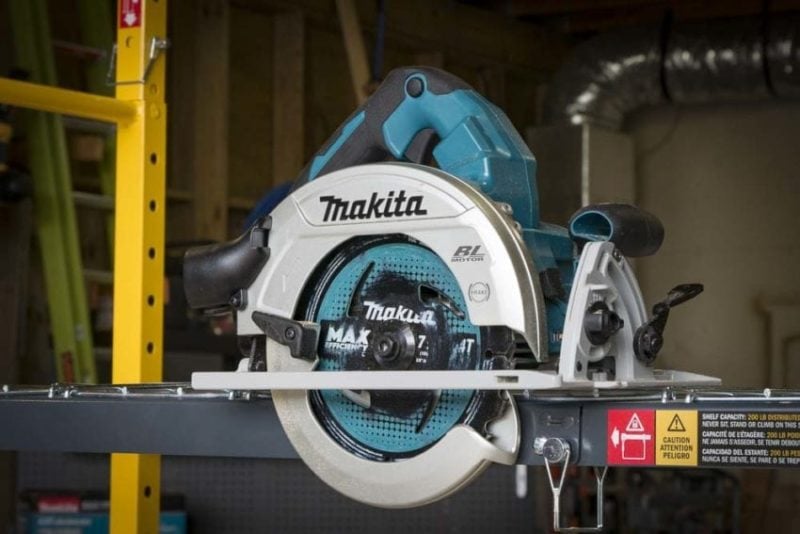 Looking at the cordless sector, you have to set your budget higher for additional convenience. If you're patient, there are some great sales that pop up. The Makita XSH06 (sidewinder) or XSR01 (rear-handle) often sells for steep discounts or includes extra batteries for no additional cost.
Also Consider
DeWalt 20V Max XR Circular Saw DCS570
When deals like that aren't available, DeWalt's DCS570 hits the sweet spot between price and performance at $279 with a charger and 5.0Ah battery.
Best Budget Circular Saw for DIYers
Corded: Kobalt Magnesium Circular Saw with Brake K15CS-06AC
For serious DIYers, we like Kobalt's K15CS-06AC. It's a step up from less expensive homeowner saws with full metal upper and lower blade guards, a magnesium shoe, higher blade speeds, and a blade brake.
It runs $79 at Lowe's and comes with a 5-year warranty.
Cordless: Skil PWRCore 20 Brushless Circular Saw
Going cordless means pushing your budget closer to $200 for the performance of a brushless motor. We like Skil's PWRCore 20 brushless circular saw here.
It has a 6 1/2-inch blade instead of the 7 1/4-inch blades you can get with Craftsman or Ryobi, but that's still enough to get through 2x material. What tips it into the win column for us is that it has a kit option with PWRJump charger and 4.0Ah battery for $189.99.
Both of Skil's major rivals skip the kit option, pushing their prices over $200 by the time you add a battery and charger starter kit.
Best Circular Saw for Homeowners
Skil 5280-21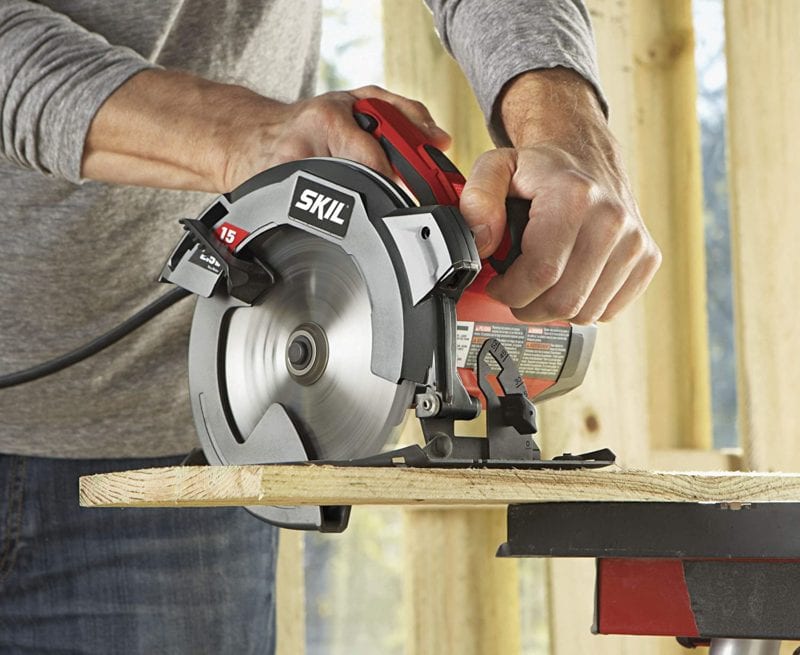 Homeowners' needs are different from DIYers. Their tools tend to come out only for repairs or specific builds rather than for the weekly use serious DIYers often have going on.
For occasional repairs or weekend projects, we like Skil's 6.95-pound 5280-21 as the best circular saw for homeowners. It has a 15-amp motor to go along with a full 7 1/4-inch blade, laser guide, dust blower, and more.
At $59.99, it's a little less than some of the other 15-amp homeowner models.
Best Circular Saw for Beginners
Skil 5280-21 or Ryobi CSB125
Whether you're teaching your kids how to use a circular saw or learning yourself, you have a lot of good options. The Skil 5280-21 we recommend for homeowners is a good one.
However, a 15-amp motor might be a little intimidating. If that sounds like you, a 13-amp motor might feel easier out of the gate. These saws are lighter on features, fit, and finish, but they're also less expensive to get into.
Ryobi's CSB125 is a good option for less than $50 at Home Depot. Its 7 1/4-inch blade gives you the cutting depth of a professional model. It sticks to the basics so you can focus on learning the ins and outs of cutting depth and bevel controls.
Also Consider
Skil's 5080-01 is in a similar boat, running $10 less and giving you a little more cutting speed at 5300 RPM.
We'd suggest staying away from cordless until you decide if this whole tool thing is going to become a passion for you. At that point, you can think about which battery system is the best fit for your needs.
How We Test
Cutting Power
We check cutting power by cutting through two layers of 3/4-inch OSB subfloor to see how much force we can put on the saw before the RPMs drop.
We cut at full depth to give the blade the greatest chance to clear chips.
Tracking
We start by marking out a straight line on our OSB subfloor. As we make slower, controlled cuts, we check to see if the handle design encourages us to push the saw left or right.
Guard Action
We make a series of standard, thin, and shave cuts in 2x lumber to see if the guard hangs up at 90º or at a 45º bevel.
Dust and Chip Removal
For circular saws that include a dust port, we connect it to a vac, such as the Makita AWS cordless vacuum. For those that don't, we allow the saw to eject dust and chips normally.
At the end of a rip cut in OSB subfloor, we check to see how much sawdust is left behind.
Handle Ergonomics
We rate handle ergonomics based on how they feel with two hands on the saw making a series of standard cuts. We're feeling for hand positions that cause strain or discomfort due to positioning and handle characteristics that are uncomfortable.
Weight
Using a digital scale, we measure the weight of the saw bare and with a battery. For both measurements, we include a blade any accessories, such as a dust port and hang hook.
Price and Value
We consider the price of the bare tool and kit and weigh it against the performance and features of the saw along with the warranty, depth of line (for cordless circular saws), kit contents, and more.
Best Circular Saw Buying Guide
We've given you a lot of information so far, but there's more to the story. Here are several other considerations to help guide to the best circular saw for you.
Corded or Cordless?
15-amp corded circular saws have outstanding power and you can get a trusted professional brand name for $100 or less. Many of these saws can last a decade or more.
The major trade-off is that you're going to need an extension cord and access to power.
There's no denying the convenience of cordless circular as a much more convenient way to cut. Models at the top of the food chain have even better performance than some of the best corded circular saws.
That only goes for the best cordless circular saws, though. Some have power close to or under corded and sub-compact or 12V models can have much less power.
There's also cost to consider. Cordless tools are more expensive by the time you add the cost of a battery and charger. The batteries need to be replaced every 3 – 5 years and they're not cheap.
That said, the convenience of cordless models is so great that both Pros and DIYers continue to make the switch at a high rate.
Blade Left or Blade Right?
Whether you prefer the blade on the left side of the motor or the right boils down to more than just being left or right-handed. There's what feels the most natural to you as well.
See if you can give both styles a shot in the store and see which one works best for you. Read more about those considerations here.
Sidewinder or Worm Drive?
The circular saw design preference is surprisingly regional with the West Coast trending towards rear-handle worm drives and the East Coast primarily using sidewinder direct drives.
Worm drives tend to have a more inline handle design and weight more. The worm drive gearing that gives the saw its name produces more torque than the same motor in a direct drive. It's enough extra power that these saws almost always require you to punch out the diamond knockout on your blade to use its more secure arbor.
Sidewinders are usually lighter than worm drives with a more compact design. The handles can be inline but are frequently offset somewhat. With less torque than worm drives, you don't remove the knockout for their round arbors.
Learn more about the differences here.
Blade Size
The most common blade sizes for circular saws are 6 1/2 inches and 7 1/4 inches. These are both capable of cutting 2x material in a single pass (Makita's original 18V X2 rear-handle can cut 3x with its 7 1/4-inch blade) and are appropriate for everyday use.
Bigger blades require more power to keep RPMs high enough, so 6 1/2-inch saws nearly always have less power than a 7 1/4-inch model.
However, there are also several models that take 10 1/4-inch blades and can cut 4x material in one pass. There's even a Super Sawsquatch from Skilsaw that takes a blade a little over 16 inches!
Moving smaller and more compact, you can find models that take 5 3/8-inch blades and even 4 1/2-inch blades like the DeWalt Atomic.
The trick to finding the best circular saw blade size for you is to check the maximum depth of cut at 90º and 45º. You can find that in the specifications online or in the manual. As long as it can cut the depth you need, you're good to go.
If you're not sure where to start, look for something that can cut through 2x material. Once it's ready to sell, 2x dimensional lumber is 1 1/2 inches thick.
Why You Can Trust Pro Tool Reviews
Ever check out a "review" site and you can't tell if they actually tested the tools or if they're just "recommending" the Amazon top sellers? That's not us. We won't recommend anything unless we'd actually use it ourselves and we don't really care who the primary retailer is. It's all about giving you a legitimate recommendation and our honest opinion of each product.
We've been in business since 2008 covering tools, writing reviews, and reporting on industry news in the construction, automotive, and lawn care industries. Our Pro reviewers work in the trades and have the skills and experience to know whether tools can perform well in the field.
Each year, we bring in and review more than 250 individual products. Our team will put our hands on hundreds of additional tools at media events and trade shows throughout the year.
We consult with innovators in the technology and design of tools to gain a broader grasp of where these products fit and how they work.
We work with more than two dozen professional contractors around the United States who review products for us on real job sites and consult with us on testing methods, categories, and weighting.
We'll provide more than 500 pieces of new content this year absolutely free for our readers—including objective evaluations of individual tools and products.
The end result is information you can trust because of the editorial, scientific, and real-world professional experience we collectively utilize each and every time we pick up and test a tool.