Last Updated on July 11, 2023
Hart's Brushless 7 1/4-Inch Circular Saw Cuts Into Higher Performance
If you tackle your own home improvement and maintenance projects, you need a reliable circular saw. We had good success with Hart's 6 1/2-inch cordless model and now we get to see what kind of benefits the Hart 20V 7 1/4-inch brushless circular saw offers for folks that want higher performance.
Hart 20V Brushless 7 1/4-Inch Circular Saw Performance
Hart's brushless motor produces up to 4000 RPMs and it does its best work when you pair it with a 4.0Ah battery. We made a wide range of test cuts, testing everything from cross and bevel cuts to compound and rip cuts.
The saw was able to make every cut we asked of it, including compound cuts in 2 x 10 lumber and rip cuts in stacked OSB subfloor. The big difference between this and much more expensive premium models is that you need to take your time and let the motor keep those blade RPMs high for the best results on thicker or harder materials.
Tracking
Using the stock 24T blade, the Hart HPCS25 was able to track a true cutline in our tests. The 90° notch is dead on. However, the 45° notch is a little wider and it's not as obvious where your blade is going to track. We found putting our cutline on the left side of the 45° notch gave us the tracking we were looking for.
Guard Action
When it comes to the guard action, crosscuts weren't an issue but it does like to hang up during compound cuts. It's not all that uncommon and simply using the tab to manually help the guard get started is all you need to do.
Dust and Chip Removal
Hart's design does a nice job of keeping the cutline clear for those of us who prefer to watch the blade rather than the notches. The majority of the dust a chip ejection happens through the rear ejection port. While effective, you can improve the material removal by installing the included vacuum adapter to the saw. It takes longer to set up a vac, of course, but there's much less cleanup to deal with when you're finished.
Hart 20V Brushless Circular Saw Design Notes
Size and Weight
This circular saw's sidewinder design has a very similar profile to other full-size cordless circular saws, measuring 13 inches long x 6.5 inches wide. The saw weighs a relatively modest 6.56 pounds bare and 7.94 pounds with a 4.0Ah battery. Considering how many cordless models we use over 10 pounds, this is a genuinely lightweight option.
Cutting Depth and Bevel
At 0°, you can cut up to 2 3/8 inches deep. To adjust the depth, just flip the lever on the back of the saw up, set the depth you want, and push the lever back down.
You can also bevel the saw up to 56° and there's a stop at 45° to make that common angle easy to set. When you set the bevel to 45°, your max cutting depth is 1 7/8 inches. To make the adjustment, loosen the blue knob on the front of the saw, set your angle, and tighten it back down.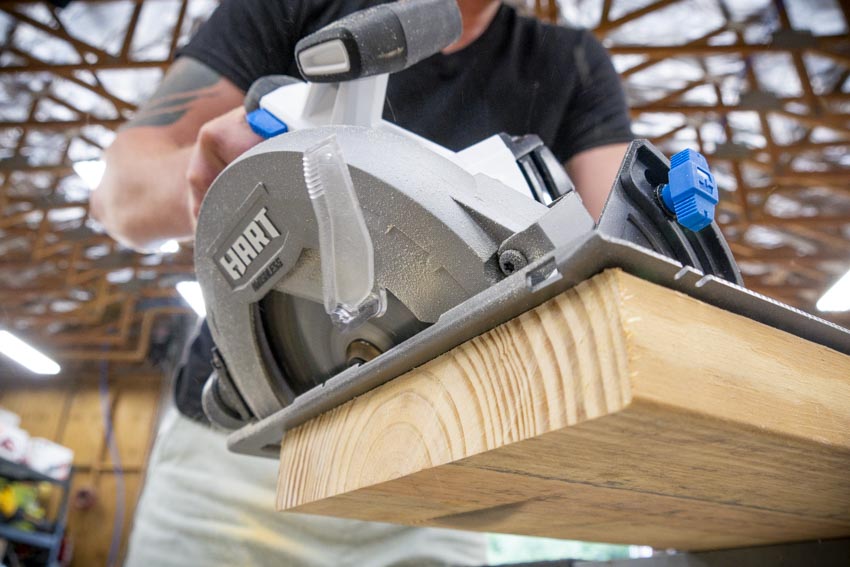 Blade Brake
There's an electronic blade brake and it's quick! When you take your finger off the trigger, the blade comes to a stop in less time than it takes to set the saw down, protecting you and your material.
Ergonomics
Hart sticks with an inline design for the main and secondary handles rather than the offset style we see on some saws. The rubber over-molded grips feel good in the hand and the balance is spot on. For me, I like the spacing between the main handle and foregrip. Sometimes the positioning can feel a little cramped, but I think Hart got it right.
Blade Orientation
Hart uses a blade-right orientation. Which side is the right side is an argument as old as circular saws themselves and it's not just a right-hand vs left-hand thing. Whichever side you prefer, just know that this one is on the right.
Additional Features
Steel shoe

Cutting depth guage
Ambidextrious thumb saftey switch
LED worklight
Onboard hex wrench for blade changes
Hart 20V Brushless Circular Saw Price
You can find this circular saw at Walmart online or in-store with a bare tool price of $128.00. There's no kit option at the moment, but this model is part of Hart's brushless combo kit with a drill, impact driver, and LED light for $298.00.
As with all their 20V power tools, Hart offers a 3-year warranty and a 90-day manufacturer defect return policy.
The Bottom Line
The Hart 20V brushless 7 1/4-inch circular saw certainly elevates performance compared to earlier models. If you're looking for a stronger cordless model or you're ready to finally cut the cord, this is an excellent choice for DIY and home improvement projects.
To see the full line of Hart tools, click here!
Hart 7 1/4-Inch Circular Saw Specifications
Model: Hart HPCS25
Max Speed: 4000 RPM
Arbour size: 5/8-inch
Max Bevel: 56°
Weight: 6.56 lbs(Bare), 7.94 lbs(With 4.0Ah Battery)
Max Cutting Depth: 2 3/8-inches at 0°, 1 7/8-inches at 45°
Price: $128.00 bare