Last Updated on September 3, 2020
The Milwaukee M18 Fuel 8″ Metal Cutting Circular Saw (model 2982-20) is the meanest, most beastly cordless tool of its kind. But it's also smoother, quieter, cleaner, and cooler-cutting than just about any alternative. Sure, it's not appropriate for every application but it's so good that you'll wish it was. It's been the right tool for several tasks around FBCH's multiple campuses – here's how I used it.
Pros
Impressively powerful – as powerful as a corded saw
High output XC battery runs cool even under heavy use
Effective chip collection keeps work area cleaner
Cold cuts to get on with your work faster
Overload light
Tool body line of blade cover easily guides cut
Fast-acting blade brake
Cons
Caveat, not a con: it's heavy at a skosh over 12 pounds
Recommendation
This Milwaukee Metal Cutting Saw is really a marvel. Its remarkable power performs some of the heaviest duty work smoothly, quietly, and cleanly—relative to alternative tools—while leaving behind a perfect cold cut. It does an impressive amount of work without a cord, and the High Output XC battery stays cool under the tough loads. It's heavy, but it needs to be. It's really without a flaw.
Milwaukee 8″ Metal Cutting Saw First Impressions
I've cut metal with just about every tool except one like the Milwaukee M18 Fuel 8″ Metal Cutting Circular Saw. Grinder: loud, hot, flying debris. Torch: open flame, hot. Snips, nibblers, etc: slow and limited. Recip saw: loud, hot, debris. Handheld bandsaw: a great tool but limited, too.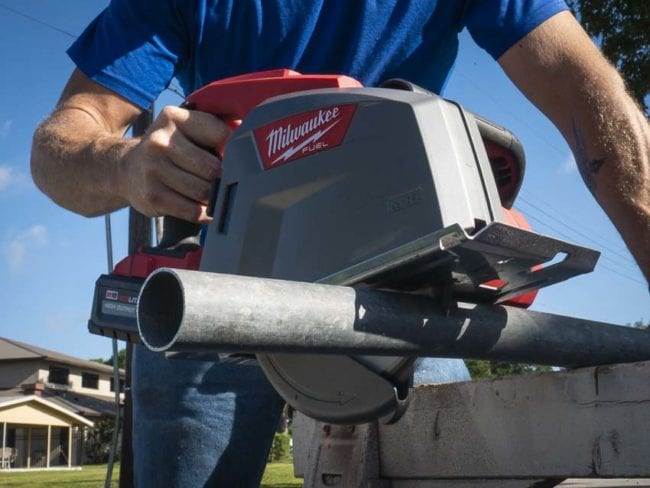 Of course, all of these tools have strengths depending on the application. And the Milwaukee can't handle every job. However, when it's appropriate for the task at hand, it is like no other tool. It's remarkably powerful (as I demonstrate later), leaves a cool cut, is fairly quiet relative to other tools, and collects the vast majority of debris.
My first opportunity to use the Milwaukee M18 Fuel 8-inch metal cutting circular saw was a water fountain installation. The fountain's plug prevented its stainless steel body from sitting flush against the wall. I found the Milwaukee was well-suited to the task as I made plunge cuts by depressing the guard lever. It sliced the stainless like it wasn't even there—a theme I'll return to in this review!
Milwaukee 2982-20 Cuts Like a Circular Saw
It's no surprise the Milwaukee M18 Fuel 8″ Metal Cutting Circular Saw has the same feel of a circular saw since it has a similar form factor. This tool is just bigger and heavier—a bit over 12 pounds—but it needs that heft to accomplish its work. If you've been eating your Wheaties, you can get it done with one hand, but plan to use two.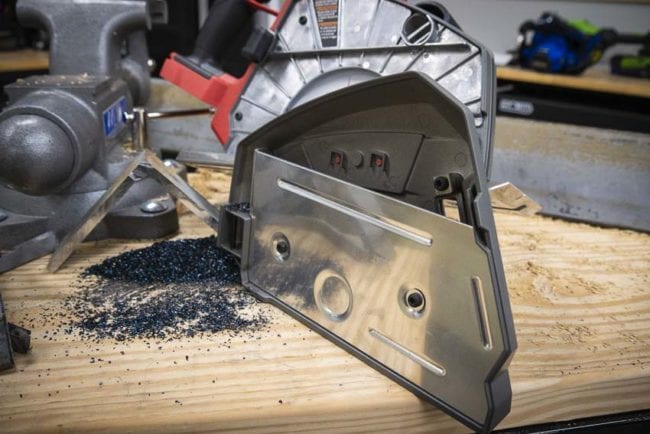 The blade cover's tool body, which houses the excellent chip collection system, is designed with a raised line that corresponds precisely with the blade. That line makes it easy to follow your cut line. Milwaukee doesn't highlight this helpful feature, but it appears intentional. There's also an effective blade brake which brings the saw to a halt very quickly and an overload light that indicates when to ease up on the pressure.
Among the other tasks the Milwaukee cordless metal cutting saw helped me accomplish on multiple FBCH campuses: remove a galvanized pipe sticking out of the ground and cutting metal door thresholds to spec. Again—the saw cuts like the material isn't even there!
Cutting Steel U-Beams
I decided to put the Milwaukee M18 Fuel 8″ Metal Cutting Circular Saw to the ultimate test—cutting hardened steel U-beam I had in the shop. I knew if it can cut that, it could cut anything I have. Without breaking a sweat, the saw cut through the U-beam with impressive speed and ease.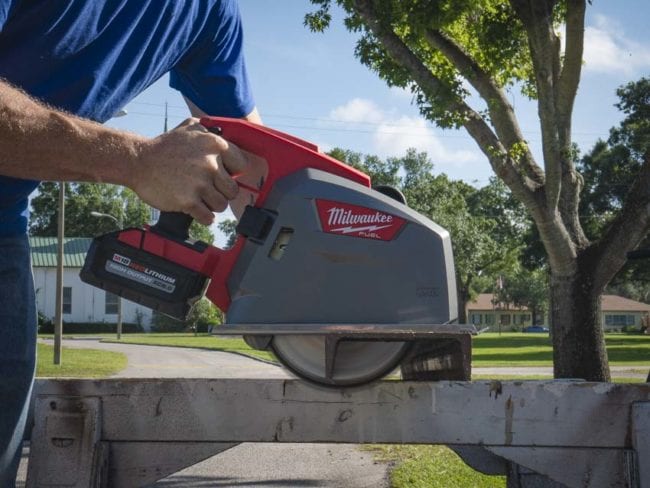 The cool cut really capped off a stellar performance. The cut wasn't the only thing that stayed cool—the High Output XC8.0 battery didn't warm up in the slightest. And there's hardly any debris left behind on the material or the ground so clean up is minimal. Just remember to empty the collection compartment often!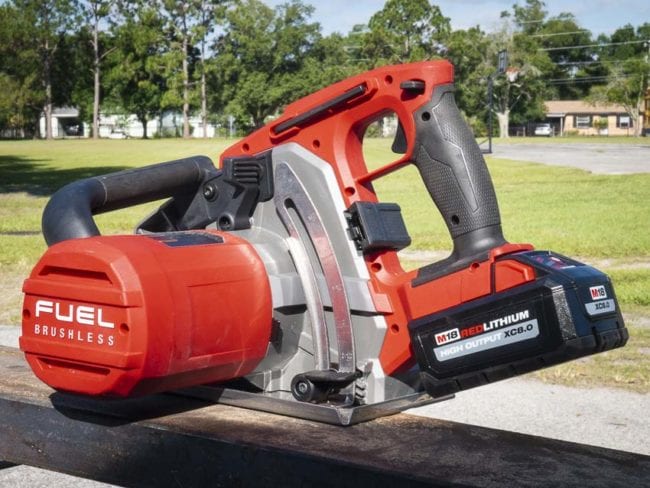 With the kitted 8.0 Ah battery, the M18 cordless metal circular saw cuts through 120 ft of corrugated decking on a single charge. Plus, should you run through the battery over the course of the day, the kitted rapid charger gets you back to a full charge in around an hour.
Side By Side Comparisons
As a point of comparison, we looked at the corded Milwaukee 6370 8″ Metal Cutting Saw which we reviewed several years ago. It has a 15A motor and 2-9/16 in. depth of cut. The blade speed tops out around 3700 RPM. The new 8-inch saw—by our recollection—demonstrated similar performance to this corded model. Milwaukee states a 30% speed increase over corded. While improvements to the blade help, the power of the brushless motor to maintain cutting speed under load certainly contributed as well.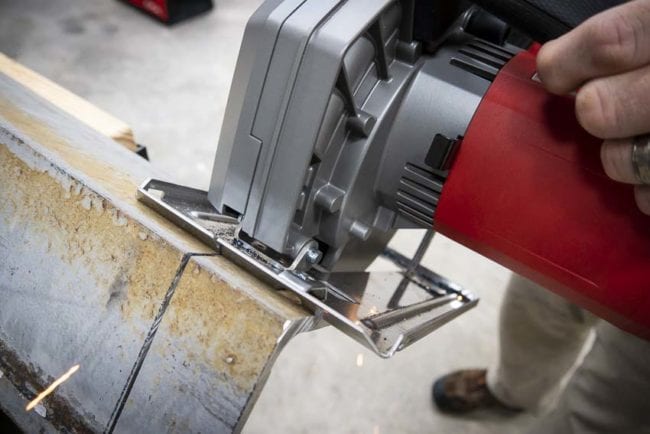 The Skilsaw Outlaw Metal Cutting Saw also makes for a good comparison. This 8-inch 15A saw uses a worm drive system with a blade speed of 3900 RPM. Seeing this type of cutting tool in a cordless form factor should grab the attention of metal fabricators everywhere.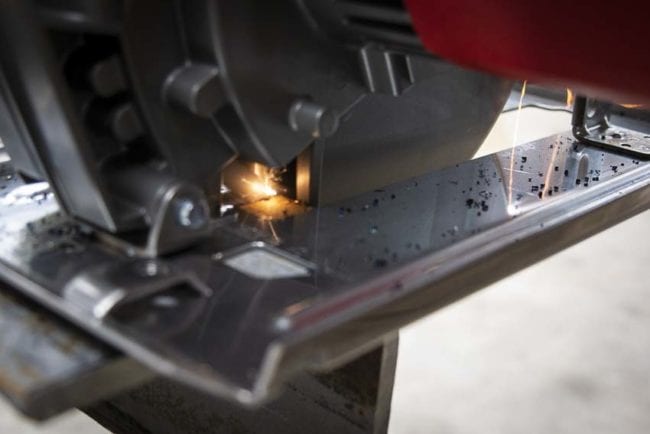 We do love that Milwaukee kept the same excellent plunge lever that you can reach with your thumb. We wish all plunge saws worked this easily.
Milwaukee 2982-20 Cordless Metal Cutting Saw Pricing
The Milwaukee 2982-20 M18 Fuel 8″ metal cutting circular saw is really in a league of its own given its size and performance. The bare tool is $399 (2982-20) and you can pick up the kit with XC8.0 Ah battery and charger for $549 (2982-21).
The Bottom Line
The Milwaukee M18 Fuel 8″ Metal Cutting Circular Saw is one mean machine: tons of power for the toughest materials, an advanced battery, excellent chip collection, and cool cuts. It large and a bit heavy, but that's what the work calls for. It's a remarkably great tool I find easy to recommend. It should quickly pay for itself in time saved during both cutting and cleanup.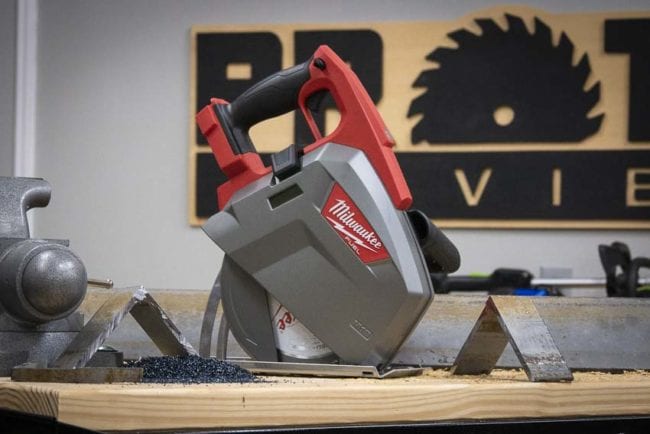 Milwaukee M18 Fuel 8″ Metal Cutting Circular Saw Specifications
Models: 2982-20 (Bare), 2982-21 (Kit)
Brushless motor
RedLink Plus electronics
Cut capacity: 2-9/16 in.
Onboard chip collection
Overload indicator light
Dual-action trigger
Electric blade brake
Adjustable depth
Dimensions (LxWxH): 15.5 x 10.6 x 10.1 in.
Weight: 12.1 lbs.
Warranty: 5-year limited