When we attended the 2015 World of Concrete in Las Vegas, we spent some time visiting with the folks at Makita. Among the mega man card point building tools that were there, a rather small addition to the 18V LXT family was also presented: the Makita 18V LXT Brushless 6-1/2″ Circular Saw (model XSH03). When we were officially introduced to the compact circular saw, we were told "it's time that Makita brought this 6-1/2″ saw to the LXT line."
I had to wonder why. After all, Makita had one of the first successful 7-1/4″ cordless circular saws with their two battery LXT 18V X2 XSH01M Circular Saw. It performed very well on its own and was more than just respectable in our 7-1/4″ Cordless Circular Saw Shootout. Why downsize when you've already got a solid model at the full-size level? As it turns out—we found plenty of reasons.
Editor's Note: This is the original review, but the ratings have been updated to reflect the results of our best cordless circular saw article.
Makita XSH03 6-1/2″ Circular Saw Advantages
Weight and dimensions. Those are the big advantages of a 6-1/2″ circular saw over a 7-1/4″. A Google search will result in a host of opinions that tend to lean heavily in favor of the 7-1/4″ size. The reality is that there's just not a whole lot to substantiate the claim aside from personal preference. The Makita XSH03 18V Brushless 6-1/2″ Circular Saw deals with the issue of depth of cut that some assume would be there. It easily makes a cross-cut in 2x material at 90 degrees. At a 45 degree bevel, the 1-5/8″ depth of cut still makes it through. For thicker material, like 4x, both sizes take two cuts to make it through.
Since the majority of common circular saw cuts are made just as well with both sizes of the blade, one could make the argument that size doesn't matter in this case. Still, the debate will rage on. The big advantage is the weight of the 6-1/2″ circular saw. The Makita 18V LXT Brushless 6-1/2″ Circular Saw is almost 3 pounds lighter than its twin battery cousin. When you're making vertical or overhead cuts, that kind of weight makes a big difference.
Jack Plating called me over to give him a hand… well, loan him a tool, actually. He had the project well in hand but was lacking a more compact circular saw to cut out a 2 x 6 beam that had partially rotted. Full size and an awkward angle were not going to make the easy, or even possible. Working his head around to be able to see while still controlling the saw to make an accurate cut was necessary, and the Makita 18V LXT Brushless 6-1/2″ Circular Saw saved us from spending a long time digging at it with an oscillating multi-tool.
Makita XSH03 18V Brushless Circular Saw Upgrades
They must have done something different, right? After all, they already had 4 other models of this size and weight class in the LXT family. Two major improvements show up in this model. The most obvious is Makita's BL motor. The Makita 18V LXT Brushless 6-1/2″ Circular Saw now features a brushless motor. They were able to get a full 5,000 RPMs out of it and keep the smooth stability of the Makita XSH01 X2 circular saw. They also did it on one battery. For the uninitiated, brushless motors typically result in two things when it comes to cordless power tools: more power and longer run time. The Makita XSH03 has that benefit.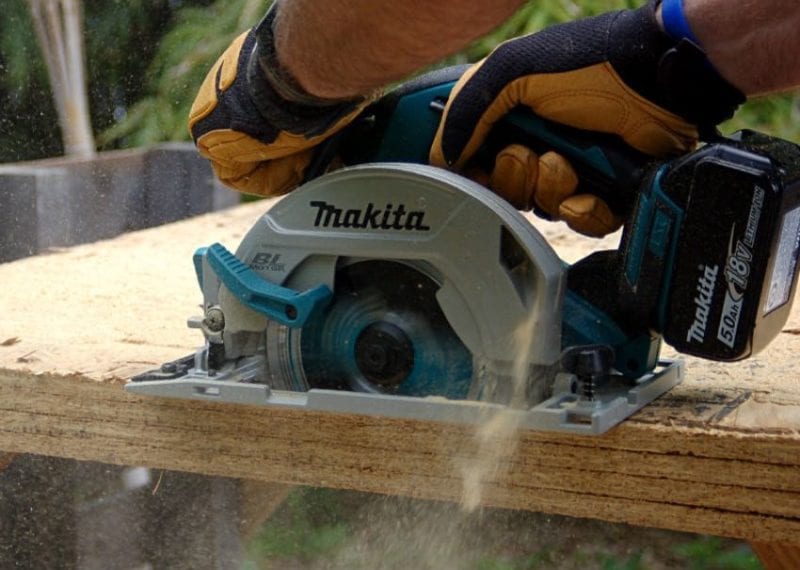 The other relatively new technology built into this model is Makita's Automatic Speed Change. This is significant because it electronically adjusts the speed and torque to work at an optimum level. When the saw encounters more stress, it's going to divert power to give it more torque. This results in the ability to push through cuts where it would have bound up the blade before. That's not to say that you can't bind up the blade. You certainly can. You'll just be able to push it harder than its predecessors.
Makita 18V LXT Brushless 6-1/2″ Circular Saw Specs and Performance
Model: XSH03Z (bare tool)/XSH03T (kit)
Power Source: LXT 18V Lithium-ion Battery (4.0 amp hour included in kit)
No Load Speed: 5,000 RPM
Max Cutting Capacity: 2-1/4″ (at 90 degrees), 1-5/8″ (at 45 degrees)
Weight: 7.3 pounds
Warranty: 3 years
What I love about the Makita 18V LXT Brushless 6-1/2″ Circular Saw is how much the cutting experience reminds me of the XSH01 7-1/4″. It's smooth, it's stable, and it's fast. The lighter weight and compact size make it easy to confidently handle with one hand. Like it's big brother, the XSH03 comes with a surprisingly legit stock blade from Makita.
There were some things that I liked…
I mean besides what I've already mentioned about the cutting performance, compact size, and light weight. Just like we saw on the Milwaukee M18 Fuel Circular Saw, Makita gave us a rafter hook. These are so useful that it's doubtful I would purchase a circular saw without one. Initially, Makita shipped these without a charge indicator on their batteries. Newer kits now contain the updated packs. They have also been adding indicator lights to the tool more and more, including on the XSH03. When you pull the trigger, a 3-light LED indicator under the handle will show you the remaining charge.
One thing that Jack noticed immediately when we put the saw to the test was the electric brake. When he took his finger off the trigger, the blade stopped even faster than we expected. The raised silver measurement markings are easy to see. The bevel and depth of cut adjustment releases are easy to engage/disengage and the rubber overmold is easy on your fingers. The Makita 18V LXT Brushless 6-1/2″ Circular Saw's balance is excellent. This helps tremendously when it comes to one-handed cutting.
One easily overlooked feature is the dual fence mounts. It will improve stability greatly for fence users to have a second one installed. While it's not a major complaint, I'd like to see them included with the kit purchase.
There are some things that could be improved…
The measurement cover plates on the front could be better. First, both it and the bevel angle cover plate are plastic. That's got to go. The front cover plate is also held in place by just one screw. The opposite side can catch on things and break off if you're not careful. I'd like to see these switched out for steel or aluminum cover plates and definitely get a second screw or rivet on the front. Despite this, it doesn't really affect the overall durability of the saw. I just have to be prepared to go without that front measurement plate if something happens.
And One Thing that I Missed!
Remember that rafter hook that I love? Initially, I thought it had a slight flaw in that it wouldn't swing beyond straight in front of the saw. This is what I had originally said of it.
"That rafter hook that I can't live without? I would really like to see it on the other side of the handle. Right now it only swings 90 degrees so it has to hang by the front of the saw. With 180 degrees of swing on the opposite side, it can still stay out of the way against the handle but allow you to hang it by the side of the tool instead. As it is, the saw balances a little precariously hanging by the front."
As it turns out, you actually can swing it all the way to the left. By pushing down on the rafter hook, it will release that pin from the detent and allow it to continue its movement around. Bingo. Problem solved.
Makita doesn't mention this in the manual. It does take more downward force than you might think (it surprised me!) and you'll have to reverse the process to return it.
Thanks to Pro Tool Reviews reader John Peterson for pointing that out to us and for providing a photo showing the details.
Makita 6-1/2″ Brushless Circular Saw Conclusions
For the most part, I really like what the Makita 18V LXT Brushless 6-1/2″ Circular Saw brings to the table. A couple of tweaks to peripheral features that don't affect the performance will help build user confidence moving forward. Makita's first brushless circular saw is a step in the right direction.
For those wanting more, the Makita 7-1/4″ X2 cordless circular saw and X2 rear handle saw deliver even more power and cutting capacity. 5.0Ah and 6.0Ah batteries make relevant runtime an easier target.
If you want a lightweight 6-1/2″ cordless circular saw, we can recommend the Makita 18V LXT Brushless 6-1/2″ Circular Saw without hesitation. The Makita 18V LXT Brushless 6-1/2″ Circular Saw definitely has pro-level performance and makes a great addition to the LXT family.