With all the jazz surrounding Makita's 18V X2 Rear-Handle Saw, it may have escaped your notice that they haven't had an X2 sidewinder since their original XSH01 a few years back. The latest edition of the Makita 18V X2 LXT Circular Saw is the XSH06 and it shows some real promise, even over the excellent performance of the XSH01.
Pros
Magnesium keeps the weight down
Removable dust port
AWS model (XSH07) in the works
Very smooth cutting action
Outperforms the 18V X2 Rear Handle Saw in out speed test
4-battery kit offers outstanding value in a premium saw
Cons
Rafter hook doesn't come standard but is an option (199386-8)
Recommendation

There's no doubt this is a Pro-level saw. If you've been holding out on making the switch to cordless or are just thinking about getting onto the Makita 18V platform, the 4-battery kit will leave you with no regrets.
Makita 18V X2 LXT Circular Saw Highlights
Dust Port Attachment
Makita includes a dust port attachment with the saw that goes on with just one screw. The obvious advantage is that you can connect to your vacuum for cutting fiber cement board or just general cutting when you're trying to keep your workspace clean.
What this also helps line up is the Makita XSH07 – an AWS enabled version of the Makita 18V X2 LXT Circular Saw that we expect to be hearing more about soon.
Magnesium Everywhere!
The Makita XSH06 uses magnesium to keep the durability up and the weight down to a reasonable 10.9 pounds with batteries and blade. The base, blade guard and blade cover are all magnesium.
Dual Port Rapid Optimum Charger
One of Makita's understated features is their charging system. Using active airflow, their batteries cool and charge faster than standard chargers. They include a dual port Rapid Optimum Charger in their kit options for this saw, giving you the ability to fully charge two 5.0 Ah batteries in just 45 minutes.
Makita BL Brushless Motor
The Makita 18V X2 LXT Circular Saw uses a Makita-built BL motor. Aside from the lower maintenance, longer life, greater power, and longer runtime advantages that brushless motors bring, you can read more about Makita's intentional design below.
Makita Max Efficiency Blade
Makita has been putting excellent stock blades on their saws for a long time. With the Makita XSH06, you get one of their new Max Efficiency blades – one of the fastest cutting and most efficient blades you'll find for a cordless circular saw.
Other Standard Features
Uses two 18V batteries for 36V power
Automatic Speed Change
Electric brake
On board and on battery charge level indicators
Cutline blower
Tether notch
LED light
Missing Features
There's no rafter hook at the moment. However, two threaded holes on the front are ready to accept an optional attachment (199386-8).
Performance
Any modern cordless circular saw should cut just fine through standard materials like 2x PT and the Makita XSH06 excels with the best of them. To see where it fits in terms of power, we put through our standard test – a full 2-1/2-inch rip cut in 4x PT.
Using our baseline blade, Makita made the 8-foot cut in 13.54 seconds – the third fastest we've tested so far. Interestingly enough, that's actually 5 seconds faster than the Rear-Handle saw's time of 18.64 seconds.
I have to qualify that, though. We know that the lumber the Rear-Handle cut through was wetter than this one even though they were both 4 x 4 PT pine. We'll look forward to putting these through more testing to see how it all shakes out.
One thing that stands out during use is just how smooth the XSH06's cutting action is. That's not a surprise since Makita generally excels here. As we tested this against another saw, it gave our testing team a moment of pause to realize how the extra level of refinement makes a difference head to head.
Price and Value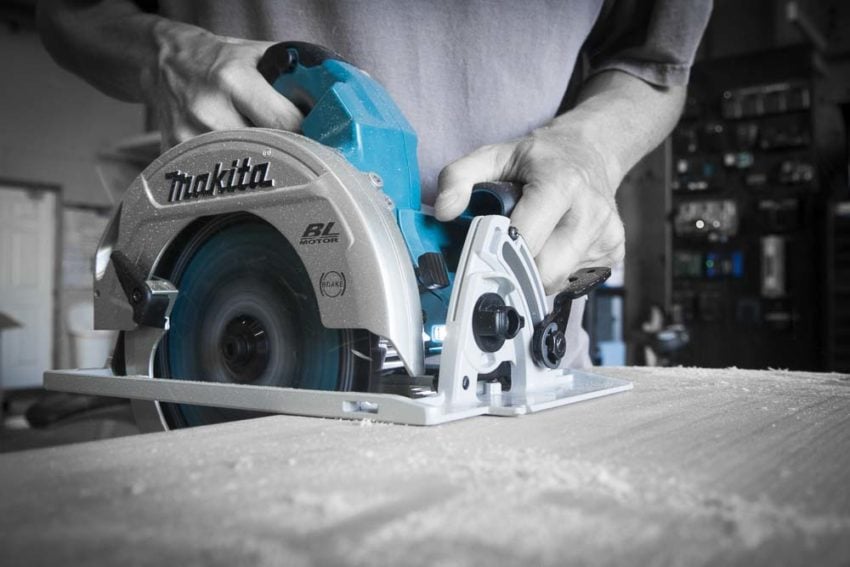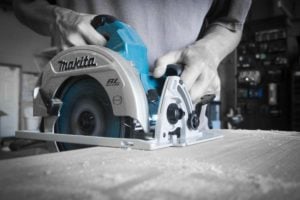 The Makita 18V X2 LXT Circular Saw comes in three options. The XSH01Z is your bare tool at $199. The XSH06PT nets you a pair of 5 Ah batteries and a dual port Rapid Optimum Charger to go with the tool for $349. Finally, the XSH06PT1 gives you 4 batteries instead of 2 for $349*.
Before going into any other comparison, that 4-battery kit is awfully attractive. Normally, Makita 5 Ah batteries are $129 each or $219 for two, so getting the extra pair for the same price as the 2-battery kit is a steal.
As for direct price comparison, here's what we're looking at:
Milwaukee M18 Fuel 2732: $399 with a 12.0 Ah battery (216 watt-hours)
DeWalt 20V Max DCS570: $279 with a 5.0 Ah battery (90 watt-hours)
DeWalt FlexVolt DCS575: $379 with two 2.0 Ah, 60V Max batteries (108 watt-hours)
Makita XSH01: $299 with two 5.0 Ah batteries (180 watt-hours)
Makita 18V X2 LXT XSH06PT1: $349 with four 5.0 Ah batteries (360 watt-hours)
*Price as of January 10, 2019.
Note: I intentionally left out the Makita Rear-Handle and DeWalt FlexVolt Worm Drive Style saws since they're in a slightly different class.
Both the 2-battery and 4-battery kits compare well with the other premium saws in this list and are obviously a bit higher than the older XSH01 and the more value-oriented DCS570. What's tough to ignore is how much more battery capacity you're getting with Makita's 4-battery kit. Combined with the dual port Rapid Optimum Charger, it's unlikely that you'll work faster than the 45 minutes it will take to fully recharge two batteries.
The Bottom Line
Makita has done just about everything right with the XSH06. I can't find any reason to be disappointed with the design, performance, or pricing structure. If you've been waiting to make the switch, this Makita cordless circular is an excellent place to start.
Makita 18V X2 LXT Circular Saw Specifications
Model: Makita XSH06PT (kit), XSH06Z (bare tool)
Power Source: (2) Makita 18V batteries
Blade Diameter: 7-1/4″
No Load Speed: 6000 RPM
Max Cut Depth: 2-5/8″ @ 90°, 1-13/16″ @ 45°
Length: 13-1/2″
Weight with Batteries and Blade: 10.9 pounds
Warranty: 3 years