Having extensively used and reviewed dozens of circular saws, we wanted to talk about one that stood out to us. Perfectly balancing power and ergonomics, the Milwaukee 2730 M18 Fuel 6-1/2-inch circular saw really caught our eye. It's one of two Milwaukee saws that deserve serious consideration. The other is the 2732 M18 Fuel 7-1/4-inch circular saw. I put this cordless saw through a battery of tests to tease out its performance—so sit back and enjoy!
Milwaukee 2730 Circular Saw First Impressions
The Milwaukee M18 Fuel 6-1/2-inch circular saw is one of those line-blurring sidewinders with a blade-left orientation. The blade-left was long the sole jurisdiction of worm drives, but much has changed. Since most people are right-handed and the blade-left design allows greater cut line visibility, we're starting to see more of this setup.
This 6.8-pound (bare) saw is just 13.5-inches long and features a magnesium blade guard and shoe, LED light, 50-degree bevel capacity, 5/8-inch arbor, and runs at 5,000 RPMs.
Most of you will also be familiar with this saw's Milwaukee Fuel trifecta: the PowerState brushless motor, RedLink Plus electronics, and RedLithium battery pack. We've seen this combination result in powerful, durable tools that protect themselves from thermal overload in other parts of the M18 Fuel line, so we expect the same this time around.
Milwaukee M18 Fuel 6-1/2-inch Circular Saw Key Features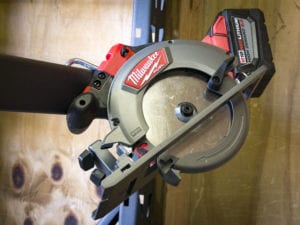 Brushless Motor: Yes
Rafter Hook: Yes
Metal Blade Guard: Yes
Blade Brake: Yes
LED Light: Yes
Riving Knife: No
Bevel Stops: None
Enter, Blade Left
With so many saws that are at once comparable while having some major differences, I made every attempt to find common denominators for the shootout. I outfitted each saw it the same blade and used the battery pack that each manufacturer suggested for each saw.
That's the 9.0 amp hour pack for this model. Data collection included general testing such as easy-to-cut 2×12 lumber for ergonomics and to more performance-critical tests like cutline accuracy, blade visibility, guard operation, and rafter square/straight edge tracking ability.
Milwaukee 2730 Head to Head Review Ratings
So how does the smaller-bladed Milwaukee 2730 circular saw fare? Ergonomically, the saw rates Very Good in the hand as the grip and trigger are quite comfortable and there's a push-down safety button that's easy to use.
The cutline marker accuracy is dead-on at 90° as well as 45°. Balde visibility is Very Good to Excellent and the cutline blower keeps the line in front of the saw clear. Likewise, was the bevel angle setting rates Very Good with 1° increments, incised markings, and good contrast.
Also rating Very Good is tracking against the straightedge and deep cutting ability as the saw barely slows down when I apply pressure. The Milwaukee M18 Fuel 6-1/2-Inch Circular Saw clocked its fastest cut of 9.1 seconds on a 4-foot crosscut in OSB. That's with the blade buried at 2 inches and is good enough for 5th fastest overall and best among 6-1/2-inch models.
Unfortunately, it didn't all come up roses for the Milwaukee. The blade guard action rates just Poor to Fair on shave cuts because the guard hangs up on the left side of the blade. If the blade depth is set shallower you can avoid it, but you shouldn't have to at the Pro level. Since it's a safety issue, this one problem keeps the saw from really standing out in the 6-1/2-inch category.
The Bottom Line
The Milwaukee 2730 M18 Fuel 6-1/2-Inch Circular Saw is powerful and fast. In fact, it's the fastest in the 6-1/2-inch blade class and it punches above its weight, out cutting some of the larger models including its 7-1/4-inch Milwaukee brother that was also in this shootout. It rates Very Good in its general performance and many of its Pro features.
Its Achilles Heel is a finicky, sticky blade guard that would often hang up on the left side. Still, it could still place in our best cordless circular saw reviews article, not only is it the fastest 6-1/2-inch saw, but it is also the top-ranking model in the size category with the best ergonomics and an overall placement of 5th out of 16.
For you left-handers or those who'd rather have a traditionally-designed sidewinder, Milwaukee is the only manufacturer that offers sidewinders with both blade-left and blade-right orientations on the 18V platform. Makita also has both in the cordless class, but you'll switch between their 18V and 18V X2 lines to get it.
With a battery & charger, plan on paying $319 for the kit. That's pricey, but for the performance and feature set, it's a pretty good value compared to what you'll get with other models.
Related Reviews and Articles
Milwaukee M18 Fuel 6-1/2-inch Circular Saw Specifications
Model: Milwaukee 2730-22
Voltage: 18V
Kitted Battery: (2) 18 V 4.0 Ah
Tested Battery: 9.0 Ah, 162 Wh
Blade Diameter: 6-1/2″
Blade Orientation: Left
No Load Speed:  5,000 RPM
Depth of Cut: 2 1/8" at 90°; 1 9/16+" at 45°
Bevel Capacity: 50°
Weight with Battery: 9.34 pounds
Warranty: 5 years
Price: $319 (kit)