If you're looking for a lightweight alternative to your big tile saw for smaller jobs or to upgrade from snap cutting, the new Ridgid 7-inch tile saw's $219 price tag is pretty attractive. Is all that beauty just skin deep or can this tiling tool niche itself for smaller jobs?
We put it to use on a shower install job to see what kind of work you can expect from it.
Pros
6.5-amp motor cuts easily through grade 4 porcelain tile
Excellent stock blade leaves chip-free cuts
Very clean for a wet tile saw
Lightweight and highly portable
Excellent value
Cons
No sliding table creates some limitations
Weight allows the saw to shift on longer cuts
Recommendation
This is a great option to supplement your 10-inch table saw on cuts that are less than 12 inches. It's fantastic for using indoors on subway tile and backsplashes.
Ridgid 7-inch Tile Saw Design
As a 7-inch model, we don't expect the Ridgid R4021 to be the one tile saw we use for every job. It has a very lightweight design with an integrated handle that makes it easier to transport than models like the dry cut tile saw we use on big jobs.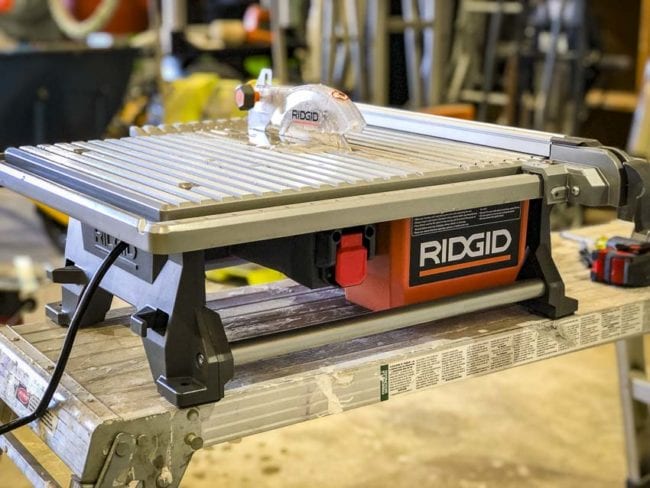 Adding to that concept is an updated anti-splash system. Many newer tiles saw talk about keeping the splashing down, but Ridgid actually delivers. There's very little water that escapes making this a tile saw you can use in the room you're tiling. Just set a small drop cloth under it to catch the few drops that get out and your cleanup is simply picking it up and taking it out.
The design also keeps you from overfilling the reservoir. If you try to put too much water in, it simply spills out. While that helps keep the splashing to a minimum, just keep a close eye on the level if you're filling it inside.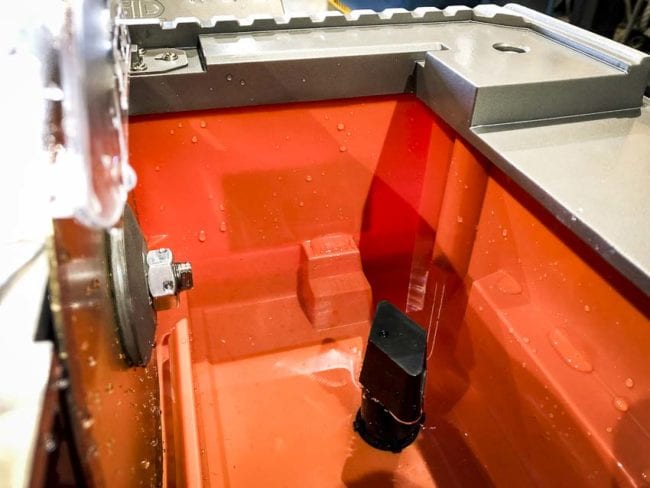 This Ridgid 7-inch tile saw doesn't have a sliding table. You'll want to use the sliding aluminum fence and miter guides for the most accurate cuts.
Additional Features
Detachable table support for tiles up to 24 inches
TrueLock T-square design to keep cuts square
Clear splash hood gives you a clear view of the blade and cut line
Roll cage design adds extra protection
Tilting bevel table for 22.5º and 45º bevel cuts
Onboard blade wrench storage
Performance
The shower we're tiling has a combination of 12 x 24 and 8 x 48 grade 4 porcelain tile. The lightweight that helps on the transport side is somewhat of a hindrance on some cuts. When we attempted to make long rip cuts, the saw wants to slide – something that a sliding table might help prevent. On the other hand, crosscuts are much easier.
If you're going to make those longer cuts, you'll want to bolt the saw down or at least set it on the floor so the base has more friction working for it.
The motor and the blade are big bright spots for Ridgid. When a manufacturer says they have a premium blade, that can be hit or miss. Ridgid's stock blade does an excellent job and gave us smooth, clean cuts with no chipping.
The 1 horsepower, 6.5-amp motor has plenty of power as well and we didn't have any issues with bogging.
For this shower design, we didn't have any bevel cuts to make. While the saw is capable of making them, I really prefer a sliding table for those cuts.
Pricing
At $219, the Ridgid 7-inch tile saw is priced as a wallet-friendly supplement to your larger saw. It's even low enough to get the attention of serious DIYers that want a better result. Here are some of the other options out there:
Ryobi WS722 (4.8 amps): $119.00
Rubi 24977 (3.75 amps): $120.85
Ridgid R4021 (6.5 amps): $219.00
QEP 22900Q (6.5 amps): $223.09
MK Diamond 159943 (7.4 amps): $417.77
You can get a less expensive tile saw, but you're going to give up some power or design to get it. Ridgid competes very well in its power class and its splash-reducing design pushes it to the top of our list at this price. It's also backed by Ridgid's Lifetime Service Agreement – just be sure to register within 90 days.
Ridgid R4021 Bottom Line
I like the Ridgid R4021 7-inch tile saw for any tile cuts less than 12 inches. It's an excellent supplementary tool for Pros who might tackle all of their large tile cuts with their primary saw and wrap things up with this for the smaller work on backsplashes, borders, or subway tile.
Ridgid 7-inch Tile Saw Specifications
Model: Ridgid R4021
Motor: 120V, 6.5A
Blade Diameter: 7 inches
Maximum Speed: 3450 RPM
Maximum tile cut size diagonal: 12″
Max Depth of Cut: 1.25″
Depth: 19.75″
Height: 10.5″
Width: 23″
Length: 21″
Table Width: 15″
Cord Length: 6′
Cuts Through: Ceramic, Glass, Pavers, Porcelain, Stone
Weights: 27 lbs.
Includes: 7″ diamond blade cutting wheel, wheel wrenches, overflow drain, splash hood assembly, miter guide assembly, rip guide assembly, and Operator's Manual
Warranty: lifetime service agreement
Price: $219