Ridgid Releases The Beast Tile Saw For Its Third Generation
Ridgid is no stranger to tile saws. Thanks to its history of introducing solid improvements and its attractive pricing structure, they're one of the most popular tile saw brands you'll see on jobsites around the country. The flagship Ridgid Beast 10-inch wet tile saw is launching its third version and there are some significant changes to talk about.
Ridgid Beast 10-Inch Tile Saw: The Big Deal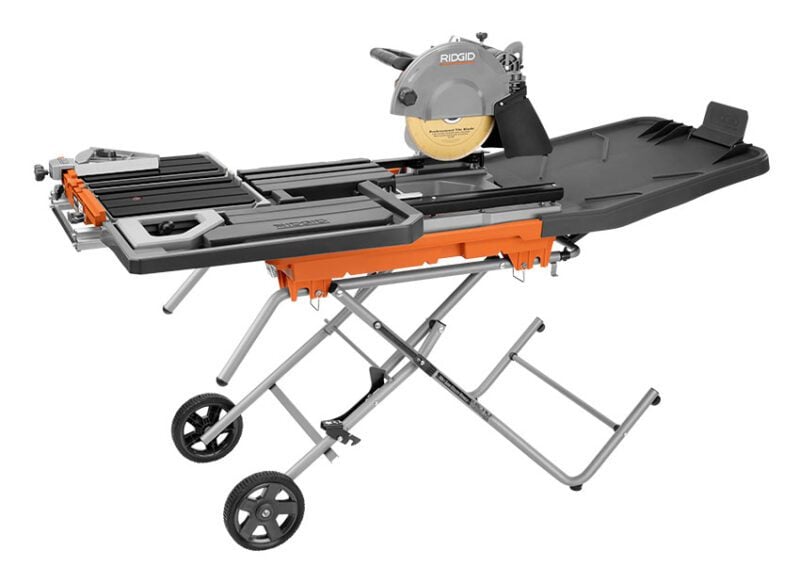 Most of the features from the R4902 move up with the Ridgid 4903. The most notable exception is there's no laser on the latest version.
The biggest change comes on the rip capacity side of things. With the fence, you now get 36 inches instead of 34. But it gets better. The fence has a drop gate design and when you drop it down, you have unlimited rip capacity to deal with today's longest cuts.
The diagonal cutting capacity remains the same at 24 inches.
Additional Highlights
Water tray isolation design helps keep debris out of your water supply
Folding stand included
Plunging head
0°, 22.5°, and 45° bevel stops
3 1/2-inch maximum cutting depth
0° – 45° miter guide included (left and right)
Removable water tray allows for benchtop tile saw operations
Die cast aluminum table with co-molded rubber surface with 28 inches of material support capacity
Splash guard returns water to the tray, reducing refills
Onboard storage for tray and accessories
Ridgid Beast 10-Inch Tile Saw Comparison
| | | |
| --- | --- | --- |
| | R4092 | R4093 |
| Blade Diameter | 10 inches | 10 inches |
| No-Load Speed | 4000 RPM | 4000 RPM |
| Rip Capacity | 34 inches | 36 inches |
| Diagonal Capacity | 24 inches | 24 inches |
| Cutting Depth | 3 1/2 inches | 3 1/2 inches |
| Drop Gate Fence | No | Yes |
| Plunging Head | Yes | Yes |
| Beveling Head | Yes | Yes |
| Miter Guide | Included | Included |
Ridgid Beast 10-Inch Tile Saw Price
You can get your hands on the Ridgid R4903 with the stand for $799 starting in August 2022 at The Home Depot in-store and online. Here's what all comes in the package:
R4093 wet tile saw
Mobile stand
10-inch diamond cutting wheel
Wheel wrench
Rip fence
Miter guide
Table extension
Water tray
2 x water tray extensions
Splash guard
Water pump and filter
Assembly hardware
Hex key
Manual
As usual, Ridgid backs the tool with its Lifetime Service Agreement when you register it.
Specifications
Model: Ridgid R4093
Motor: 15-amp, 3.3 hp
Blade Diameter: 10 inches
Blade Speed: 4000 RPM
Depth Capacity: 3 1/2 inches
Rip Capacity: 36 inches (unlimited with drop gate down)
Diagonal Capacity: 24 inches
Table Support: 28 inches
Bevel Stops: 0°, 22.5°, and 45°
Price: $799