Cordless tools are all the rage and there's no doubting their incredible convenience. In fact, some of the best cordless circular saws like the Makita 18V X2 Rear-Handle Saw pack a lot more power than most corded saws. But not everyone's on board with the cordless craze when it comes to circular saws. In fact, you'll probably see more corded models than cordless ones in many areas. Why? Reliable power and nearly infinite runtime. Choosing the best corded circular saw isn't always easy, and there's more to consider than just specs. With all those choices, we got together with our Pros to do the testing for you.
If you follow cordless tools, you'll know that they rarely stay on the market for more than a year without some sort of update. But some of the corded circular saws have been out more than 15 years and are still chewing up wood reliably…provided you, you know, change the blade! While not every saw we looked at takes home a top recommendation, each has its place.
Best Corded Circular Saw Overall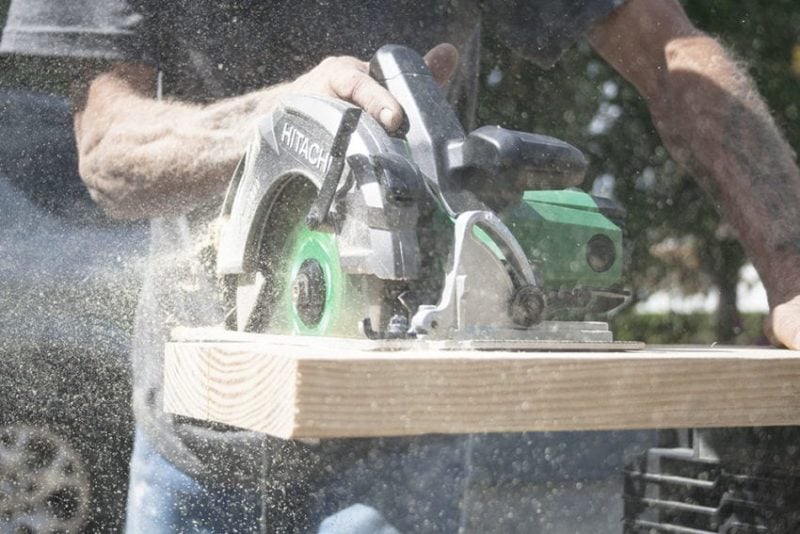 Originally launched before Hitachi changed its name to Metabo HPT, the C7UR/C7URM hit the market at high-speed. Literally.
At 6800 RPM, field testing of the Metabo HPT RipMax circular saw proved it to be a muscular beast of a cutting tool that chews up any wood in its path. Our framing crew raved about its cutting speed.
For around $99 you can get a lightweight saw with excellent cutting performance.
Also Consider:
Makita 5007MG
Skilsaw SPT67M8-01
Also high on our list is the Makita 5007MG. It's a perennial bestseller and rates highly with our Pro team. It doesn't quite have the speed of Metabo HPT's RipMax, but it's plenty fast enough and its magnesium components help keep the weight down.
You can pick it up for $159.
We have a lot of love for the Skilsaw Southpaw, which is nearly perfect with the blade-left dominance in our shop. It trades off some blade speed for additional torque, is under 9 pounds, and has all the features we're looking for… except a blade brake. And that turns out to be the only thing that holds it back.
Grab this one for $149.
Best Corded Worm Drive Circular Saw
Skilsaw SPT 77 WML Worm Drive Circular Saw
While we're on the East Coast and generally prefer sidewinder circular saws, we're not completely biased. For those of you who prefer the inline design and higher torque of a worm drive, we recommend you look at the brand that started it all: Skilsaw.
The best corded worm drive circular saw is Skilsaw's SPT 77 WML in our opinion. Its 77-series 15-amp motor provides plenty of wood-cutting power while the magnesium motor housing, shoe, and gear housing help keep the weight down to a reasonable 11.5 pounds. That's without the blade, but it's still incredibly lightweight for this style of circular saw.
As a premium option, this one runs $199 and is also available with a twist lock plug for $219.
Best Corded Track Saw for Woodworking
Festool HK 55 Carpentry Saw
On the surface, you might wonder why we'd recommend a $460 circular saw—and it's a fair question. The Festool HK55 (and HKC55 if you'd like a cordless version) gives you the ability to combine the functions of a circular saw, table saw, and miter saw with their innovative FSK track system. And since Festool has a system-wide approach, it connects to a dust extractor (the CT SYS is a good option when you're on the go).
The only thing to look out for here is the odd 6 1/4-inch blade size.
You can pick up the Plus kit with FSK420 rail for $659.
Also Consider:
Makita SP6000J
Festool TS 55 REQ
For a more traditional track saw that delivers excellent results, check out the Makita SP6000J ($479 with a 55-inch rail). It's a proven design with our woodworkers in the field.
If you're looking for a premium option, the Festool TS 55 REQ is highly regarded for its incredible precision with our team. It's more expensive, starting around $599 without a rail, but you get the kind of refinements that make a difference for fine woodworkers.
When you want precision, there's no getting around the price of a dedicated track saw system. If you're on a budget and have a little more room for error, or you want to try track cutting before jumping in with both feet, you can convert most circular saws to track saws with the Kreg Accu-Cut rail system.
It's primarily a DIY product that gives you the essentials starting under $80.
Best Corded Circular Saw for Cutting 4×4 and 4×6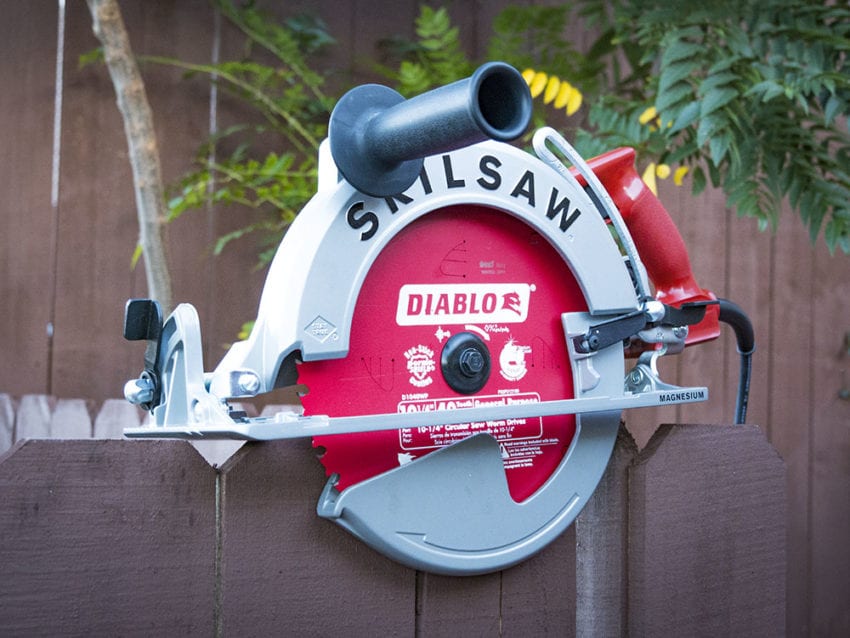 When you're cutting 4x material with a standard 7 1/4-inch circular saw, it's a two-cut process. To make it in just one pass, go with the Skilsaw Sawsquatch as the best corded circular saw for cutting 4×4 and 4×6.
Its worm drive motor and 10 1/4-inch blade make short work of 4x material. We use it heavily in agricultural construction where we need to even up the tops of 4x fence posts and build a variety of structures with 4x forming major parts of the frame.
It's available with or without a twist lock cord for around $419.
Also Consider
If you want even greater cutting capacity for timber framing or other high-capacity applications, consider the Skilsaw Super Sawsquatch. It's a 16 5/16-inch worm drive circular saw that can cut up to 6-1/4 inches in one pass.
It comes with a plastic stand/transport case and runs $699.
Best Corded Metal Cutting Circular Saw
Very few tools that come through our shop earn a perfect 5-star rating, but the Milwaukee 6370 did, and it's our choice as the best corded metal-cutting circular saw.
From power and accuracy to burr-free results and chip collection, this saw knocked it out of the park for our custom furniture maker. Most importantly, it solved a major problem for him when he designed a piece that required eight accurate cuts at three different angles. If any cut was off, the table design would suffer.
Grab it with a hard case for $399.
Also Consider:
Skilsaw turns to their worm drive design for the Outlaw metal cutting circular saw. Its clear cut line view and stout build make it another excellent option for less than $300.
Best Corded Circular Saw for Concrete
When you need to cut through concrete, you really need a power cutter. But when the job calls for expansion joints or cutting thinner masonry products, the Skilsaw Medusaw is your ticket.
Working with a 15-amp worm drive motor and 7-inch masonry blade, the Medusaw adds a rolling shoe and water injection to help you score concrete without getting your Table 1 compliance out of check. It's a purpose-built system that stems from field-modified designs and it simply does the job better.
While the Medusaw is excellent on its own, we prefer the SPT79A-10 model. It adds a folding handle that you can use to make it a walk-behind scoring system instead of giving your knees the brunt of the day's punishment.
Get it for $699 or without the folding handle for $449.
Best Corded Budget Circular Saw for Pros
Metabo HPT C7SB3
To make the list on our best budget corded circular saw, we only looked at models you can pick up for less than $100.
Metabo HPT's C7SB3 circular saw is our pick for the best corded circular saw under $100. It boasts 6000 RPM and dust blower to go with a more durable construction than you find with DIY and Prosumer models.
While it lacks a blade brake and the lighter construction of magnesium, it has more to offer than other saws that fit our requirements. Better yet, we found it for just $79 at Acme Tools.
Also Consider
Kobalt K15CS-06AC
Ridgid R3205
For less than $100 ($89 last time we checked), Kobalt puts together a compelling circular saw. They keep the blade speed high and even give you features like a blade brake and cutline blower. A lot of cheaper saws start to drop quickly in build quality, but Kobalt keeps it solid enough as a budget Pro model.
Ridgid is another $50 option that edges Kobalt out in the build quality department and everyone when it comes to warranty thanks to their Lifetime Service Agreement. Its overall feature set also bests Kobalt, but the lack of a blade brake makes our Pro team give the nod to Kobalt for safety in a tight race.
Best Corded Circular Saw for Homeowners and DIYers
Skil 5280-01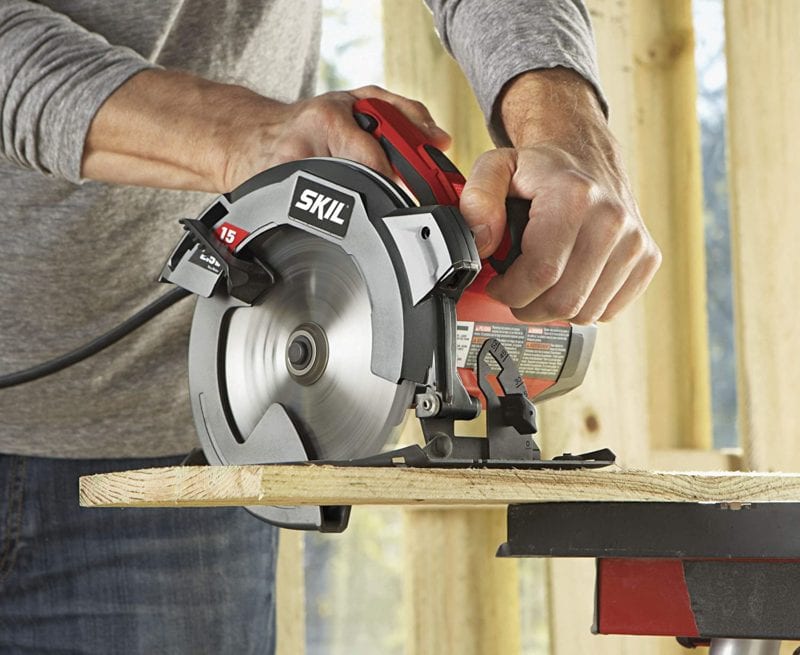 In all honesty, we'd recommend Metabo HPT's C7SB3 here as long as that $59 price tag sticks. But we don't know when that might change, and we have some thoughts on several other DIY-priced models.
Deciding on the best corded circular saw for homeowners and DIYers was really tough with three quality contenders. In the end, we chose the Skil 5280-01. It's a full 15-amp model with a laser guide, dust blower, and more. But what tipped it into the top spot was its weight – just 6.95 pounds.
Pick this one up for less than $60 or less.
Also Consider:
Ryobi CSB144LZK
Craftsman CMES510
Ryobi came in a close second with its CSB144LZK. It's also a 15-amp circular saw with a laser, though its cutting speed is a touch lower at 5200 RPM. What we really appreciate is that it comes with an edge guide – something you normally have to buy separately.
You can get it at Home Depot for $89.
Finally, consider the Craftsman CMES510. It adds a magnesium shoe to help reduce weight and lifts its RPMs to 5500 with its 15-amp motor. Of our three recommendations, it's the only one to include a rafter hook.
Pick one up at Lowe's for $79.
Best Corded Circular Saw Blades
No matter which circular saw you decide on, many benefit from swapping out the stock blade. We've tried everything from Spyder circular saw blades to Crescent NailSlicer blades to Makita Max Efficiency blades. Each come with various premium features designed for one or more purposes:
Faster cutting
Better battery optimization and run-time (typically through the use of thinner kerf blades and special coatings)
Increased durability (look for "demo" in the name or something that indicates the blade is designed to cut through nails)
You can find these blades at nearly any tool warehouse or online retailer.
Best Corded Circular Saw Buying Guide
Blade-Left or Blade Right?
Most Pros are pretty set in their ways when it comes to blade-left or blade-right circular saws. And it's not simply a "righties want blade-right and lefties want blade-left" discussion.
At Pro Tool Reviews, Clint DeBoer and I are both righties—I prefer blade-left and he prefers blade-right. However, direct drive (sidewinder) circular saws are traditionally blade-right, but a few are bucking the trend. Here's a list of the saws from our recommendations:
Blade-Left Circular Saws
Blade-Right Circular Saws
Craftsman CMES510
Kobalt K15CS-06AC
Makita 5007MGA
Metabo HPT C7SB3
Ridgid R3205
Ryobi CSB144LZK
Skil 5280-01
Which style of circular saw you choose is highly regional, especially as a Pro. West Coast users tend to steer toward worm drives while those of us on the East Coast prefer sidewinders.
Sidewinders tend to be lighter and more compact while worm drives have the benefit of greater torque. For more details on the differences, check out our article on sidewinder vs worm drive saws.
If you're brand-new to the trades, try both and see which one you like best. Take it a step further and ask the guys and gals about what they prefer and why. You'll find that both styles have legitimately good reasons for choosing them.
Track Saw or Circular Saw?
Track saws are dedicated woodworking circular saws that travel on a rail to give you the straightest cut possible. They typically use a higher tooth count blade and are designed to deliver a cleaner cut. For many applications, it's an easier tool to use than a table saw when you need long, straight cuts.
Some of the more recent flagship circular saws come rail-compatible. They give you the accuracy of using a track with the familiar feel of a standard circular saw. You can still put a high tooth count blade on it if you want a finer finish, but the design isn't as purpose-driven for woodworking as a track saw.
You can also read up on the decision between a track saw vs a table saw from PTR contributor, Chris Wagoner.
Features to Look For
Rafter hook to hang the saw instead of setting it down
Cutline blower to keep your cutline visible during the cut
Dust port to connect a vacuum, especially if you're cutting Hardie Board
Magnesium components to reduce weight
Metal upper and lower blade guards for better durability
Blade brake to stop the blade quickly when you take your finger off of the trigger
Why a Corded Circular Saw?
You'll find a circular saw in nearly every Pros arsenal. Corded models offer nearly infinite power as long as electricity is hooked up or there's a generator nearby. And with most models offering a 15-amp motor, you get reliably solid power. Even the DIY models can make an effective cut with decent speed using an excellent blade. Around the country, these benefits make Pros keep choosing the cord over cordless convenience. Plus, corded tools don't force you to stick with one brand's battery platform – you can get the best tool in each class no matter who makes it.
Disagree With Our Choices?
That's okay! We know personal preferences take a front seat in determining the best circular saw for you, and every Pro is different. Do Pro Tool Nation a favor and tell us what your top pick is and why you love it. Feel free to put it in the comments below or on Facebook, Instagram, and Twitter!
Why You Can Trust Pro Tool Reviews
Ever check out a "review" site and you can't tell if they actually tested the tools or if they're just "recommending" the Amazon top sellers? That's not us. We won't recommend anything unless we'd actually use it ourselves and we don't really care who the primary retailer is. It's all about giving you a legitimate recommendation and our honest opinion of each product.
We've been in business since 2008 covering tools, writing reviews, and reporting on industry news in the construction, automotive, and lawn care industries. Our Pro reviewers work in the trades and have the skills and experience to know whether tools can perform well in the field.
Each year, we bring in and review more than 250 individual products. Our team will put our hands on hundreds of additional tools at media events and trade shows throughout the year.
We consult with innovators in the technology and design of tools to gain a broader grasp of where these products fit and how they work.
We work with more than two dozen professional contractors around the United States who review products for us on real job sites and consult with us on testing methods, categories, and weighting.
We'll provide more than 500 pieces of new content this year absolutely free for our readers—including objective evaluations of individual tools and products.
The end result is information you can trust because of the editorial, scientific, and real-world professional experience we collectively utilize each and every time we pick up and test a tool.